You'll probably need to use HDB Map Services when you buy your own flat (after all, having our own HDB flat or other property is all part and parcel of #adulting). Deciding where to live is really a big choice to make – whether you're single or not, you gotta decide if the location suits your needs as buying a home is a huge commitment, both in terms of money and your own time/effort.
Not sure how to use the HDB Map Services to inform your choice of deciding where to live in Singapore? We're here to shed light on this! We've also filtered and ranked HDB estates based on various factors, so click the tags to learn more about:
HDB Map: What Is the HDB Map Services
Then, click and choose which broad category you'd like to learn more about. The categories are 'Housing', 'Car Park', and 'Shops'.
Under 'Car Park', look up the types of car parks in the vicinity, carpark rates, and which service provider the carpark falls under. Last but not least, under 'Shops', you can check out the shops in your (future) neighbourhood!
In the search bar on the top left corner of the HDB Map Services page, you can input your keywords for things such as an address, postal code, carpark or landmark. Alternatively, you could even manually locate and zoom in and out on any area of the map.
Here, there is a slew of options to choose from the pop-up menu, including child care centres, community centres, CPF centres, eldercare facilities, family service centres, hawker centres, HDB branches, heartland spots, hospitals, kindergartens, libraries, MRT/LRT stations, parks, places of interest, places of heritage, police centres/posts, RC centres and sports facilities.
There's really a ton of data embedded in HDB Map Services. But how can this data further help us identify our future home base in Singapore? Let's take a look at some ways you can utilise the HDB Map to make comparisons, or do an in-depth sussing out of the area we are keen to live in, based on our own research.
Buying a Resale Flat: Mature Vs Non-Mature HDB Estate
Let's first take a look at the list of mature and non-mature estates in Singapore. Basically, a mature estate is an older residential area that's been around for at least 20 years and thus tends to have more amenities in the area. You might also see this difference when you search for amenities on the HDB Map.
So, what are the pros and cons of living in a mature versus a non-mature HDB estate? Unfortunately, this isn't just about how long your commute to work takes.
Some factors to weigh include:
Property prices
Available amenities
Resale value
Public transport links
Environment (e.g. noise levels, greenery)
Flat sizes (e.g. flat types available)
Competition when purchasing a flat in the area (i.e. how in-demand property in the area is)
Location with respect to the distance to Singapore's central region
Priciest Resale Flats by HDB Estates in Singapore
1. 96A Henderson Road: $1,500,000
Type of flat: 5A HDB flat
Size of flat: 1,216 sq ft
TOP: 2018
HDB estate: Bukit Merah
2. 9B Boon Tiong Road: $1,500,000
Type of flat: 5S HDB flat
Size of flat: 1,206 sq ft
TOP: 2014
HDB estate: Bukit Merah
3. 149 Mei Ling Street: $1,500,000
Type of flat: Executive Apartment
Size of flat: 1,605 sq ft
Year completed: 1993
HDB estate: Queenstown
4. 345 Clementi Avenue 5: $1,488,888
Type of flat: Jumbo HDB flat
Size of flat: 1,744 sq ft
Year completed: 1978
HDB estate: Clementi
5. 96A Henderson Road: $1,450,000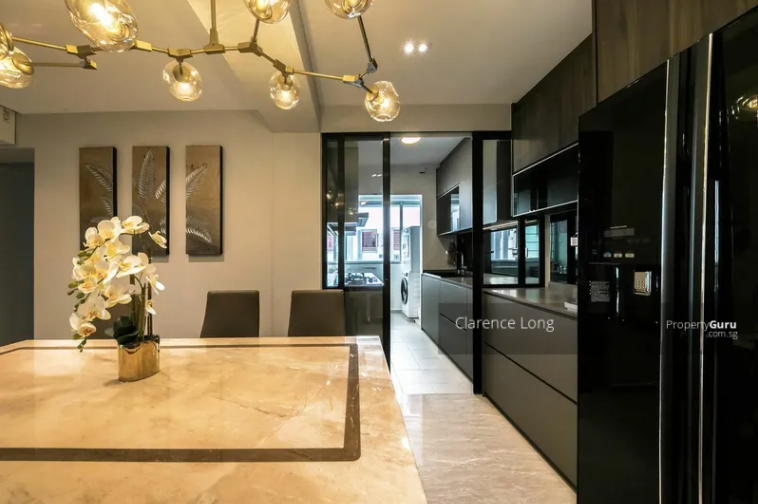 Type of flat: 5I HDB flat
Size of flat: 1,216 sq ft
Year completed: 2018
HDB estate: Bukit Merah
HDB Resale Median Transaction Prices
For an even more in-depth look at resale HDB prices, browse and click on individual properties on the HDB Map. There, you can view prices on a granular level.
Million-dollar HDB Flats, Sorted by HDB Estates in Singapore
As of September 2021, these are the estates where you'll find those million-dollar HDB resale flats:
In a good location (centrally located and/or close to MRT stations)
Larger, premium flat types
On a high floor and boast unblocked views
Well-maintained; interiors are renovated
At their peak resale value; these flats are either freshly MOP-ed, or have a long lease remaining
Top Neighbourhoods to Live in for Young Families
Another consideration, especially for young families or for couples intending to have children, is to live in a neighbourhood catered to your future kids.
According to our list, the top 5 neighbourhoods for young families to live in are:
Bukit Timah
Bishan
Marine Parade
Bukit Merah
Punggol
Top Neighbourhoods to Live in for Dog Owners in Singapore: Dog-friendly Neighbourhoods
While the HDB Map doesn't specifically show dog facilities, you can check if your potential home has nearby green spaces or park connectors. Daily walking route, sorted!
According to our list, the top 5 neighbourhoods for dog owners to live in are:
East Coast/Siglap/Katong
Tiong Bahru/Outram Park
Serangoon/Hougang
Toa Payoh/Novena
Bukit Timah (Holland Village, Farrer Road, Botanic Gardens)
There are a bunch of other pets that are allowed though, which include certain birds, certain fish, gerbils, chinchillas, guinea pigs, hamsters, Malayan box turtles, rabbits, and red-eared terrapins. Remember not to rear banned pets such as hedgehogs, bearded dragons, sugar gliders, snakes and crocodilian reptiles.
Living Near Green Spaces in Singapore
Last but not least, you'd also want to add living near green spaces as one of your prime considerations. Being near Singapore's green lungs and removing any inertia of going for a stroll, jog or cycle could really boost up your health and activity levels. Plus, it's a great family activity and a great way to reduce stress!
It's easy to identify these green spaces on the HDB Map. They're literally green patches!
Where To Live in Singapore?
The good thing about using HDB Map in tandem with deciding where you wanna live is that you can check out what's in the neighbourhood, apart from all the necessary housing and carpark information.
Good luck with finding your future home!
This article was written by Mary Wu, who hopes to share what she's learnt from her home-buying and renovation journey with PropertyGuru readers. When she's not writing, she's usually baking up a storm or checking out a new cafe in town.