Applying for a BTO flat and being successful in your BTO application is not always an easy feat.
Every year, there are four BTO launches in February, May, August and November. Meanwhile,
Sale of Balance Flats (SBF)
exercises are held in May and November. And c
ompetition for one of these flats is currently insanely high
.
However, it's not impossible to ballot for a BTO flat successfully.
Plus, there are ways you can improve your HDB BTO application ballot chances.
In
this article, we will run you through the various priority schemes, as well as more tips on how to increase your chances of a successful ballot.
Jump ahead in the article here:
Why Is the BTO Application Rate So High?
As you probably already know, BTO application rates have been really high of late. Flats are usually oversubscribed. Unsurprisingly, many families do not get a BTO queue number on their first try, especially if they're balloting for a unit in a mature estate.
A quick look at the application rates for the August 2022 BTO exercise confirms this:
HDB BTO Application Rates for August 2022 (for First-timers)
Note: The BTO application rate is the number of applicants divided by the allocated flat supply. The BTO application rates indicated above are the overall rate for first-timers, but you can find the detailed breakdown on HDB's website.
So why are BTO application rates so high? One possible reason is more BTO projects in recent times are launched in popular mature estates. These attractive locations may spur more to 'try their luck' at getting a home in one of these coveted neighbourhoods.
Another possible reason is more are worried about
BTO construction delays
and
long waiting times
. Consequently, more decide to apply for and secure a BTO flat ASAP, as they know they'll have to wait longer for one to be built in the current climate.
One young couple we spoke to
spent six years waiting for their flat
, even getting engaged, married and having their first child during that time. They waited so long that they cancelled their BTO flat and decided to go for a resale flat instead!
How Does the HDB BTO Balloting System Work?
Before we dive into understanding how you can improve your chances, we must first understand how the HDB BTO balloting system works.
It's quite straightforward: when applications open, home buyers will apply for their desired estate and flat size (e.g. Toa Payoh, 4-room) on the HDB website. Then, after applications close, HDB will use a computerised balloting system to assign queue numbers. Typically, after three weeks, the results of the ballot will be released.
The queue number is the order in which applicants will get to pick their flats. This means that if your queue number is within the flat supply (e.g. there are 124 units available and your queue number is 124 and below), then you are likely to get a flat.
If your queue number is higher than the flat supply (e.g. there are 124 units available and your queue number is 125 and up), then you will only get the chance to pick a flat if someone ahead of you in the queue decided to pass up their chance.
Queue Numbers Are Assigned Randomly
HDB has a few priority schemes to help increase your chances of getting a queue number. However, queue numbers are assigned randomly, so there is no way to somehow get a better queue number.
What this means is that while you can double your chances of getting a queue number, you can't do anything to get ahead in the queue and pick first.
First-Timers Get Double The Chances
By default, if you're a first-timer, you get twice the ballot chances as compared to second-timers. Remember this when you're making your first application so you don't waste it.
Get Additional Chances After Multiple Unsuccessful Attempts in Non-mature Estates
To help those who have had many failed attempts, don't lose hope! If you were unsuccessful for two or more tries (in a non-mature estate), you will get one additional chance per subsequent application.
| | |
| --- | --- |
| No. of unsuccessful applications in non-mature estates | Total ballot chances (including first-timer bonus) |
| 0 to 1 | 2 |
| 2 | 3 |
| 3 | 4 |
| 4 | 5 |
Consider the Racial Quota/Ethnic Integration Policy (EIP)
The 'racial quota' that most people are aware of is the Ethnic Integration Policy (EIP), which was introduced in 1989 to encourage racial integration. Basically, for every HDB block or neighbourhood, there is a limit on the total percentage of homes that can be occupied by a certain ethnicity.
Although it's not something you can do anything about, this affects your BTO chances because the actual number of units you're eligible for depends on it.
Say, you got queue number 100, and there is a total flat supply of 124 units. There is a chance that you may not get a unit if the racial quota was already met before your turn. For example, if you're Chinese and all 90 units allocated for Chinese households were already snapped up, you would not get a chance.
In this case, your application will just be voided, and you will not be penalised for rejecting a BTO flat
.
How to Improve Your HDB BTO Application Chances
Now, onto the main reason you clicked on this article: how to improve your ballot chances, featuring the various HDB priority schemes.
Note:
There are other HDB priority schemes listed above that will increase your chances for the BTO ballot, but these are for niche groups of applicants like divorced/widowed parents, rental flat tenants and elderly applicants.
1. Stay Within 4km of Your Parents – Married Child Priority Scheme (MCPS)
HDB reserves up to 30% of BTO units for those who apply under the Married Child Priority Scheme (MCPS), which is when you apply for a BTO project within 4km of your parents' home (HDB or private).
One key thing to note is that if you apply through the MCPS, the Minimum Occupation Period (MOP) will apply to your folks too. They must continue to live within the same radius of your home until the five years MOP is up.
2. Or Better Yet, Live With Them – Married Child Priority Scheme (MCPS)
Under the same scheme, you can also apply to live together with your parents (i.e. you apply for the BTO with them). This will give you first priority within the MCPS quota.
3. Apply for the Same BTO Project as Your Parents – Multi-Generation Priority Scheme (MGPS)
If your parents are also looking for a home, you can both apply to the same BTO project to increase your chances. This is for those who want all three generations of the family to live close by.
Under the Multi-Generation Priority Scheme, you can make a joint application for the two separate flats. Your parents can only apply for 2-room Flexi and 3-room flats, so the BTO project you pick must have this unit mix.
4. Have a Child, or More Children – Parenthood Priority Scheme (PPS) & Third Child Priority Scheme (TCPS)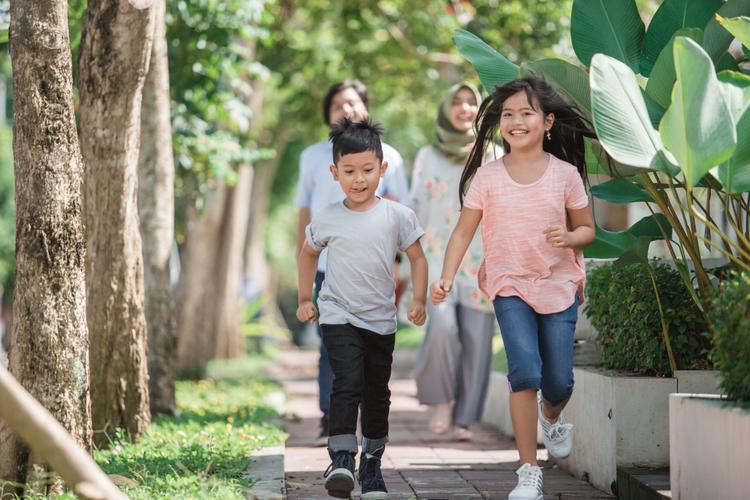 For obvious reasons, if you are expecting a child, your application is prioritised because you probably need the home more urgently. If you're an expecting married couple BTO-ing for the first time, you'll be glad to know that up to 30% of the units are set aside for the Parent Priority Scheme.
If you have three children, you may also qualify under the Third Child Priority Scheme. The flat allocation for this one is lower at up to 5% of the BTO units.
If you qualify for both, your application will first be balloted under the TCPS. If unsuccessful, it will be balloted again under the PPS.
5. Ballot for a Unit in a Non-mature Estate
Non-mature estates tend to see less competitive BTO application rates. Their lower BTO application rates can usually be boiled down to a few factors: distance from the city centre, distance from the nearest MRT stations (i.e. having to take a feeder bus), and fewer amenities offered in the immediate neighbourhood.
While these up-and-coming neighbourhoods may not be as developed as their mature estate counterparts, they usually still offer a good amount of F&B options, healthcare facilities, and other services. And though you may not get an MRT station at your doorstep, Singapore's bus system is highly developed; you are still well-connected to public transport systems.
Aside from being more affordable, BTO sites located in non-mature estates can also be ideal for those who enjoy a slower pace of living in a quieter area. Sometimes, these launches are also close to greenery and can even offer unblocked waterfront views.
For instance, there will be 2,960 units, spanning three sites for the upcoming November 2022 Yishun BTO launch, that overlook Orchid Country Club's golf course and the Lower Seletar Reservoir. With the large supply of flats, this could make successfully balloting for a unit easier.
6. Apply on the Last Day of the BTO Exercise
Successfully balloting for a BTO flat is not contingent on how early you submit your application. It's not a "fastest fingers first" situation like the
Open Booking of Flats exercise
.
If you really want to secure a flat, monitor the BTO application rates for the various launches in an exercise. Throughout the application period, these BTO application rates are updated every few hours on the HDB website.
Then, on the last day of the BTO application exercise, apply for a flat type in an estate that sees the least competition.
Pro tip: smaller BTO units typically have lower BTO application rates, so consider going for a smaller flat if you're in urgent need of a home.
HDB Priority Schemes for Sale of Balance Flats Exercise
Priority Scheme
Allocation
MCPS
First-timers: up to 30%
Second timers: up to 3%
TCPS
Up to 5%
PPS
Up to 50%
TPS
Up to 10%
You may be wondering: do the priority schemes also apply to the SBF exercises? Yes, similarly, priority schemes such as MCPS, TCPS, PPS and TPS also apply to SBF applicants.
What Happens if You Give Up Your HDB BTO Queue Number?
In some cases, applicants get a queue number or ballot number but end up passing up the opportunity. There are several (completely understandable) reasons why:
If your queue number is far behind, the units left for selection may not be suitable

Couples may have broken up and chosen not to

proceed with their BTO application

Some applicants also drop out due to unexpected financial difficulties like job loss, etc.
As you would've noticed, first-timers already get improved ballot chances. So what happens if you apply, receive a queue number, but then decide to give it up?
You get one 'free' pass. However, if you forfeit your flat selection opportunity twice…
For First-Timer Households:
Any additional chances accumulated from your past unsuccessful BTO attempts will be considered used up

You will be placed in the second-timer category for one year

During this year, if you turn down another two chances, the one-year period will be extended
For Second-Timer Households:
You will have to wait one year before you apply again
For Applicants Under the Singles Scheme:
You cannot apply under the Singles Singapore Citizen Scheme, Joint Singles Scheme or Non-Citizen Spouse Scheme for one year
There you have it – everything you need to know to maximise your HDB BTO ballot chances. Generally, if you want a new HDB flat, we would encourage you to continue trying until you are successful. As mentioned earlier, your chances actually improve from your third try onward.
However, if you do not have the luxury of time – especially since the timeline for BTO flats is in years –
then you may want to consider an HDB resale flat. With CPF housing grants, the gap between BTO and resale flat prices has
narrowed, and it's very possible to find an affordable resale flat
, despite the resale flat prices being at a record high.