[Update: In the next two years, the median waiting period for BTO projects to be completed will be between four and four-and-a-half years. Some BTO projects continue to be delayed, with delays ranging between six to 12 months, due to the COVID-19 pandemic.]
Build-To-Order (BTO) is one of the modes of sale of new HDB BTO flats in Singapore. An HDB BTO sales launch takes place quarterly and typically offers a range of flat types across a few estates.
This system offers the applicant flexibility in location and timing when applying for his/her new flat. Construction will only begin if the demand for the number of apartments in a specific contract exceeds 70%.
A waiting period of about 3-4 years is usually required since flats are built upon order.
Contents
2022 HDB BTO Launches
The BTO supply for 2022 launches, according to HDB:
The 2022 HDB BTO flats are in the following locations:
BTO Launch Months
Every year, HDB releases new BTO flats in February, May, August and November. 2020 was an exception when the May projects were postponed and eventually combined with the August launch.
BTO Locations
The specific BTO locations vary depending on the launch, but there are typically four to five estates each time. For example, the May 2022 BTO saw projects in five estates, while the August 2022 BTO flats will be located across six estates.
The upcoming November 2022 BTO launch will see flats launched across five estates.
Prime Location Public Housing (PLH) Model
Upcoming HDB BTO Launch — November 2022
BTO Flat Types
The projects in the different estates may offer different flat types. For example, if you have a larger family and are looking for a more spacious 5-room BTO flat, not all of the projects may offer it. Likewise, if you want a smaller, more affordable 3-room BTO flat, some of the mature estates may not have it in the unit mix. The most common – but also most popular – flat type is the 4-room BTO flat.
HDB Ethnic Integration Policy (EIP)
HDB implements a policy known as the Ethnic Integration Policy (EIP) to ensure a good mix of households from different ethnic groups. The quota is revised on the 1st of every month, but may be generalized to the following approximate percentages: 85% Chinese, 22% Malay and 13% Indian and Other Households.
Upcoming 2022 BTO Launches (Non-Mature Towns/Estates)
Bukit Batok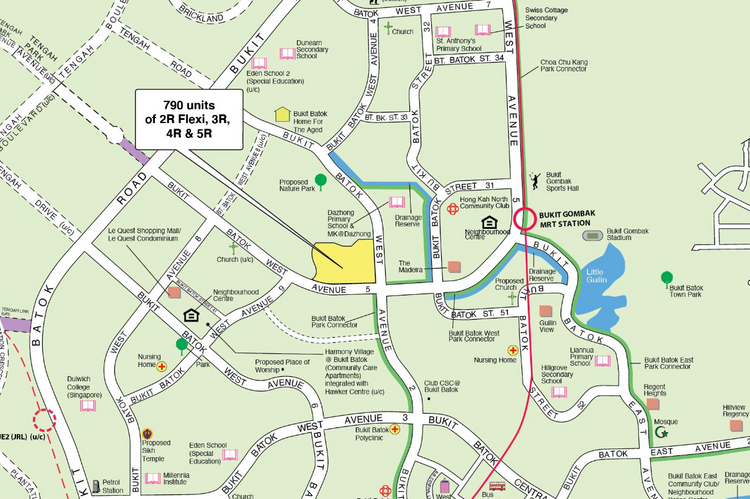 The upcoming BTO in Bukit Batok consists of 7900 2-room Flexi, 3-room, 4-room, and 5-room flats. The new flats will be bounded by Bukit Batok West Avenue 2 and Bukit Batok West Avenue 5.
This BTO site is a 10-minute walk from Bukit Gombak MRT station on the North South Line. Via the Bukit Batok Park Connector, future residents can head to Little Guilin, Bukit Batok Hillside Park and Bukit Batok Nature Park, giving them easy access to nature and greenery.
There are also numerous schools within easy walking distance. The Bukit Batok November 2022 BTO launch is expected to be reasonably priced.
Tengah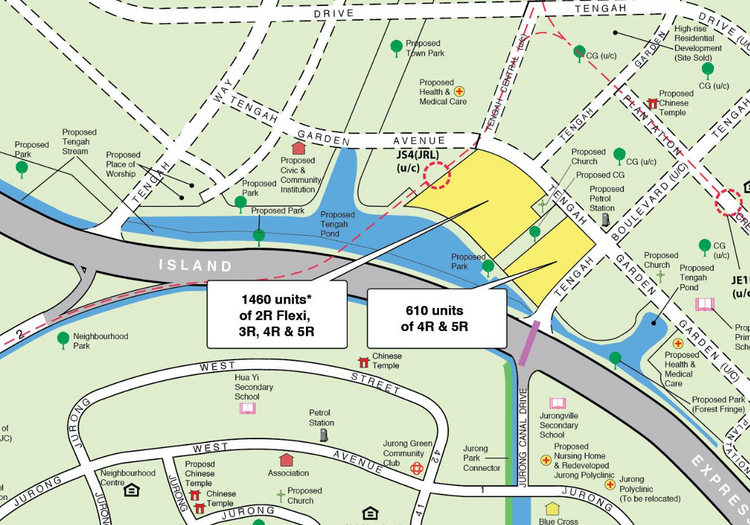 The BTO project in Tengah which is bounded by Tengah Garden Avenue and Tengah Garden (u/c), consists of about 2,070 2-room Flexi, 3-room, 4-room and 5-room flats. It is located near the Pan-Island Expressway (PIE).
The Tengah BTO project site is not near an existing MRT station. In part, this is due to the neighbourhood still being under construction. However, once the Jurong Region Line (JRL) is fully completed in 2029, residents will have easy access to F&B and entertainment options at Jem, Westgate or JCube.
Yishun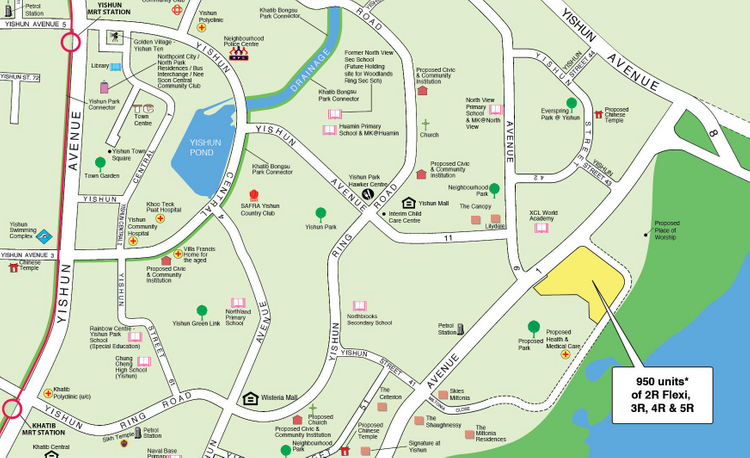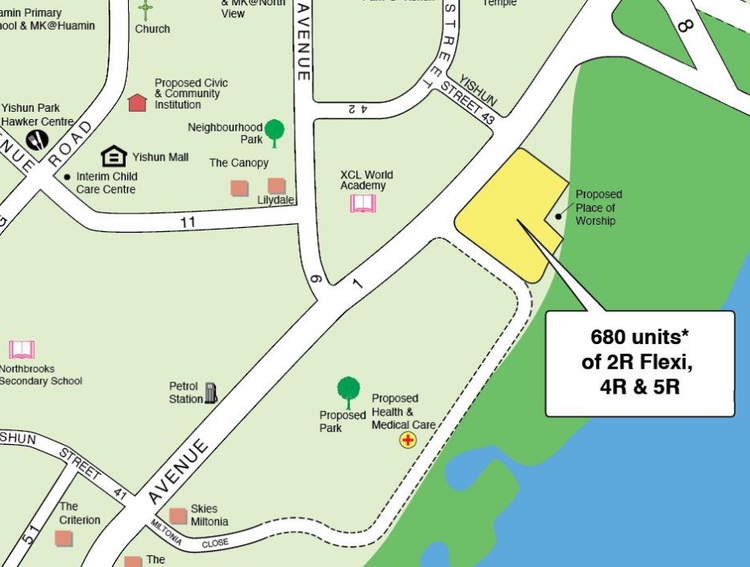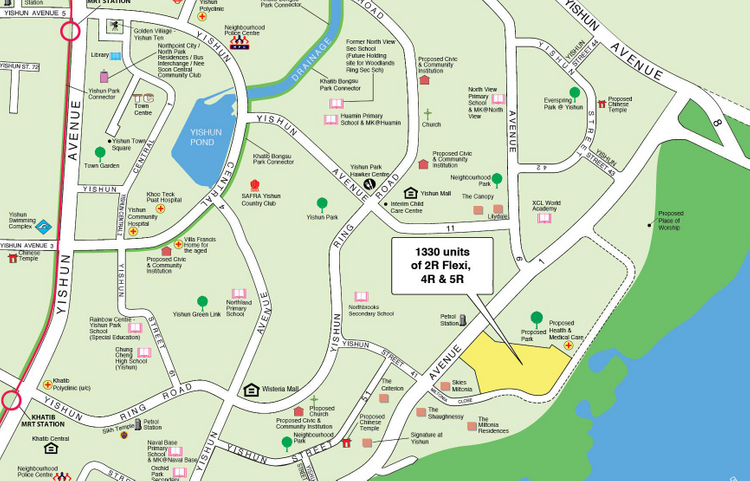 The Yishun November 2022 launch will see three sites, with all three sites overlooking Orchid Country Club's golf course and the Lower Seletar Reservoir. The land plots, which are side by side, will yield 2,960 units of 2-room Flexi, 3-room, 4-room and 5-room flats.
The downside to the BTO launches is that they are located further away from the Yishun town centre and Central Business District (CBD). The nearest MRT stations, Khatib and Yishun, are half an hour away by foot; residents will have to take a bus there to connect to the North South Line.
Upcoming 2022 BTO Launches (Mature Towns/Estates)
Kallang/Whampoa
This Kallang/Whampoa BTO is located next to Kallang MRT station, at Lorong 1 Geylang. Future residents will enjoy a great city fringe location that offers short commute times to the CBD.
Being close to the Kallang sporting precinct means residents have easy access to many sports and recreational amenities like the Singapore Sports Hub.
Only about 470 3-room and 4-room flats are available, and they are expected to be more pricey than other launches.
Queenstown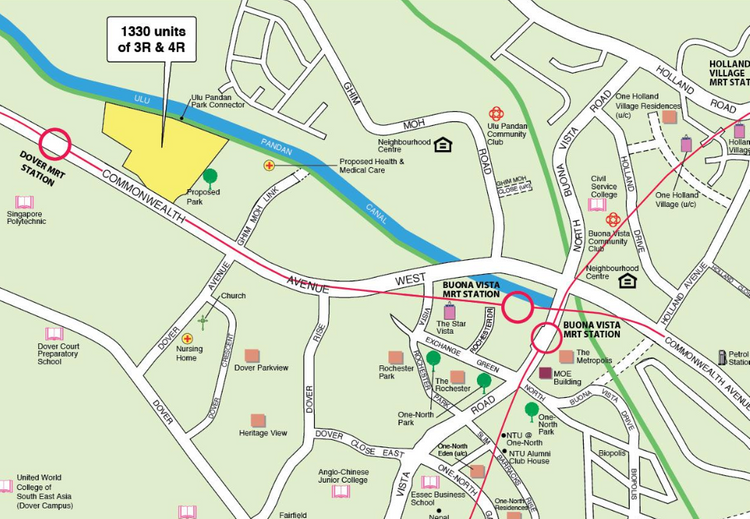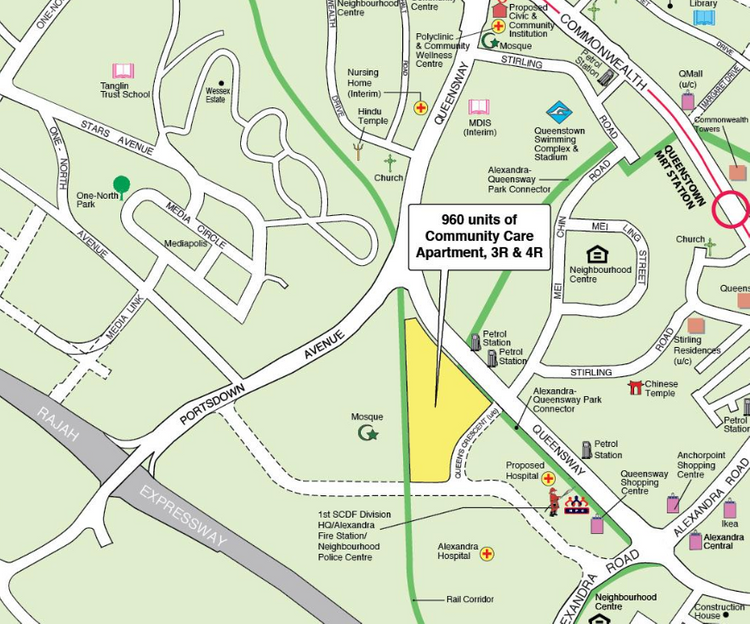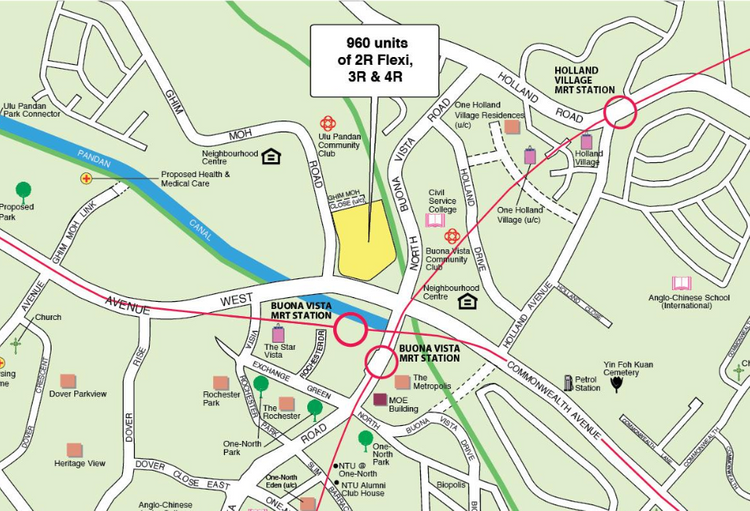 There will be three upcoming BTO launches in Queenstown.
The first BTO site is next to Dover MRT station and consists of 1,330 units of 3-room and 4-room flats.
The second BTO site is a three-minute walk from Buona Vista MRT station and consists of 960 units of 2-room Flexi, 3-room and 4-room flats.
The third and last BTO site will see 960 Community Care Apartments, 3-room flats and 4-room flats situated along Queensway and the under-construction Queen's Crescent, about 13 minutes' walk from Queenstown MRT station.
As seen from the map, all three projects have very prime locations and are likely to fall under the PLH model.
HDB BTO Application And Selection
Flat Types
The flat types offered are typically 2-room Flexi, 3-, 4-, 5-room flats, and 3Gen flats.

BTO Process
A potential buyer can apply for his/her preferred flat and estate. Balloting will be conducted to determine the outcome of the application.
First-timer applicants enjoy higher priority for new flats. The flat supply set aside for the different household types are:
Non-mature estates

First Timer Families – 20% of 2-room Flexi flats, 85% of 3-room flats, 95% of 4-room and bigger flats
Second Timer Families – 15% of 2-room Flexi flats, 15% of 3-room flats, 5% of 4-room and bigger flats
First Timer Singles – 65% of 2-room Flexi flats

Mature Estates

First Timer Families – 95% of flats
Second Timer Families – 5% of flats

* BTO projects with shorter waiting time (where applicable)

First Timer Families – 95% of 4-room and bigger flats
Second Timer Families – 5% of 4-room and bigger flats
1. Select Location
Select from location sites announced in the BTO sales launch.
2. Check Eligibility
Check eligibility for BTO applications, including any loan applications or associated costs.
3. Submit Application
Submit an online application with HDB during the one-week application period.
4. Receive Results
Applicants' queue positions to book flats are determined by balloting. Applicants may check for updates on their status. Successful applicants will be invited to book a flat.
5. Book Flat
Check the flats' availability and option fee before attending the appointment with HDB. Applicants will also need to bring along the required documents.
6. Sign Lease Agreement
Sign the Agreement for Lease. A Letter of Offer must be submitted if the applicant is obtaining a housing loan from banks.
7. Collect Keys
Flat keys can be collected in about three to five years' time when construction is completed.
Balloting Process
Each potential buyer may apply for BTO but balloting chances may vary.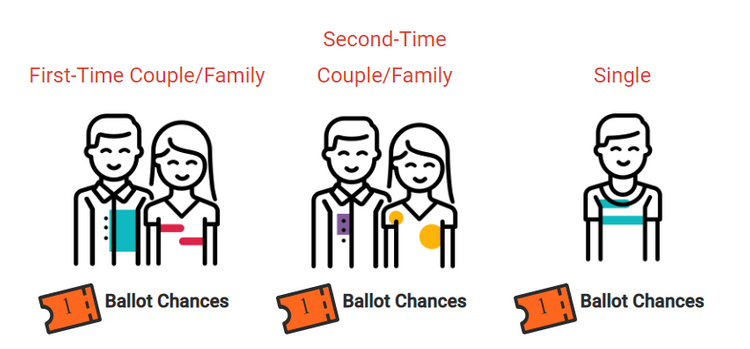 In non-mature estates, a first-timer family/couple will get additional chances if the first two applications were unsuccessful.
An application is only considered unsuccessful if the applicant is not invited to select a flat, i.e. not balloted. Additional chances are not given for BTO sales launches in mature estates as the supply of these flats is limited.
BTO Eligibility
BTO Eligibility Criteria
New HDB flats are subsidised and meant for Singapore citizens. Potential buyers and any other applicants and essential occupiers need to meet several eligibility conditions before applying for a flat.
#First-timer households comprising only 1 Singapore citizen and 1 or more Singapore Permanent Residents will have to pay a $10,000 premium at the point of flat purchase.
The additional $10,000 Citizen Top-Up Grant may be applied for upon conversion to Singapore Citizenship or when applicants have a Singapore citizen child.
Eligibility Scheme
* No change of people listed in the application.
BTO Income Ceiling
The income ceiling depends on the type of flat you are planning to purchase. Applicants whose average gross monthly household income exceeds the income ceiling will not be able to apply for the chosen flat type.
The following table lists the types of income/allowance that will be considered for the income ceiling.
Applicants should check what income documents are required for submission based on their nature of employment.
First or Second Time Status
Determining Wait-Out Period
First-timer applicants have more pressing housing needs and thus enjoy greater priority and privileges during the flat application process.
Couples comprising a first and second-timer applicant will be considered as a first-timer couple and enjoy the same priority benefits.
BTO Financing
Costs and Fees
The following is an overview of the costs and fees associated with the purchase of a flat from HDB.
1. Submitting the Application
2. Booking a flat
3 Signing of Agreement for Lease
4. Collection of keys
The following is an overview of the costs and fees associated with the purchase of a flat from HDB.
Applicants should have sufficient cash savings for:
Credit card payment of $10 administrative fee when buyers purchase a flat from HDB. For DBSS and EC applications, please check with the developers on the amount payable when submitting an application.
Option fee
Cash portion of the downpayment
Cash proceeds from disposing of the last flat to take on a second HDB loan
Financing via CPF
Applicants can use their CPF Ordinary Account (OA) savings for:
Initial payment in whole or in part (amount payable varies with the type of housing loan taken)
Partial or full payment for flat purchase
Monthly housing loan instalments
The CPF withdrawal limit may apply and varies with the type of housing loan taken.
CPF Housing Grant
CPF Housing Grants are government housing subsidies for eligible Singapore citizens. They are credited to an applicant's CPF OA. Applicants can use them for a flat's initial payment to reduce the housing loan amount.
Applicants can apply for the Enhanced CPF Housing Grant (EHG). In Sep 2019, it was announced that the EHG would replace the Additional CPF Housing Grant (AHG) and Special CPF Housing Grant (SHG).
The EHG will be available to those buying a new HDB flat or a resale flat. Additionally, there are no restrictions on flat type and location.
The monthly household income ceiling for the EHG is $9,000.
First-Timer Applicants
Second-Timer Applicants
First-Timer and Second-Timer Couple Applicants
Non-Citizen Spouse Scheme
Single Singapore Citizen Scheme
Join Singles Scheme or Orphan Scheme
Eligibility depends on:
Income ceiling
Previous housing subsidies
Employment status
Remaining flat lease
Ownership of property
Taking an HDB Loan
HDB provides housing loans at a concessionary interest rate to eligible flat buyers.
Eligibility Conditions
Applicant and essential occupiers must meet the following criteria:
At least 1 buyer is a Singapore citizen
Monthly household income does not exceed $14,000 (or $21,000 for extended families)
Have not taken more than 2 HDB loans previously
Must not own any private residence (in Singapore or overseas)
Must not have disposed of private residential property within 30 months before the loan application
If the buyer is eligible for an HDB loan, he/she needs to apply for an HDB Loan Eligibility (HLE) letter. The HLE letter has a validity of 6 months.
Application Process
Before
Complete the questionnaire beforehand to assess eligibility
Applicants and their spouses must have a valid SingPass
Prepare income and supporting documents
During
Upload documents at www.hdb.gov.sg/hleapply
Submit documents
After
Application will be processed within 14 days of submission
Log in to My HDBPage to view application status
Contra Payment Facility For New Flats
Buyers who are selling their current flat can choose to apply for the Contra Payment Facility. Applicants are granted an additional loan on top of their housing loan after all their available CPF balance is used for the flat purchase.
The loan is redeemed with the net sale proceeds of the applicant's current flat.
The interest charged is based on prevailing HDB loan interest rates.
HDB Housing Loan Information
Taking a Bank Loan
Applicants can choose to finance their flat with a housing loan from a bank regulated by the Monetary Authority of Singapore (MAS). Those who are not eligible for an HDB housing loan can also opt for a bank loan.
You may also apply for an in-principle approval (IPA) through PropertyGuru Finance.
Past BTO Projects by Estates
HDB BTO Prices in District 3 (Queenstown, Tiong Bahru) and 4 (Telok Blangah, Harbourfront)
HDB BTO Prices in District 7 (Rochor)
HDB BTO Prices in District 12 (Toa Payoh)
HDB BTO Prices in District 13 (Bidadari)
HDB BTO Prices in District 14 (Kallang/Whampoa, Geylang)
HDB BTO Prices in District 18 (Tampines, Pasir Ris)
HDB BTO Prices in District 19 (Sengkang, Punggol, Hougang)
HDB BTO Prices in District 20 (Ang Mo Kio, Bishan)
HDB BTO Prices in District 22 (Boon Lay, Jurong, Tuas)
HDB BTO Prices in District 23 (Hillview, Dairy Farm, Bukit Panjang, Choa Chu Kang)
HDB BTO Prices in District 24 (Lim Chu Kang, Tengah)
HDB BTO Prices in District 25 (Woodlands)
HDB BTO Prices in District 27 (Yishun, Sembawang)