What Is a Condo or HDB Floor Plan?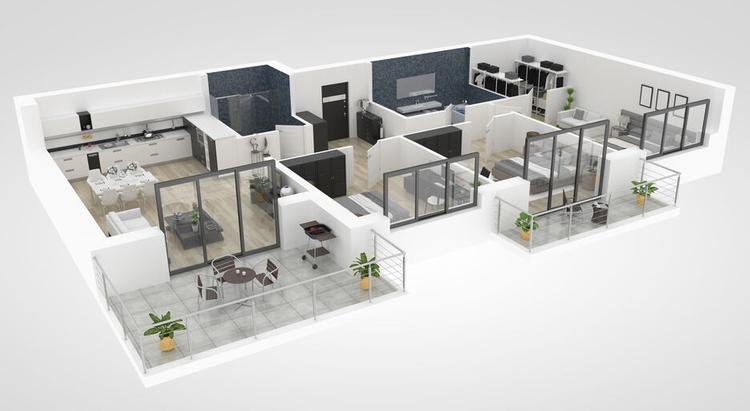 First things first, a floor plan is basically a scaled diagram of a floor or a house. It usually depicts the measurements, furniture, interior fixtures, room layout, window locations, walls or any other relevant details to the purpose of the floor plan.
The easiest way to understand a floor plan is to imagine that you're viewing a house/room without a roof or ceiling from above (i.e. an aerial view). Most floor plans will label each room accordingly.
Open-Concept HDB Floor Plans: Bringing Flexibility to the Home
What an open HDB floorplan would mean for future homeowners is that they could choose early on to remove certain walls to make a space larger. Hence, saving them time, energy and resources from the major renovations that would have otherwise been done after they receive their flats.
Why a Condo/HDB Floor Plan Is Useful for Home Buyers
Floor Plans Help You Visualise What a Unit Really Looks Like
How to Read Condo/HDB Floor Plan Symbols
1. Walls
Structural walls: if you see bolded lines,

that means the wall is a structural wall. These walls hold the building together and cannot be hacked. As a simple rule of thumb, remember that structural walls usually surround the entire unit. If you're planning on renovating your home but you're not quite sure whether the walls are structural walls, ask your developer.

Normal walls:

'normal' walls are represented by straight, thin lines. These walls are the dividers that separate your rooms from the other spaces in the house.

Gable-end walls:

these walls are unique to corner units and are also known as gable-end walls. Their sole purpose is to shade your home from the sun's heat.
2. Windows
3. Doors
Depending on the type, doors are either represented by a protractor-like symbol (swing doors), or V-shaped (folding doors).
4. Stairs
Condo/HDB Floor Plan Abbreviations Used in Singapore
Other than understanding the illustrations, you should also learn how to read the various abbreviations used in a local floorplan.
1. HS: Household/Bomb Shelter
2. BW: Bay Window
3. DB: Electrical Switchboard
4. W/D: Washer/Dryer Designated Location
5. W/C: Water Closet
What to Look Out for in a Condo/HDB Floor Plan
Here are some other elements to pay attention to when studying a condo/HDB floorplan.
1. Strata Void Areas
These void spaces usually have a floor-to-floor height between 4 to 4.5m, which is almost twice the standard 2.8m ceiling height found in most condominiums.
Despite being vertical spaces, be warned that they are considered saleable space, so it's not uncommon to see developers charge you for this 'extra space'.
As they are often 30% to 50% cheaper than the price of the actual per square feet (psf) of the area, properties with void areas may seem to have a lower psf price compared to properties without.
Therefore, some buyers might get the impression that units with a void area appear to have a more overall attractive psf price compared to a unit with regular ceiling height.
In order to avoid this confusion, looking at a floor plan will help. In a floor plan, the void area is represented by straight dotted lines.
2. Private Enclosed Spaces (PES) And Air-Con Ledges
3. Balconies
The bonus GFA cap for residential developments has been reduced from 10% to 7%

However, developers can still have the 10% bonus GFA only if they are part of certain schemes, including the Green Mark Bonus GFA Scheme and the new Indoor Recreation Space Bonus GFA Scheme

The balcony area for each unit has been restricted to 15% of the total internal area to prevent oversized balconies
4. Bay Windows
More Tips for Reading a Condo/HDB Floor Plan