9 HDB Renovation Permits and Guidelines You Need When Renovating Your Home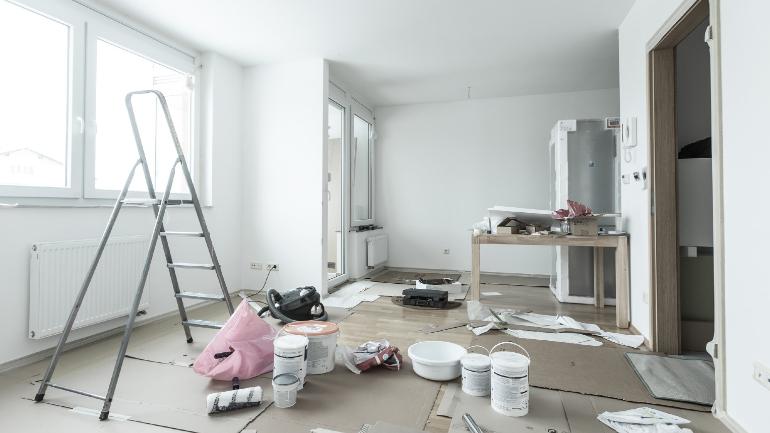 In this article, we walk you through what type of renovation works aren't allowed in HDB flats, the renovation works which require permits, and the accompanying HDB renovation guidelines so that you can successfully abide by all HDB renovation rules.
HDB Renovation Permit: An Overview
HDB renovation permit: What is it?

Written approval from HDB which allows you to carry out specific renovation works

Works that require HDB renovation permit

Hacking of flooring and walls, moving the placement of a door (which requires you to hack a wall), changing of staircase railings, replacement of windows, bathroom and

air-conditioning

works, repositioning of sinks (plumbing work), gas works

Time taken for HDB to approve the permit

Up to three weeks, approval time may be shorter if renovation work does not include hacking or reconfiguring of toilets or sinks.

Your renovation contractor will submit an electronic renovation application on your behalf, with an acknowledgement form signed by you to be attached to the application.

9.00am to 6.00pm on weekdays and Saturdays; no renovation work is allowed on Sundays and public holidays*
*Due to HDB renovation noise rules, noisy renovation works (e.g. demolishing walls, removing floor finishes, excessive drilling in HDB, etc.) have to cease by 5.00pm on weekdays. They are not allowed on weekends, public holidays and the eve of major public holidays.
HDB Renovation Guidelines: What You Cannot Do
Examples of Renovation Works That Are Not Allowed
Building and Structure
Hacking and removal of structural members (load-bearing structures or staircases)

Overloading of floor slab with more than 150kg for every metre square of floor

Plastering of ceilings

Partitioning with combustible or toxic materials

Raising of floor level exceeding the allowed thickness of 50mm with concrete, inclusive of finishes

Extending floor area by covering void areas

Repositioning or enlarging chute opening

Painting the area outside the flat

Installing awning or other fixtures outside the flat

Laying floor finishes outside the entrance without having recess area or step

Removing a pitched roof ceiling

Changing planter boxes
Sanitation or Plumbing
Constructing water tanks in bathrooms
Windows, Doors, or Grilles
Installing casement windows when the flat faces the common corridor

Replacing full height windows, 3/4 height windows, or bay windows

Removing or tampering with safety railings/grilles (internal and external)

Permanently sealing a planter box

Installing overhead grilles at an interaction balcony
Air-Conditioning Related Works
Installing external grilles on the air-conditioner ledge

Changing the use of the air-conditioner ledge
HDB Renovation Permit: What is it?
HDB Renovation Permit: When Is It Required?
1. Replacement of Flooring
2. Hacking of Walls
3. Relocation of Doors
4. Changing of Staircases
5. Replacement of Windows
6. Bathroom Works
7. Water and Sanitary Plumbing
While you do not need a permit if you are thinking of replacing or fixing your wash basin, you will need a permit if you are repositioning it. The same applies should you wish to reposition the sink in your kitchen.
Installation or replacement of toilet pan
Replacement of water pipes
Diversion of sink waste pipes
Encasement of pipes
Concealing of pipes in walls or floors
8. Gas Works
Encasement of gas riser pipe
Relocation of gas meter
Removal of gas branch pipe
Installation of gas water heater/gas oven
9. Some Electrical Works (
Installation of Air-Conditioning)
HDB Renovation Permit Form: How to Apply?
The form is quite detailed but, thankfully, you would only need to fill in PART III & IV of this form. Be sure to not miss out any information or you might need to go through the hassle of reapplying for another permit.
To fill in the HDB renovation permit form, you will need:
Two copies of scaled floor plans
Signatures of all flat owners for acknowledgement
Approval Time Required for HDB Renovation Permit
HDB Renovation Timing: When Can Renovation Works Be Done?
If you've ever wondered if drilling is allowed on Saturday, this section on HDB renovation timing will help greatly.
Finding an HDB-approved Contractor
More FAQs Related to HDB Renovation Permits
How Do I Check My HDB Renovation Permit?
To check if your renovation permit has been approved, login to My HDBPage under 'My Flat > Purchased Flat > Renovation'.
Is Drilling Allowed on Saturday in HDB?
No noisy renovations within the flat can be done after 5.00pm on weekdays. For simple DIY drilling, you are advised not to drill or hammer from 10:30pm to 7am.
Can I Use CPF for Renovation?
More questions answered on HDB renovation permits:
For newly completed blocks (BTO), the approved renovations must be completed within three months from the date of the permit. For existing blocks, you will need to complete the works one month from the date of the permit.
No noisy renovations within the flat can be done after 5.00pm on weekdays.
No. If you require a renovation loan, you may apply for one with a bank. You can get a PropertyGuru Home Finance Advisor to help you.