Renovation Contractor VS Interior Designer In Singapore: Which Should You Pick?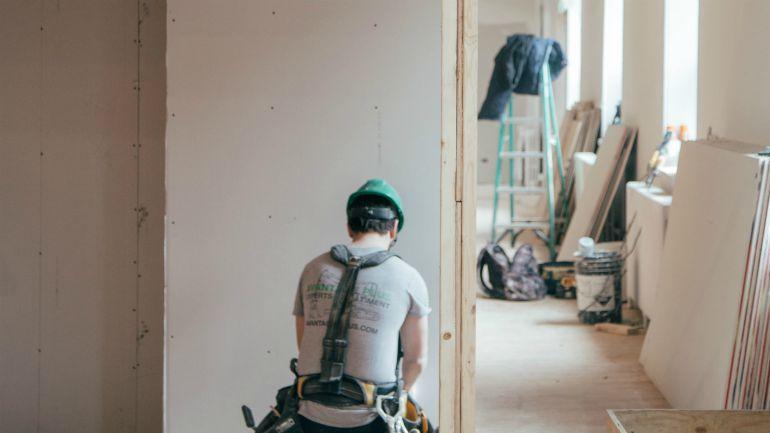 Contractor VS interior designer, which is the best? It's 2022, doing up your new home can be pretty exciting, but also stressful and confusing. If you are interested to know the trends this year, check out this article!
When it comes to deciding on which is best, you might have heard some myths. So, it's only natural to ask whether you should hire a renovation contractor or an interior designer to renovate your home.
Nevertheless, below are some of the questions you can ask yourself before deciding who to pick.
But before we get into that, we'll talk about the difference between a renovation contractor and interior designer, what they do and the pros and cons of both:
Related articles:
Contractor VS Interior Designer: What Is the Difference?
Interior Designer
Designs your home's interior

Specialise in improving functionality and aesthetics

Will project-manage your entire renovation, working with contractors
As the name suggests, an interior designer's role is to design the interior of your home based on your objectives and lifestyle preferences. They do this by using sketches, mood boards and 3D renders so that you can get a better visualisation of the home.
Interior designers specialise in improving the functionality and aesthetics of your home, and will consult you on the type of materials to use, where to source for the materials, the right colour choices, and furnishings such as decorative items and furniture.
Apart from that, they also help to project manage your home renovation, which includes working with contractors on timelines, ensuring that the renovation is up to speed, dealing with renovation hiccups, and updating you on the renovation process.
Renovation Contractor
Executes the plans made by the interior designer (if any)

May work with other subcontractors

Typically don't advise on design or aesthetics
On the other hand, a renovation contractor's job is to execute the plans made by the interior designer, and make it come to life. This means working with other subcontractors such as plumbers, electricians, carpenters, painters and so forth.
Though they usually don't provide design ideas or advice, experienced renovation contractors that have been in the trade long enough also provide interior design packages, where they help to conceptualise the entire renovation project (including hiring an interior designer) and work closely with you.
Related articles:
Taking a Personal Loan to Finance Your Home Renovation
Thinking of renovating your home and taking a personal loan? Check out and compare the various personal loans available in Singapore on
Lendela
, all for free! Start by filling out your application here:
Contractor VS Interior Designer: How to Decide?

Now that you know the different roles for both, below are some of the questions you should ask yourself.
1. What's Your Budget?
As you can tell from above, interior designers provide more services compared to renovation contractors and are therefore, more expensive to hire. Not only will you need to pay for their consultation and 3D sketches, but also for their time to oversee the entire project from start to finish, and managing all parties involved. Ultimately, what you're paying for is the convenience of overseeing the project.
2. Do You Want to Be Involved in the Project?
While most are happy to take a step back and let the interior designer oversee the entire renovation process, if you want to supervise the renovation yourself, then you can work with a renovation contractor to manage the timelines and deliverables yourself.
However, note that overseeing your renovation is no walk in the park and can be extremely challenging; it requires commitment, knowledge, experience and patience.
Not only do you need to source for your own subcontractors (which can be a tedious process as it means Google searching and reading reviews of the contractors), but you'll also need to develop a schedule for those who are involved, detailing the work, who's responsible, when it has to be delivered and so on.
Note:
If you're renovating an HDB flat, it's advisable to use contractors that are part of
HDB's directory of renovation contractors (DRC)
. These contractors are familiar with HDB's requirements when it comes to protecting the structural integrity of the building and safety standards.
3. Contractor VS Interior Designer: Major or Minor Renovation?
If you're planning on small-scale projects such as renovating your bedroom, installing new carpentry, installing new tiles and installing a plaster ceiling, you can consider hiring a renovation contractor as you may not need an interior designer. However, if you're going to overhaul the entire home, then an interior designer may be preferable as there is likely to be multiple ongoing 'projects' and sub-contractors to manage.
4. How Much Design Knowledge Do You Have?
You may spend a lot of time on Pinterest or read tons of interior design articles, but the real thing is an entirely different matter.
Designing your home isn't just about the aesthetics; equally important is having a good understanding of how to make space functional, the type of materials used, and ensuring that all the measurements and dimensions are correct.
If you don't have the right experience, it's better to hire an interior designer so that he/she can consult you to better understand your preference, needs and how you intend to use the space. Remember, renovation contractors may not have the necessary design knowledge or be accountable for the design choices that you make, which means that you'll need to be responsible for any design errors (and how to solve them).
Contractor VS Interior Designer: Who Should You Pick?
Generally, if you're tight on budget or only want to get minor renovations done go for a renovation contractor. If you're a first-time homeowner and want to have the ultimate peace of mind, hire an interior designer.
However, if you require assistance on renovation works, consider taking a
renovation loan
as banks in Singapore provide home renovation loans!
More FAQs About Renovation Works
Do I Have to Renovate at a Certain Time?
On weekdays and Saturdays, general remodeling should be done between 9:00 a.m. and 6:00 p.m.
Do I Need to Provide a Notice for HDBs?
Before the renovation work begins, a Notice of Renovation must be clearly placed at the flat's door and must remain there for the duration of the agreed renovation time.
Who Are the Best Interior Designers in Singapore?
Casa Interior Design, 3D Innovation Design, IKEA are one of the best few designers in Singapore. Check this
page
out to see the rest!
Can I Pay My Renovation Loan With CPF?
No, you cannot use your CPF savings to finance your renovation loan.
Does HDB Provide Renovation Loan?
No, HDB provides housing loans, not renovation loans.