While some bet the 'star' of the Feb 2022 BTO launch would be the PLH launch, it turned out that the city fringe Dakota Crest project came out tops.
With likely two PLH offerings in the upcoming
May 2022
B
TO
exercise, it got us thinking: do people prefer PLH BTO or city fringe BTO projects? With this in mind, we asked Singaporeans who applied for either the Geylang or Kallang/Whampoa project in the last exercise which project they applied for and why.
HDB BTO Application: Feb 2022 Geylang BTO vs Kallang/Whampoa PLH BTO
Before we jump in, here's a quick recap of the Feb 2022 HDB BTO application rates and prices.
Feb 2022 HDB BTO Application Results for 3-room and Larger Flats (Non-Elderly)
Feb 2022 HDB BTO Application Results for 4-room Flats (Non-Elderly)
As you can see from the data above, the Feb 2022 Geylang HDB BTO flats were the clear 'winner', and by quite a large margin.
What BTO Applicants Think: Feb 2022 Geylang BTO vs Kallang/Whampoa PLH BTO
Those Who Preferred the Feb 2022 Geylang BTO Launch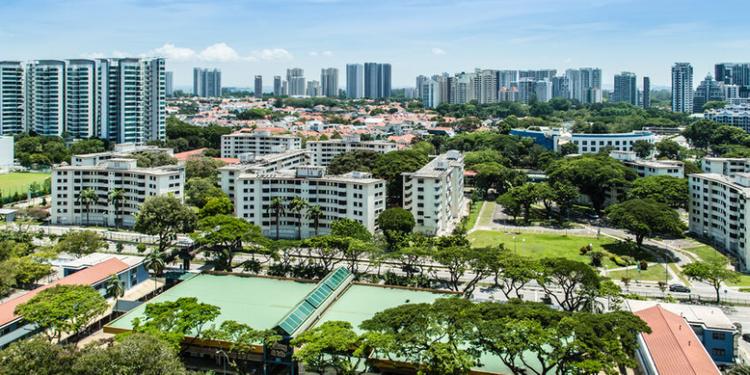 Gayle Hsiao, 28, agonised with her fiance over the 2 projects before they finally settled on the Dakota Crest Geylang BTO.
She says: "The Dakota BTO has more school options, including some 'brand name' ones that my boyfriend and I feel would be good for our future kids. Although we like the location at King George's more as it's nearer to our work, the additional restrictions and fewer school options were a dealbreaker. The price of both BTO projects and the public transport around are about the same for us."
Another applicant for the Geylang BTO is Samuel Tay, 36, who managed to snag a unit there with his wife. For him, the choice was clear – he studied at the school nearby so he was ultra-familiar with the area (he also lived nearby, around
Joo Chiat
). He says: "Of course Dakota lah! Having studied at Broadrick as a boy, I have so many memories of the area. Living there would be a dream and it feels like I'm coming home. Another bonus is that this was a last-ditch effort as I tried applying for other BTO flats but kept failing!"
"East Coast Park is also nearby, and the PCN where my group of friends always met up to cycle and jog will be just behind our new home. Many of my schoolmates also stayed in the old HDB blocks in this area, so in the future when they visit me it's like how I used to visit them when I was young!"
We also spoke to Siti Hajar, 32, who applied for the Geylang BTO but was unsuccessful. She says: "I want to have the freedom to rent out my whole flat later, to sell the unit to anyone I want, and don't want to worry about paying back subsidies. Plus by the time the
Minimum Occupation Period (MOP)
of the PLH flat is over, I'll be middle-aged already! So
sian
, you know? As a free-spirited person, having fewer restrictions is best, hence I prefer this 'normal' BTO to the new PLH model at Lavender. My family also feels the same."
Those Who Preferred the Feb 2022 Kallang/Whampoa PLH BTO Launch
Susan David, 43, applied for the Kallang/Whampoa BTO without hesitation. A resident in the King George's area since her parents' time, she's more than happy to continue staying in the area with her family, albeit this time in a new flat.
She says: "Finally! There will be new premium flats in this old estate. I'm very excited about them, and moving over will be a breeze for us. We of course plan to be occupier-owners for as long as possible, and we're so happy there are additional subsidies and the 10-year MOP means there will be more serious buyers like us. It's nice to have the same neighbours you're comfortable with, instead of seeing new faces after a short while or having to bid goodbye to someone you've gotten close to."
Thomas Teo, 29, applied for the Kallang/Whampoa BTO with his fiancee. He says: "Got this type of premium HDB flat, must 'whack'. Apply first, get liao then think. We feel that the investment will be well worth it, both in terms of our convenience and in future if we want to sell the flat after MOP."
"The Lavender area is such a bustling place, we'll never run out of things to do, never get bored, and there are so many amenities and nice cafes around. Love it that there are so many MRT lines (versus Geylang BTO, which only has Circle Line), with more to come when the flat is ready! The restrictions are actually no big deal. Look at the total number of people who applied, this shows that a lot of fellow Singaporeans are very interested. If want to sell, confirm earn!"
Feb 2022 Geylang BTO vs Kallang/Whampoa PLH BTO: Applicants' Rationale
While we found many who were interested in the projects, most of them did not participate in the ballot due to various reasons, including the high price of the projects, timing (their MOP wasn't up yet) and location (looking for a place near their parents or close to their desired primary school).
But for those who did, here are their summarised opinions and the difference between the two projects
Upcoming May 2022 BTO Launch
Will HDB be launching their third (or fourth) PLH project(s) in the May 2022 BTO release? It's not impossible, as Queenstown and Bukit Merah have been known to be prime areas.
If you're still in your late teens or early twenties, lucky you. When you're ready to buy a home, you can look forward to the 6,000 BTO flats in the
Greater Southern Waterfront
area and
1,600 units at Farrer Park
that will be launched in the next three years. In addition, there's also the
Mount Pleasant site
near Toa Payoh that will eventually be launched. Whether or not they are PLH projects, only time will tell.
Whatever it is, we expect to see insane competition for the May 2022 BTO launch. And if a PLH project is also released, how will it measure up against those in city fringe mature estates? We can't wait to find out!
This article was written by Mary Wu, who hopes to share what she's learnt from her home-buying and renovation journey with PropertyGuru readers. When she's not writing, she's usually baking up a storm or checking out a new cafe in town.