But did you know, the EWL was originally part of the North-South Line (NSL)? The latest extensions to the line were completed in June 2017, when Tuas West Extension was added.
With nine interchanges, the EWL intersects with the NSL at Jurong East MRT, Raffles Place MRT, and City Hall MRT stations. At Buona Vista MRT and Paya Lebar MRT stations, passengers can change to the Circle Line (CCL).
For those looking to buy or rent a condo near an MRT station on the EWL, here's the ultimate list of condos within a 10-minute walk or 1km of popular EWL MRT stations.
Condos Near EWL MRT Stations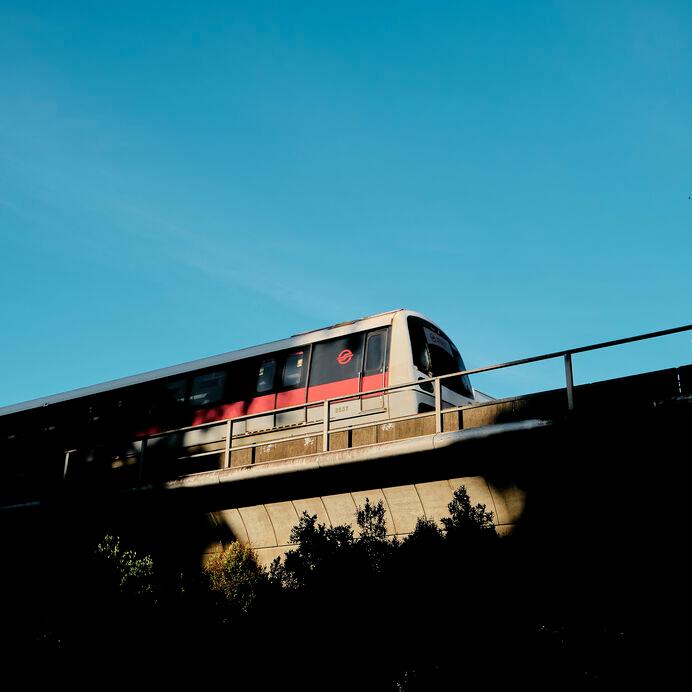 *The listed information is taken from listings on PropertyGuru and is accurate at the time of writing (16 September 2022). However, due to the nature of property listings, they may be taken down at any time. Do note that these lists are also by no means exhaustive.
Condos Near the East-West Line: Clementi MRT Station – The Trilinq, Regent Park, and Clavon
Clementi has come a long way from its kampung days. Today, the area is known as a highly desirable, city fringe town with tons of amenities.
The mature HDB estate houses various tertiary institutions such as Ngee Ann Polytechnic, the National University of Singapore, and Singapore Polytechnic.
Condos Near the East-West Line: Lavender MRT Station – Kallang Riverside, City Square Residences, and Southbank
The area around Lavender MRT station is chockful of F&B eateries. From local fare favourites in the Jalan Besar area to chic cafes along King George's Avenue, you'll surely be spoilt for choice.
If you do choose to live close to Lavender MRT station, you can get to the Central Business District (CBD) via Raffles Place MRT station in just three stops. A huge plus for those who value a short work commute to the city centre!
Condos Near the East-West Line: Tanjong Pagar MRT Station – One Bernam, Marina One Residences, Wallich Residence
For those with a bigger budget and who want to live in the heart of the city, finding a condo in Tanjong Pagar may be right up your alley.
The only downside for families with young children is there aren't many primary schools nearby and the neighbourhood is pretty noisy due to the constant flow of traffic. Not to mention, it'll cost you to live in this centrally-located area.
Condos Near the East West Line: Bugis MRT Station – DUO Residences, Midtown Bay, and Midtown Modern
Living in Bugis means you're able to travel to the CBD within minutes and have easy access to a wide range of amenities and many, many malls. F&B options are plenty, ranging from cheap local fare to Michelin-starred restaurants. Chic cafes and restaurants dot the stretch, as do trendy bars.
Like Tanjong Pagar, the drawbacks of living in the area are having to contend with the constant hustle and bustle of traffic, pricey rental and sale prices, and lack of school choices for younger kids.
Condos Near the East West Line: Redhill MRT Station – Mon Jervois, Echelon, and The Crest
If you prefer to take things at a slower pace, but want the convenience of city-living, Redhill might be the area to live in. The area sits between nature parks to the south and the bustling Orchard Road shopping belt.
In some parts of the older neighbourhood, you can still see traces of Singapore from a time gone by, due to the Redhill being an older neighbourhood. On weekends, pop by one of the many bakeries and cafes in the Tiong Bahru area for brunch.
Condos Near the East West Line: Tampines MRT Station – Treasure at Tampines
Tampines is a mature estate and a popular area to live in. A regional centre in the East, Tampines is also one of the most popular HDB towns in Singapore.
The trio of malls (Century Square, Tampines One, and Tampines Mall) and Our Tampines Hub provide residents with many amenities and dining options. Aside from the East West Line, you'll have easy access to the Downtown Line too, via Tampines MRT station.
Condos Near the East West Line: Aljunied MRT Station – Sims Urban Oasis, Zyanya, and Penrose
If you're looking for a neighbourhood that is close to the city centre and has budget-friendly options, Aljunied is a neighbourhood you'll want to look into. Like most city fringe areas, Aljunied is home to delicious hawker fare in Geylang and Geylang Serai, and various trendy bars, cafes, and eateries.
Venture out slightly further and you'll be met by a whole host of amenities in the vicinity, including the Kallang sporting precinct and Kallang Wave Mall.
Condos Near the East West Line: Lakeside MRT Station – Lake Grande, Lakeville, and The Lakefront Residences
If you prefer living in the west, properties near Lakeside MRT station could be a choice location for a home.
Westies already know taking a stroll around Jurong Lake Gardens in the evenings is a treat. When the weather is good, you'll see many fitness enthusiasts jogging and families walking their dogs.
Just two MRT stops down is Jurong East MRT station, which connects to the North South Line. Shopping malls such as Jem, Westgate, and Jcube provide various amenities for those living nearby.
Condos Near the East West Line: Bedok MRT Station – Bedok Residences and Sky Eden @ Bedok
Bedok is one of the more affordable mature HDB estates to live in. Bedok also serves as a nice compromise between living in the east and still being relatively close to the CBD; it's just nine stops from Bedok MRT station to Raffles MRT station, a 22-minute train ride or a 20-minute drive to the city centre.
Condos Near the East West Line: Eunos MRT Station – Parc Esta and Atlassia
Eunos is a sleepy area close to the famous Katong neighbourhood. There are tons of condos close to Eunos MRT station but they are mostly small- or medium-sized developments. So, we've only listed a select few condos that have more than a few units for sale or rent.
Condos Near the East West Line: Kallang MRT Station – The Riverine By The Park and Kallang Riverside Condominium
For those who want to live in a property by the waterfront, The River By The Park and Kallang Riverside Condominium are great options. As their names imply, they overlook Kallang River and the Kallang Basin area. While there's not much to do or eat in the Kallang neighbourhood, the good news is that you can easily headover to Lavender Street and take your pick of choice cafes, dessert shops, hawker fare, and bars.
Condos Near the East West Line: Kembangan MRT Station – Rymden 77
Living near Kembangan MRT station means being a short walk away from the trendy Marine Parade/Katong area. Most properties around Kembangan MRT station are either landed property or low-floored apartment buildings. That means the sleepy neighbourhood is quieter as the area is not as built-up as areas like Bishan.
Condos Near the East West Line: Pasir Ris MRT Station – Pasir Ris 8, The Palette, and D'Nest
Pasir MRT station is the first station of the EWL. From Pasir Ris station, Pasir Ris beach is an eight-minute drive or 20-minute walk. Those who enjoy living close to nature will also appreciate being close to Pasir Ris Park.
An indoor roller rink and Wild Wild Wet are some weekend entertainment options for families looking for some wholesome fun. There is also a good amount of schools scattered throughout the neighbourhood, which makes the estate an ideal place for families to live.
Condos Near the East West Line: Queenstown MRT Station – Alexis Condominium, The Anchorage, and Stirling Residences
Queenstown is an area popular with expats and younger Singaporeans. The nearby Mei Ling Market & Food Centre is home to many famous stalls, such as Shi Hui Yuan Hor Fun Specialty and Xin Lu Teo Chew Fishball Noodle. Tertiary institutions, National University of Singapore (NUS) and Singapore Polytechnic, are both found in Queenstown.