Living near an MRT station really ups the ante on convenience.
And with the government's
pledge
to have 8 out of 10 households live within 10 minutes' walk of an MRT station by 2030, plus the rapid
expansion
of the MRT lines (Thomson-East Coast Line Stage 3 is
on track
to open by end-2022, yippee!) — the dream of living within walking distance to an MRT station will become a reality for most of us in the near future.
In this article, we'll zoom in on the North-East Line (NEL; purple MRT line), which is quite impressive, really. The NEL has 16 stations and comprises six interchanges, running diagonally across Singapore from the Sentosa-linked HarbourFront in the south (that's going to be part of the upcoming
Greater Southern Waterfront
area), to the scenic and populous
Punggol
in the north-east. It also runs through key areas such as Singapore's bustling central area (Farrer Park, Little India, Dhoby Ghaut, Clarke Quay, Chinatown and Outram Park), so it's great for connectivity from the
heartland to the
office.
Fun fact: Did you know that the NEL was built with the top tech and engineering know-how of its time? The 20km-long line was opened to the public in June 2003
, and is heralded as the world's first fully automated underground driverless heavy rail rapid transit line! According to LTA, it's also "the first MRT line to take accessibility into account, with the most number of lifts at the time and the first tactile guidance system". The stations were also designed with future expansion in mind and were the first MRT line in Singapore to incorporate art into its station design.
Okay, it's probably time to stop geeking out and go into the article proper. If you're looking to enjoy the convenience that the North-East Line affords, here are 158 condos within 1km of the heartland NEL MRT stations to consider for your next move.
Condos Near NEL MRT Stations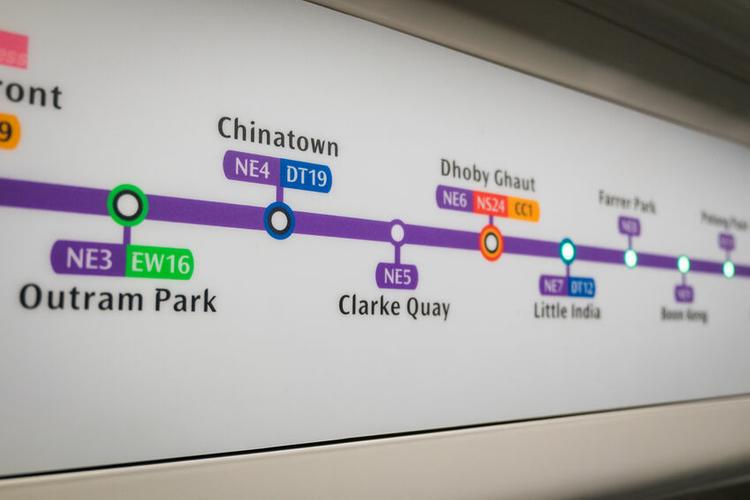 *The listed information is taken from listings on PropertyGuru and is accurate at the time of writing (22 August 2022). However, due to the nature of property listings, they may be taken down at any time. Do note that these lists are also by no means exhaustive.
Condos Near NE8 Farrer Park MRT Station (North-East Line, NEL)
Farrer Park, a subzone within the Rochor planning area, is full of popular haunts, including malls City Square Mall (yes, the Singapore one) and the 24-hour Mustafa Centre. It's an eclectic mix of hipster cafes around Rangoon Road/Owen Road, with long-time Indian shops and eateries closer to the Little India stretch. There's even the One Farrer Hotel nearby, as well as Farrer Park Hospital/Medical Centre. There aren't any markets in the immediate vicinity, but if you head to Pek Kio Market (Cambridge Road), there's a market and food centre with time-honoured stalls manned by veteran hawkers. As for connectivity, there are a couple of buses that serve this area, or you can walk to Jalan Besar (Downtown Line, about 13 minutes) or Lavender (East-West Line, about 20 minutes).
Condos Near NE9 Boon Keng MRT Station (North-East Line, NEL)
Boon Keng is a subzone that lies within the Kallang planning area. It's a nice heartland area, with plenty of markets and local mum-and-pop stores that offer all kinds of goods and services from haircuts to sundries. In terms of amenities, you've got Bendemeer Market & Food Centre, Kallang Community Club, Kwong Wai Shiu Hospital, and a compact neighbourhood centre with bubble tea shops, fast food restaurants, supermarkets, schools and more. There's also easy access to the park connector network for those who love to walk, jog or cycle. To get to other parts of Singapore, there are plenty of buses you can take, or walk to Geylang Bahru MRT station on the Downtown Line if you need to stretch your legs after a sumptuous hawker feast.
Condos Near NE10 Potong Pasir MRT Station (North-East Line, NEL)
In the past, many residents of Potong Pasir would take a bus to Toa Payoh (the main planning area) and other neighbouring towns just to shop for groceries at NTUC. However, since the developments in the area were completed, residents have their own supermarket, mall and other amenities in The Poiz Centre, the commercial and retail aspect of mixed development The Poiz Residences condo. While it's no longer the sleepy town of years past, Potong Pasir still very much retains its laidback vibe with a splash of modernity. There are now many condos in this area, alongside the various markets and eateries, which also speak of the demand for homes in this area thanks to popular schools St Andrews and Cedar Girls'. As for connectivity, there are various buses that ply this area, supported by Potong Pasir MRT station on the North-East Line.
Condos Near NE11 Woodleigh MRT Station (North-East Line, NEL)
Woodleigh MRT station is part of new HDB town Bidadari, which is also part of the Toa Payoh planning area. It's a bit more atas than, say, Boon Keng or Punggol, as Woodleigh is bisected by the Upper Serangoon Viaduct — with the Bidadari HDBs on one side and private/condos housing on the other. Upcoming is the Woodleigh Mall, and the nearest markets are probably in the Boon Keng area, or further north towards Serangoon. However, Woodleigh residents enjoy the serenity of the town, and have access to schools such as Cedar Girls', Stamford American International School and Maris Stella. The sprawling Bidadari Park is also a stone's throw away. Residents can also travel to Bartley MRT station (22 minutes' walk or 15-20 minute bus ride) to access the Circle Line (or they can take one stop to Serangoon and change from there).
Condos Near NE12 Serangoon MRT Station (North-East Line, NEL)
Remember the neverending crowds of people at NEX when the megamall just opened? Well, here's news for you: it's
still
perpetually crowded! Yup, to be honest, NEX mall at Serangoon has just about everything you need, from popular bubble tea brands, children and baby needs, a huge supermarket, cinema, library, family eateries, a bus interchange… What's not to love? Serangoon MRT station also experiences high traffic, as it is the interchange for people switching from the North-East Line to the Circle Line and vice versa. In the vicinity, the Serangoon neighbourhood also enjoys plenty of amenities, from markets, services, cafes and popular schools such as St Gabriel's Secondary, Nanyang JC and Zhonghua Secondary.
Condos Near NE13 Kovan MRT Station (North-East Line, NEL)
Kovan acts like the link between Serangoon and Hougang. Right beside the MRT station is Heartland Mall, the market, town centre, sports centre and even a bowling alley. Stars of Kovan, a mixed development, has eateries and enrichment centres, while opposite that, the Simon Road stretch is known for cafes. Kovan MRT is pretty much the only station in the area, but head to the nearby bus interchange or the bus stop outside Heartland Mall for more transport options.
Condos Near NE14 Hougang MRT Station (North-East Line, NEL)
Hougang evolved from its old name, Au Kang, which is Hokkien/Teochew dialect for "back of the river". Well, Hougang is anything but the boondocks right now, having developed into a cosy neighbourhood with amenities and decent connectivity. Right beside Hougang MRT station is Hougang Mall, and Hougang interchange. Close by is also Kang Kar Mall, Hougang Central Hub, the Hougang neighbourhood centre and the shops at Midtown Residences. Venture further and you'll also find Hougang skatepark, with Punggol Community Club and Punggol Park — despite their name, they're in Hougang. Surprise! And yes, you can rent a bike from the shop in Punggol Park and cycle on to Punggol proper via the park connector network.
Condos Near NE16 Sengkang MRT Station (North-East Line, NEL)
Sengkang used to be the definitive north-easternmost town until Punggol underwent development some decades ago. Today, it is a bustling district, with plenty of public housing (not so many condos), its own LRT network to help with commuting, Sengkang General Hospital, Compass One mall, a swimming complex, plenty of amenities and good connectivity to the north-eastern riverine PCN loop. Did you know that weaving through Sengkang are two rivers? That's why the town is so scenic, especially once you're at Sengkang Riverside Park.
Condos Near NE17 Punggol MRT Station (North-East Line, NEL)
Last but not least is Punggol, a purpose-built town that's well-planned with cycling paths from doorstep to the main PCN along the picturesque waterway. Like Sengkang, the dense neighbourhood is served by two dedicated LRT loops that take residents to their homes quickly. There's also Waterway Point, which is a hive of activity throughout the day. Venture further to discover other malls such as Punggol Plaza, Oasis Terraces and the new Northshore Plaza I and II, which overlooks the sea. Although not big on famous food haunts like mature towns, Punggol is a win for nature lovers thanks to its well-interspersed green pockets and easy access to the parks, coast and Coney Island.