24-year-old Polina Dobreva was born in Bulgaria, studied in Italy, and now calls Singapore home. She moved here in 2018 to join her boyfriend, after being in a long-distance relationship for 1.5 years. "Yes, it can be difficult to maintain that kind of relationship, but it does make your heart grow fonder," she remarks.
While the move was good for her relationship, their first apartment wasn't the best fit.
They knew they needed a bigger space. Fortunately, her boyfriend's contract renewal came with an increased housing budget, so they were on their way.
The Long Road of Apartment Hunting
In searching for a new apartment, Polina knew what she wanted. Having a balcony with a view and an extra bedroom was essential. "Given my job as a fashion stylist, I store lots of stuff, ranging from clothing to accessories, so having a spare bedroom was a must," explains Polina.
Although their agent sent them listings of properties, Polina also found a few options on her own with ease through the PropertyGuru search and filter feature. "Even though we let her know what we wanted, we thought it'd be good to have as many options as possible to find the ideal apartment."
But, the apartment was empty when they arrived. "It was a blank canvas, the only thing left was an ugly sofa which I immediately threw out." Polina found a used sofa as a replacement on Carousell, and luckily for them, the seller's place was in the building next to the apartment.
"We regarded this as a sign to purchase the sofa. Getting the sofa up to our place was similar to the time in a 'Friends' episode, where Chandler and Ross had difficulties carrying a sofa up a flight of stairs. My boyfriend and his friend carried it up. I have it on video," she laughs.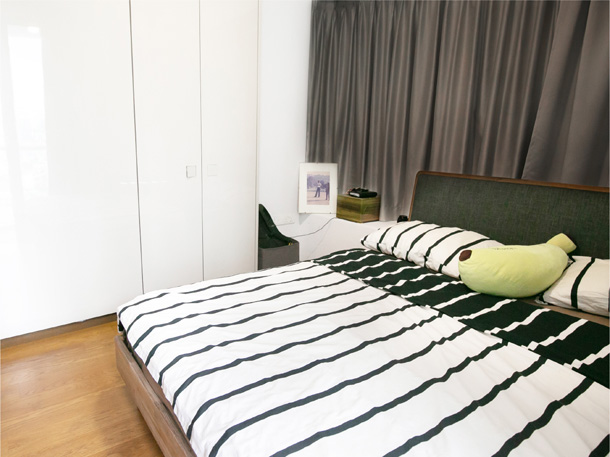 Life in Newton
Living in Newton has made it easier for Polina to travel around Singapore, especially to trendy Orchard Road, where most of her clients are located. "I have to admit that when we were looking for apartments, location was not the top priority. But living in Newton has definitely made it easier for me to go to Orchard — it's just one MRT stop away, so it takes only 10 minutes, maximum," says Polina.
Another thing she likes is the tranquillity and sense of calm that Newton has. "Although it's close to the city centre and Orchard Road, Newton is a relatively quiet neighbourhood. It gives you a sense of being in the city centre without experiencing the hustle and noise that usually comes with it."
Being near to the famous Newton Food Court enables Polina to socialise with her friends. "I haven't tried most of the Singaporean foods like the chilli crab because seafood and fish is not my cup of tea, but it's nice to catch up with your friends over dinner in the food court once in a while."
For now, Polina is content with her living space. She has no plans to upgrade or even add things to her current apartment, "I'm very happy with my current living space," Polina smiles.
All images featured in this article are owned by PropertyGuru and should not be used without permission.