Ranked as the world's
second most expensive country to live in
according to a study conducted by the Economic Intelligence Unit, it comes as little surprise that housing prices in Singapore rank among the highest in the world. As such, you are more likely to need a mortgage when financing your dream home to reduce the upfront downpayment for such a big-ticket item.
Similarly, for homeowners, keeping abreast of your mortgage can also help you save thousands of dollars. In one of our feature stories, we spoke to a young couple
Justina and Bernard
, who paid up to $2,500 more per year on their HDB loan. Unfortunately, their hectic work schedules didn't allow them to spare much thought on their mortgage until a friend mentioned her cost savings after refinancing. Imagine how much interest the couple could've saved if they had spoken to her nine years earlier.
Justina's and Bernard's case is only one instance of how one could end up paying more than necessary on a mortgage. This article will discuss some of the reasons you could be paying more on your mortgage and explore solutions to reduce your expenditure.
Why You Could Be Paying More on Your Mortgage
1. Your Loan Package Is No Longer Competitive
When you first signed your current home loan package, you probably would have done sufficient research to determine that it was a good fit for your financial circumstances. Or perhaps, it was the one with the lowest interest rates you had come across when you took the loan. However, unless you choose a loan with constant rates, chances are you will find the interest rising every year, just like many people after their loan anniversary.
This leads to higher monthly repayments unless steps are taken to address the higher interest.
2. Your Credit Score Isn't Fantastic
A
credit score
is a metric used by lenders to determine how risky you are as a credit applicant based on how likely you are to repay your debts. While the exact algorithm to compute credit scores in Singapore is not publicly disclosed, some factors include your credit account history, debts owed, and speed of debt repayment.
If you have a large amount of debt and have been late in repaying them, chances are you have earned yourself a bad credit score. This will adversely affect the amount of mortgage you can obtain from banks, as they are worried that you might not be able to repay the loans on time. In addition, this can lead to falling short of qualifying for loan packages with better interest rates due to minimum loan requirements. As a result, the less competitive home loan leads to spending more on your mortgage than you need to.
But don't lose heart! You can take steps to correct your credit history to qualify for a better home loan package to maximise your cost savings.
An option to consider is taking on a
debt consolidation plan
with a bank to combine all your existing loans under one loan. Alternatively, you could make it a point to pay off your existing debts on time. By taking these first steps, you will be on your way to correcting your credit history to earn banks' confidence to extend you a more attractive mortgage package. For more valuable tips on improving your credit score, check out this
guide
.
3. You Didn't Plan for the Duration of Your Mortgage
It is common to hear first-time homebuyers opting for longer tenures, especially if they are cash-strapped and prefer a smaller monthly repayment.
However, long-term mortgages tend to cost more in the long run due to the total interest paid at the end of the duration. On the other hand, short-term mortgages incur lesser interest throughout the loan, albeit having a higher monthly repayment. Imagine this, how much will the interest cost for a 15 years loan versus 25 years, with an additional 10 years of compounding effect.
In addition, if you have an HDB loan right now, you may wish to consider whether to stick with it to the end. This is because the higher interest rates of HDB loans compounded over the loan tenure tend to make the interest paid much higher, especially when the duration is long.
4. You Aren't Comparing the Current Loan Rates
So you haven't been monitoring your loans against market rates as diligently as you should have. Perhaps you are not looking to purchase a property anytime soon, or maybe you are unsure how to do so.
Regardless of the reason, it is good to regularly track your loans with the latest rates and keep updated with changes and fluctuations in the property market. Then, when the time comes for you to reevaluate your home loan, you will have the information you need to choose the best package and maximise your savings.
Alternatively, you can also make use of PropertyGuru Finance's
SmartRefi
tool to help you track your mortgage against the latest interest rates. Utilising the latest technology, SmartRefi lets you know when is a good time to refinance and presents you with a detailed breakdown of all the potential costs and savings estimates. Talk about tracking and saving smart!
What You Can Do if You're Paying More on Your Mortgage
1. Refinance Your Home Loan
Simply put, refinancing is to replace your existing property loan with a more favourable one – such as better interest rates with a new bank.
For instance, you may wish to refinance your HDB loan at 2.6% p.a. — like Justina and Bernard did as outlined earlier, refinancing to a bank that offers them a significantly lower interest of 1.5%. This means lowering their monthly repayment and reducing their overall interest expense.
As the couple did earlier, you can also opt to switch to another bank once your
lock-in period
ends or your interest rates are no longer attractive. But ultimately, the goal is the same to maximise your interest savings with a cheaper home loan package that offers you a lower monthly repayment.
2. Reprice Your Home Loan
In the case of repricing, you essentially stay with the same bank but sign a different loan arrangement (contract) with newer terms. There are various ways to reprice your mortgage. For example, if you are currently taking up a fixed-rate loan, you can consider s
witching to a variable interest rate loan that generally offers lower interest
. Another possible option would be to reprice to a loan package with a shorter loan tenure so that you eventually pay less interest over the entire duration of the loan.
The fundamental difference between refinancing and repricing is whether you switch to a new bank (refinance) or continue with the present bank (reprice). Of course, while cost-saving is the main reason for homeowners to choose either, be sure to select the option that works for you in the short and long term.
Expert advice: The most important thing to note when considering to refinance or reprice is whether the effort and cost can justify the move. If you can find significant cost savings, it is worth every penny, whichever option you choose.
3. Wait it Out
Give it some time if you know that you are paying more than necessary for your mortgage but are unable to switch to a more attractive loan package because your lock-in period has not yet ended. We recommend homeowners start exploring four months before their lock-in expires as many other experienced property owners do.
4. Get Advice From PropertyGuru Finance
On top of PropertyGuru Finance's exclusive SmartRefi tool, you may also wish to enlist the help of our experienced mortgage experts, who can offer you more personalised recommendations based on your own financial circumstances.
Whether it is home loans offered by other banks, or assessing the next best financial move, you can always count on PropertyGuru Finance's Mortgage Experts to give you smart, honest and unbiased advice.
Stop Paying Extra on Your Mortgage and Start Saving Instead
Buying a property in Singapore is already a substantial financial investment. If you are currently paying more than necessary on your mortgage, that money could have been better spent to enhance your lifestyle. Or perhaps, you can even start saving to invest in another property in the future.
So why not cut the unnecessary spending, and kickstart your cost savings journey today. If you aren't sure how or where to begin,
get in touch
with our friendly mortgage experts from PropertyGuru Finance for some savvy advice on saving more for your mortgage!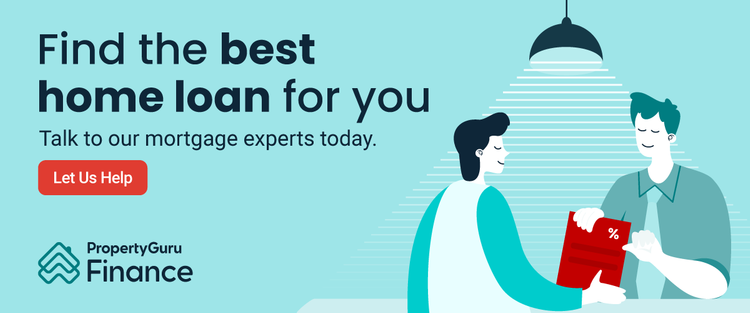 Chat with us on Whatsapp
Fill up an online form
Disclaimer: The information is provided for general information only. PropertyGuru Pte Ltd makes no representations or warranties in relation to the information, including but not limited to any representation or warranty as to the fitness for any particular purpose of the information to the fullest extent permitted by law. While every effort has been made to ensure that the information provided in this article is accurate, reliable, and complete as of the time of writing, the information provided in this article should not be relied upon to make any financial, investment, real estate or legal decisions. Additionally, the information should not substitute advice from a trained professional who can take into account your personal facts and circumstances, and we accept no liability if you use the information to form decisions.