One of the first things property buyers must decide on is the type of home loan to take. In Singapore, these are the two major types of property loans that banks offer: fixed rate loans and floating rate loans.
There's no better loan per se, but depending on your personal circumstances one or the other might be a better choice (hint: it's not just about considering interest rate percentages).
As interest rates continue to rise, choosing the right mortgage for your financial needs is more important than ever. That's where this handy guide comes in!
Brief Background about Home Loans in Singapore
Think of it as buying a durian; home loans might all look the same to the uninitiated, but prise them apart and you'll see big differences, and some might not be to your taste. So you have to do your homework to make sure you're getting a loan that's good for you.
What Is a Fixed Rate Home Loan?
Contrary to what its name may suggest, fixed rate home loans in Singapore typically only remain fixed for the duration of their lock-in period. This is typically between two or five years, depending on the mortgage package you choose (we'll explain what lock-in periods are later in the article).
After the fixed interest rate period is over, the interest rates for the fixed rate home loan will be changed to a floating interest rate, pegged to the Singapore Overnight Rate Average (SORA), FDR or other reference rates, as determined by the bank.
Depending on the bank spread, this interest rate may be equal to or higher than existing floating rate mortgage packages on the market. The bank spread is the additional percentage that the bank earns from you in addition to the cost of lending you the principal.
Fixed Rate Home Loan: Who Is It For?
Homeowners with low-risk appetite in the near term
Homeowners who want certainty in a volatile interest rate environment
Homeowners with a tight fixed budget for a mortgage in the near term
Homeowners who are willing to go to the effort and expense (about $3,000 worth in legal fees) to refinance their property after the fixed rate period is over
Landlords who want to keep mortgage repayments constant for ease of financing
What Is a Floating Rate Home Loan?
A floating rate home loan implies that the interest rates of the loan are subject to periodic adjustment, the frequency of which depends on the type of floating rate home loan you take. When the interest rate changes, your monthly instalment amount is likely to change in tandem.
In Singapore, a floating rate home loan can be either a Singapore Interbank Offered Rate (SIBOR)-pegged loan, SORA-pegged loan, or a Fixed Deposit Based Rate (FDR) loan. The lock-in period for floating rate loans is typically two years. Floating rate home loans may have more relaxed rules on partial repayment during the lock-in period.
Floating Rate Home Loan: Who Is It For?
Homeowners who have factored in a buffer in their housing budget for interest rate increases
Homeowners who expect interest rates to trend down instead of up
Homeowners who have some appetite for risk
Homeowners who want to take advantage of interest rate fluctuations to get a competitive mortgage package
Now, let's talk about the types of floating rate home loans: SIBOR, SORA, and FDR home loans.
What Is a SIBOR Home Loan?
It may sound complicated, but such a process is certainly seen as a fairer way of determining home loans, as SIBOR is collectively set by multiple banks and typically highly correlated to interest rates set by the US Federal Reserve, which is seen as the global benchmark of interest rates.
For the property buyer, SIBOR-pegged home loans are a formula comprising of the SIBOR rates and bank spread. There are typically two types of SIBOR-pegged loans:
1M SIBOR Home Loan
Bank spread + one-month SIBOR rate
Rate changes every month
3M SIBOR Home Loan
Bank spread + three-month SIBOR rate
Rate changes every three months
What Are SORA Home Loans?
In 2020, banks began to offer SORA-pegged housing loans. SORA rates are backwards-looking overnight rates. As compared to SIBOR and SOR (which are both forward-looking rates), SORA rates are considered more stable. Eventually, SIBOR and SOR will be phased out.
What Is a Fixed Deposit Based Rate (FDR) Home Loan?
Another type of floating rate home loan is the FDR home loan. This loan is pegged to the lender bank's fixed deposit rates with a bank spread. Interest rates for FDR loans may change at any time at the lender bank's discretion (with a 30-day advance notice period).
Homeowners who want a sense of control may be suited for FDR home loans, as such home loans let them undertake a hedging strategy to minimise interest rate volatility.
What Is a Lock-in Period?
If you choose to refinance your home loan within the lock-in period, you may have to pay a hefty partial/full prepayment penalty, which is typically 1.5% of your outstanding principal.
If you've received legal subsidies for taking the home loan, the bank will also likely require you to refund the amount if you refinance your home loan during the lock-in period.
Understanding What Is Home Loan Refinancing
Lenders may entice homeowners with legal fee subsidies, subject to the borrower fulfilling the new loan's lock-in period, or a promotional home loan interest rate. A promotional home loan interest rate is a limited-time rate that is lower than the rate for the remaining tenure of the loan. If you are taking a home loan with a promotional rate, ensure you know how much your monthly repayments will increase when the promotional period is over.
However, don't count on home loan refinancing to reduce your interest rates and monthly mortgage instalment costs immediately, for the following reasons:
You have to pay legal conveyancing fees when refinancing your loan (about $1,650 to $2,250)
Refinancing is subject to approval based on financing rules that could change over time (e.g. loan-to-value ratio)
Refinancing is subject to approval based on the borrower's financial status at the time of refinancing
Refinancing is subject to approval based on the refinancing amount
Other Factors to Consider When Picking the Right Home Loan
So now you know what types of home loans are available on the market. Aside from looking at the interest rates and loan type, you should also know:
How the reference rate is derived
How often the interest rate may be reset
Under what circumstances the rate is changed
What special features, if any, apply and if these will be removed or amended later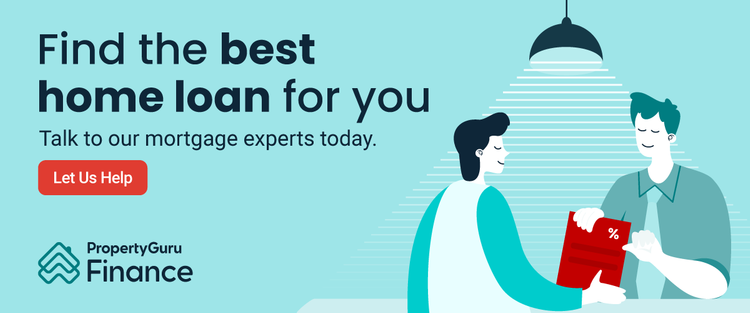 Chat with us on Whatsapp
Fill up an online form
Disclaimer: The information is provided for general information only. PropertyGuru Pte Ltd makes no representations or warranties in relation to the information, including but not limited to any representation or warranty as to the fitness for any particular purpose of the information to the fullest extent permitted by law. While every effort has been made to ensure that the information provided in this article is accurate, reliable, and complete as of the time of writing, the information provided in this article should not be relied upon to make any financial, investment, real estate or legal decisions. Additionally, the information should not substitute advice from a trained professional who can take into account your personal facts and circumstances, and we accept no liability if you use the information to form decisions.