The term 'lock-in period' often has a negative connotation when the time comes to refinance home loans. The lock-in period is often seen as a clause to limit options, prevent prepayments and impose additional charges and penalties on homeowners.
Although this is a common perception in Singapore, the reality is that when you refinance home loans, the restrictions they impose aren't always a bad thing.
If you're in the process of applying for a home loan and you don't know whether you would accept a lock-in period for a special promotional interest rate or not, this article might be able to help you decide.
We'll explain what lock-in periods are, and we'll also discuss the stereotypes about lock-in periods and prove how some could even be useful for you.
Home Loan Refinancing: What is a Lock-in Period?
A lock-in period is very common in the mortgage realm. As its name suggests, the lock-in period is the period of time during which you are contractually obliged to remain with a lender, as a condition for receiving a particular rate, discount, or promotional perks.
The duration of the lock-in period is usually two to five years. During this time, you cannot redeem or refinance your loan – if you do, you will need to pay a penalty fee.
Stereotypes about Lock-in Periods and Why They Aren't Always Bad
Here are some of the most common stereotypes or misconceptions people have of refinancing their home loans with lock-in periods as well as some reasons why they aren't that bad at all for you.
1. Lock-Ins Won't Let You Refinance Your Mortgage or Sell Your Property
You can still sell or refinance your home loan if your package does not include waivers. The only catch is that you must pay the penalty fees.
But this isn't always a bad thing. More realistically, whether or not lock-in periods prohibit you is less relevant than whether you can or need to sell or refinance your home loan within the lock-in period in the first place.
It's also quite rare to need to refinance home loans or sell your home in such a short amount of time that the lock-in comes into play unless it's a rare emergency or crucial circumstance. Besides, this might not matter to you at all if you're someone who wants to stick with one loan or one house for life to save yourself from hassle.
2. The Lock-In Period Isn't Worth It Because Pre-payment Penalties Are High
Not really. Banks charge a typical penalty of 1.5% of the remaining or redeemed loan amount for refinancing, selling a property, or paying off your mortgage earlier than agreed. While this may sound too much, because, for example, 1.5% of the $500,000 loan amount is $7,500, you'll realise that it is actually very possible to refinance, pay the penalties and still save significantly on long-term interest costs.
Of course, if the difference in the interest rates is marginal, then it may not make sense to pay the penalties. However, it's totally possible for the difference to be big enough, especially if market rates are low.
3. There's No Real Benefit in Lock-In Periods
Some people easily push back on lock-in periods because they think that at the end of the day, they offer no real advantage. While lock-ins are often considered as one-sided prudence measures for banks to protect themselves in exchange for cheaper deals that may lead to losses for them if you end the loan or refinance earlier, it's not true that they offer no real benefit on your end.
In fact, some of the cheapest home loans usually come with lock-in periods. Many fixed-rate packages, which offer borrowers peace of mind of a stable interest rate and predictable monthly repayments, also come with lock-in periods.
As mentioned above, lock-in periods aren't that long. And if you aren't planning on paying off your loan, refinancing, or selling your home in the next few years, then the amount you can save on interest fees could be worth it.
Some other benefits you can enjoy include lower fees on subsidies, and not paying for the usual charges related to refinancing or selling a home.
Find the Right Home Loan With A Suitable Lock-in Period with PropertyGuru Finance
As you can see, home loans with lock-in periods could also be useful, but there are some circumstances where they could still be limiting and disruptive. But either way, it's safe to say they're not bad all the time.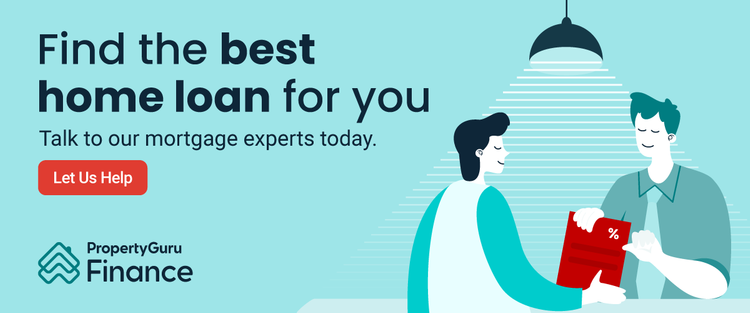 Chat with us on Whatsapp
Fill up an online form
Disclaimer: The information is provided for general information only. PropertyGuru Pte Ltd makes no representations or warranties in relation to the information, including but not limited to any representation or warranty as to the fitness for any particular purpose of the information to the fullest extent permitted by law. While every effort has been made to ensure that the information provided in this article is accurate, reliable, and complete as of the time of writing, the information provided in this article should not be relied upon to make any financial, investment, real estate or legal decisions. Additionally, the information should not substitute advice from a trained professional who can take into account your personal facts and circumstances, and we accept no liability if you use the information to form decisions.