But while it may not have seemed like too big a burden before, you may have now reached a point where your debt has affected your chances of securing a home loan, or one with a comfortable enough amount. If you're nodding a little too hard, don't fret.
What's a Debt Consolidation Plan?
A debt consolidation plan is a powerful tool that helps you clear off high-interest debt and bring you closer to acquiring a mortgage for your dream home. Debt consolidation plans let you combine all your existing unsecured debts, such as credit cards and personal loans from different institutions, into a single loan.
This single loan typically would have a comparatively lower interest rate and a longer loan tenure of up to 10 years.
It is important to note, however, that while you cannot consolidate your housing loan specifically under a debt consolidation plan, having one may make your home loan repayments more manageable, which in turn increases your chances of securing a mortgage. But more on that later.
A debt consolidation plan is best suited for those who have amassed multiple unsecured debts with several creditors that exceed 12 times of their monthly income or have total interest-bearing unsecured debt exceeding the same.
In layman terms, they're best suited for those who've borrowed… well, a lot.
Of course, taking up a debt consolidation plan is not the be-all-end-all solution to your debt issues and may not be suitable for everyone's situation. Still, it's worth looking at if it could benefit you and help you get that mortgage you so desire.
Here's Why A Debt Consolidation Plan Can Improve Your Chances of Securing a Home Loan
Now that we've got the gist of just what a debt consolidation plan is, you're probably wondering, "But if home loans can't be consolidated under a debt consolidation plan, how on earth will it help?"
Well, let's break it down.
1. Lowers Your Total Debt Servicing Ratio (TDSR) and Lets You Enjoy Lower Interest Rates
Taking up a debt consolidation plan helps you achieve a lower effective interest rate on your unsecured debts.
To illustrate, let's assume you're currently earning $7,500 and have unsecured debts amounting to $100,000, that you're hoping to pay off in five years. The table below shows the total interest savings you can achieve on monthly debt repayments if you opt for a DCP instead of sticking to your current unsecured debt facilities.
By choosing a debt consolidation plan, you'll be paying $34,476.92 (or 57%) less in total interest payments compared to sticking with your existing debts.
With monthly debt repayments reduced to $2,179.63, the resulting reduction of your TDSR from 35.6% to 29% will give banks the assurance that you'll be able to service monthly repayments or afford higher repayments. This would in turn increase your chances of securing a mortgage or getting a higher mortgage.
2. Debt Consolidation Plans Allow For More Flexible Loan Tenures
More than just acquiring a home loan, it's also important to plan how to best finance your mortgage moving forward. To that effect, debt consolidation plans generally offer you longer loan tenures which range from three to 10 years. This makes monthly payments less of a struggle to manage.
For instance, instead of paying $200 off each month over a 5-year period, you could be paying $150 over a 10-year period instead. This effectively gives you more cash on hand to pay off your mortgage or other unsecured debts not consolidated under your debt consolidation plan.
With a longer repayment duration too, your monthly unsecured debt repayment amount also lowers your TDSR, making banks more willing to extend you a home loan.
3. Debt Consolidation Plans Make It Easier to Keep Track of Loans
Under a debt consolidation plan, all your outstanding balances for unsecured loans will be consolidated under a single financial institution. This makes it easier to keep track of your outstanding loans, and ideally, pay your bills on time.
Apart from saving you the time and hassle of recalling your debts and payment deadlines, it also helps improve your credit score since it is said to be affected by how timely your repayments are.
4. Debt Consolidation Plans Can Help You Achieve a Better Credit Score
A credit score is an important factor that's taken into account when you apply for a home loan.
Your credit score is particularly important when applying for a mortgage for a new home. The better your credit score, the more likely you'd be able to secure a larger loan and have your application approved.
So how would a debt consolidation plan help? Well, with more flexible loan tenures, lower interest rates, and easier loan tracking as mentioned previously, a debt consolidation plan makes it easier and more manageable for you to pay off debts. That way, there's a higher chance that your credit score could be improved, along with your chances of securing your ideal home loan.
Still, There Are Limits to How Much Debt Consolidation Plans Can Help You Secure a Home Loan
Now before you rush right down to a trusted bank and sign up for a debt consolidation plan, we should probably tell you that debt consolidation plans may not always be the best way forward depending on your own financial situation.
1. Not All Unsecured Loans Can Be Consolidated
Not being able to include these loans under your debt consolidation plan means that added effort needs to be spent monitoring and keeping track of these loans.
2. Debt Consolidation Plan Amount May Not Sufficiently Cover Existing Loan Balance
There may be instances where the DCP amount you receive from the bank does not sufficiently cover your debt obligations.
This amount would usually be equal to your outstanding unsecured loan balance (inclusive of interests and other fees accrued). In addition to this, there will also be an additional allowance of up to 5%. This would go towards covering other incidental charges incurred.
At times though, the debt consolidation plan amount and allowance might be insufficient to cover your outstanding balances or incidental charges. In such cases, you may have less cash on hand to meet your mortgage repayments as you'll also have to settle the shortfall with the corresponding banks or risk being subject to their remedial process.
To Apply or Not to Apply for a Debt Consolidation Plan
Dramatics aside, there's no denying that a debt consolidation plan has the potential to help your chances of obtaining a home loan. It not only puts you in a better position to repay your existing debts but also has the potential to help better your credit score and boost your overall financial standing.
It is however important to keep tabs on the kinds of debts you have to ensure that they can be counted under a debt consolidation plan if you ever decide to apply for one.
It also goes without saying that debt consolidation plans may not be able to help everyone get the home loan they want. But what will help is working towards healthy spending habits which means timely repayments and holding off on big-ticket purchases.
For more information on how debt consolidation plans can help pave your way toward your perfect home loan, get in touch with our Mortgage Experts.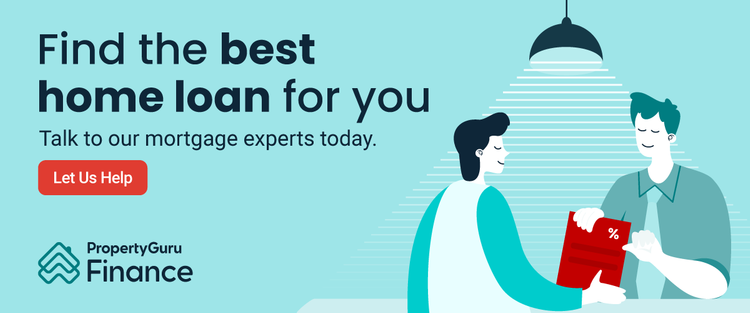 Chat with us on Whatsapp
Fill up an online form
Disclaimer: The information is provided for general information only. PropertyGuru Pte Ltd makes no representations or warranties in relation to the information, including but not limited to any representation or warranty as to the fitness for any particular purpose of the information to the fullest extent permitted by law. While every effort has been made to ensure that the information provided in this article is accurate, reliable, and complete as of the time of writing, the information provided in this article should not be relied upon to make any financial, investment, real estate or legal decisions. Additionally, the information should not substitute advice from a trained professional who can take into account your personal facts and circumstances, and we accept no liability if you use the information to form decisions.