Nowhere Like Newton: A Family's Story of Renting and Buying In A Neighbourhood They Love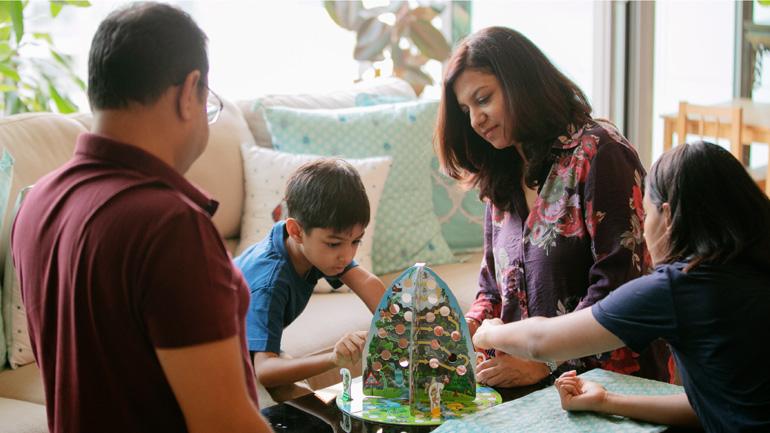 Meeshal and her husband arrived in Singapore over thirteen years ago when her husband was offered a new job opportunity here. When they relocated, Meeshal, now 43, immediately fell in love with Singapore and although originally from India, she now calls Singapore home.
The couple initially came to Singapore on a two-year assignment, and decided to rent a home and live in
Newton
, close to her husband's workplace in
Novena
. Since her daughter was only one year old then,
schools were not yet a concern
. After three years, however, it became apparent that her husband's job and hence, their stay in Singapore would be for the long-term. This was when they decided that it may be about time to
buy an apartment
. Their family was also growing, and they
wanted more space
.
The couple knew that they wanted to transition from
renting
to owning their next home, but Meeshal recalls that they never once considered moving away from Newton. Their daughter had started attending a preschool nearby, they had already made friends in the neighbourhood, and more importantly, her husbands' workplace was still in Novena.
From Renting to Buying and Renovating the Perfect Home
Like many property seekers, Meeshal and her husband spent many months
viewing many houses
, but when they finally found 'the one', they knew immediately. "As soon as we entered the apartment, both my husband and I got very positive vibes. It ticked all our boxes. It was in Newton, so we were familiar with the area. It was 1,700 sq ft with four good-sized bedrooms. It was close to my daughters' school, and the kitchen and the living room were big too. But what clinched it for us were the two B's: my husband thought the bar was the best part of the apartment whereas I fell in love with the balcony," shares Meeshal excitedly.
One of the first things they did was
extend the kitchen
by tearing down the toilet outside it. "I always wanted a big kitchen, and now I have it," Meeshal says with satisfaction. The extended kitchen allowed Meeshal to install professional baking equipment, which really came in handy when she started her own baking business during the Circuit Breaker period last year. Just like her, Meeshal's bakery of custom made cakes has a catchy name, '
House of M
'.
Newton, A Wonderland for Families with Children
If you can't already tell, Meeshal and her family really enjoy Newton. Meeshal shares that her new home location is particularly great for families: the Thomson Road Playground and Hooper Road Playground, both popular with young children, is a stone's throw away. The Newton area is also excellent for classes for children of all ages. Meeshal's children are 14 and 6 years old, and she raves about the wide range of classes available locally at the Cairnhill Community Club, United Square shopping mall and Goldhill Plaza mall.
Her children have attended classes for Chinese, Art, Maths, Piano, Karate and Fencing. Meeshal remarks, "There are so many fantastic learning opportunities within walking distance, I never have to worry about keeping them occupied during school holidays."
She also loves how centrally located Newton is. The close proximity to Orchard Road, museums and Singapore Botanic Gardens is a plus. Not to mention, the public transport accessibility: Newton and Novena MRT stations are nearby, and there are several bus routes available to travel in all directions. The icing on the cake? Da Luca, Meeshal's favourite Italian restaurant and one of Singapore's finest, is only a 10-minute walk away.
Advice for New Expats
Meeshal has a few words of advice for families looking to stay in the Newton area. She says, "It's a fantastic area to live in if you have children; there are plenty of good kindergartens and preschools, well-designed public playgrounds, various classes for children and the coaching centres are par excellence. It is a very child-oriented neighbourhood. We found our home on PropertyGuru, and maybe so will you," Meeshal says with a happy smile.
All images featured in this article are owned by PropertyGuru and should not be used without permission.