In August 2022, HDB will launch about 6,300 to 6,800 units of BTO flats in six HDB estates.
Therefore, it's once again time for us to take an educated guess at where these plausible land plots might be.
Raise the curtains now for our guesses for where the upcoming BTOs for the August 2022 launch could be.
Ang Mo Kio (2-room Flexi/ 4-/ 5-Room/ 3Gen Flats)
We smell a large project on the way with 5-room and 3Gen configurations for larger families. Thus, only a site with a high gross plot ratio will do.
It's an excellent spot that's close to the Bishan-Ang Mo Kio Park as well as schools in the area that include Mayflower Secondary, Peirce Secondary, Eunoia Junior College, CHIJ St Nicholas Girls' School and so on. It's also pretty close to Lower Peirce Reservoir, which connects to Windsor Nature Park that connects all the way to MacRitchie Nature Park and the whole central water catchment area.
Bukit Merah (3-/ 4-Room Flats)
Seeing that the mature estate of Bukit Merah is more spacious than we thought (two project sites were announced for the May 2022 HDB BTO exercise), let's look at two possible locations for this development of 3- and 4-room flats.
Our first pick would be this plot along Havelock Road, which is close to the Havelock Road Cooked Food Centre and relatively close to Tiong Bahru Plaza via a short bus ride away. On a spacious area with a gross plot ratio of 4.0, a dense development with tall storeys can be built for glorious views of the city centre. It's also a stone's throw away from the scenic Singapore River and Singapore's Central Area (you can easily see the riverfront hotels from your window). We predict that prices and demand will be sky high though, if this is really the case.
There's an equally possible premium plot for flats in the Bukit Merah area, super close to the Alexandra Park Connector for fitness buffs and also near the meandering Singapore River. It's also quite close to Great World City, and as a result, Zion Riverside Food Centre. You can even walk to Orchard Road up from Kim Seng Road should you wish.
Choa Chu Kang (2-Room Flexi/ 3-/ 4-/ 5-Room Flats)
Jurong East (2-Room Flexi/ 3-/ 4-Room Flats)
Lo and behold, there seems to be a modest plot of land directly beside Chinese Gardens MRT. With a gross plot ratio of 3.5, it should be relatively tall with gorgeous views of the Chinese Gardens picturesque lake (oops, sorry Parc Oasis residents!).
Living in this CBD of the West is surely a boon, what with a slew of major shopping malls in Jurong East town centre (Westgate, Jem, Jcube, IMM), many eateries and hawker centres… Jurong East even houses a hotel!
Queenstown (3-/ 4-Room Flats)
Did HDB inadvertently drop a hint with this map they released for the May 2022 HDB BTO project site?
Will the plot of land beside the May 2022 HDB BTO project site be coming up for the August 2022 HDB BTO launch? Logistics wise, it's probably easier to concentrate construction resources in one place to minimise disturbance to the Queenstown residents.
Needless to say, it's a fantastic location, with access to the East-West and Circle Line MRT network via Buona Vista (interchange). It's even walking distance to the hip and happening Holland Village enclave, and the classy and chill Rochester Park. Plenty of jobs here too, especially in the education and science sectors; for parents with children, there are plenty of good schools in the area, not to mention universities as well.
Woodlands (2-Room Flexi/ 3-/ 4-Room Flats)
Woodlands used to feel like the boondocks, where phone signals would randomly migrate overseas temporarily, causing our phone bills to jump. These days, technology is better and we are able to "lock-on" to our preferred network operator, but those with older phones might still receive the occasional message from STM-WELCOME (don't we miss seeing this now?) when strolling along the Woodlands Waterfront Park.
For now, it seems unlikely that there will be properties coming up along the Woodlands Waterfront (the orange plot that's slated for residential development states "subject to detailed planning" as of now).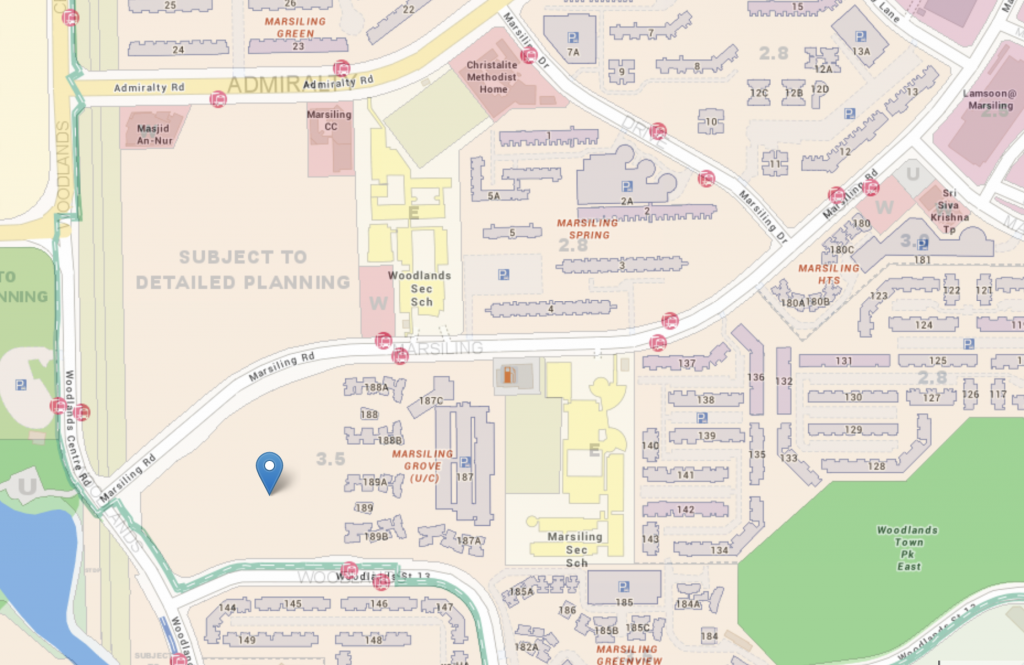 It's possible that the new flats will come up beside Marsiling Grove. It's walking distance to Marsiling MRT station, with schools such as Marsiling Primary/Secondary and Woodlands Secondary close by. Plus, there's a nice patch of green with Marsiling Park to the west.
This article was written by Mary Wu, who hopes to share what she's learnt from her home-buying and renovation journey with PropertyGuru readers. When she's not writing, she's usually baking up a storm or checking out a new cafe in town.