Whether it's an
HDB loan or bank loan
, most would likely take a
loan to finance t
heir property. But that doesn't mean that you can borrow as much as you want as there's
a limit to how much financing we can obtain.
This is called the Loan-to-Value (LTV) ratio, which is a restriction that the Singapore government has put in place to limit the maximum amount property buyers can borrow from HDB and banks.
LTV limits were last revised in September 2022, as part of
new cooling measures
. Currently, the LTV limit for bank loans remains unchanged at up to 75%, while the LTV limit for HDB loans was adjusted down from 85% to 80%.
In this guide, we'll help you understand the concept of the LTV ratio, the rationale behind it, and the different LTV ratios for HDB and bank loans.
LTV Ratio: An Overview
| | |
| --- | --- |
| What is LTV? | The LTV ratio is the amount that you are allowed to borrow to finance your home |
| HDB loan LTV | Up to 80% of the purchase price/property value |
| Bank loan LTV | Up to 75% of the purchase price/property value |
| Factors that may affect your LTV | The property's lease, location and condition, your age and credit score |
What Is LTV?
Let's first go back to basics. The LTV ratio is the amount that you are allowed to borrow to finance your home. For instance, an LTV ratio of 80% means that you can borrow up to 80% of your property value (or purchase price, whichever is lower).
LTV ratios are implemented as a
safeguard against over-leveraging by borrowers
.
If you buy a resale property and you pay more than the amount of its HDB or bank valuation, that
Cash over Value (COV) amount
must be paid in cash. For example, if you pay $530,000 for a property valued at $500,000, the LTV will apply to the $500,000 valuation, and you must pay the $30,000 in cash.
LTV in Singapore
One of the key differentiating factors of HDB-granted housing loans and bank loans is the LTV.
HDB Housing LTV (up to 80%)
The HDB Concessionary Loan (basically the HDB housing loan, which is only available for BTO, Sale of Balance Flats (SBF), open booking of flats, and resale flat purchases) has a maximum LTV ratio of 80%. This means you can loan up to 80% of the purchase price/property value.
The downpayment can be paid by cash, from available savings in your CPF OA, or a mix of both. There is no minimum cash component.
Since you can only own one HDB flat (and hence an HDB housing loan) at any given time, this is the only LTV you need to know.
Bank LTV (up to 75%)
For a bank loan, the maximum LTV ratio is capped at of 75% LTV for the first loan (i.e. if you have no outstanding home loans). Of the remaining 25%, 5% must be paid in cash. The remaining 20% can be paid using a combination of cash or your CPF-OA savings.
Why You May Not Always Qualify for the Maximum LTV
It's important to note that HDB/banks do not have an obligation to loan you the full LTV. They can opt to approve a lower LTV limit, or reject your application outright. If that's happened to you, here are some possible reasons:
1. The Remaining Lease of the Property May Be Too Low
Leasehold properties with 30 to 40 years left on their lease may incur an LTV ratio of 60%. The reason: banks feel that properties with dwindling leases constitute less satisfactory collateral because of lowering market value towards the end of a lease.
You may also find that you cannot use your CPF funds to pay for such properties.
There are special cases whereby properties are purchased through monthly payments, or still obtaining a loan despite the age of the property. These are usually cases whereby the buyer has managed to negotiate a private contract with the seller via a law firm. Alternatively, it may be a special loan by a private bank to a wealthy buyer who also has a
good credit score
.
2. The Property Location and Condition Are Poor
Based on the location and state of your property, the LTV cap can be lowered significantly. Properties that are based abroad tend to get lower LTV limits. Properties located in a less desirable neighbourhood (e.g. close to a red-light district) may also merit a lower LTV ratio.
The lender may check for lawsuits against properties too. Properties that are run down or have significant defects are also reasons to merit a lower LTV ratio.
3. Your Age and Loan Tenure Are Too High
If the loan tenure on your property purchase extends past 65 years of age, the LTV ratio will be capped. And as long as the loan tenure exceeds 30 years, the LTV will be similarly capped.
If you're thinking of taking out a home loan at 35, you have to repay your full amount before you turn 65 in order to enjoy a higher LTV ratio. This is why some buyers prefer to buy their second property as soon as they save up enough for one.
4. You Have a Bad Credit Score or Rating
If you have a history of late payments and defaults on loans, you might be flagged as a credit risk. Banks may choose to offer you a lower LTV than the allowable limit, such as 60% instead of 75% for a first bank loan.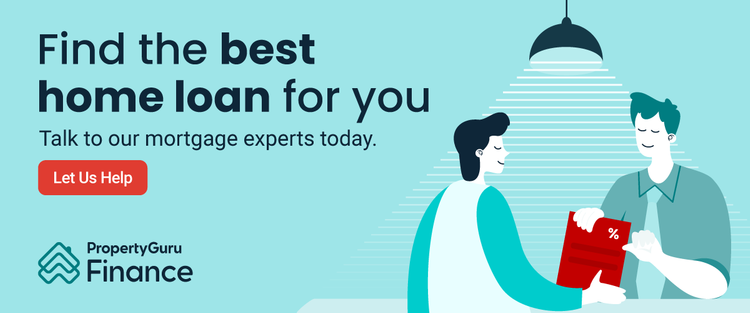 Chat with us on Whatsapp
Fill up an online form
Disclaimer: Information provided on this website is general in nature and does not constitute financial advice.
PropertyGuru will endeavour to update the website as needed. However, information can change without notice and we do not guarantee the accuracy of the information on the website, including information provided by third parties, at any particular time. Whilst every effort has been made to ensure that the information provided is accurate, individuals must not rely on this information to make a financial or investment decision. Before making any decision, we recommend you consult a financial planner or your bank to take into account your particular financial situation and individual needs. PropertyGuru does not give any warranty as to the accuracy, reliability or completeness of information which is contained on this website. Except insofar as any liability under statute cannot be excluded, PropertyGuru and its employees do not accept any liability for any error or omission on this website or for any resulting loss or damage suffered by the recipient or any other person.