Financial planning is required for buying property in Singapore. In this article, we'll go through the steps you need to take for effective financial planning and how to buy a house in Singapore; mainly for HDB flats and private properties (e.g. condos).
Want to find out how to have effective financial planning for buying property in Singapore? Read on!
1. Set SMART Financial Planning Goals
SMART financial planning goals
What each SMART step means
Specific

Specify the kind of property you want. What type of house do you want to buy, and which district are you interested in? How big do you want it?

Measurable

Set out a measurable figure to aim towards. Calculate the amount you need to buy the property you specified, taking into consideration the interest rate and down payment. Also, set the measurable time frame within which you aim to obtain the property.

Achievable

Ask yourself, is the goal so far achievable? How can it be achieved? Set out the steps you will need to get the property you want (e.g. search for property, find out your total assets, and speak to banks to get loan offers

).
Relevant

Ask yourself, is the goal relevant? Is it the right time to buy this property given other circumstances, for example, a newly announced property cooling measure, or a rise in Singapore Overnight Rate Average (SORA) interest rates?

Timebound

Set a deadline for every step of your goal. For example, you might allocate three months to a house search, or ensure you have a loan offer by a certain date.
2. Assess How Much Savings You Can Spend
Open your bank account, and take stock of how much savings you have, and how much of that you are willing to spend on your property. That will tell you how much more you may need to top up through borrowing.
Generally, when buying a property, it is good to ensure you have enough cash for about 20% to 30% of the purchase price to pay for down payments and any legal/processing fees that arise at the start of the transaction.
If you realise you don't have enough savings for the down payment, much less for the rest of your property price, then this is a good sign you'll need to set a savings goal. Work backwards using your SMART goals to figure out how much you need to save by when, and therefore how much of your salary must be set aside regularly to ensure you reach
your financial planning goals.
3. Assess How Much CPF You Want To Use
Unless you can pay off your dream home in one shot, you'll probably need to take a loan. To pay it back, you can either use cash, your CPF, or a combination of the two. You'll need to understand the pros and cons of each approach, weigh it against your own needs and priorities, and plan which approach you want to use to pay off your mortgage.
Beyond general financial planning, there are different ways to go about buying property in Singapore. Read on for the differences between how to finance HDB flats and condos, respectively.
Financing an HDB Flat
HDB Home Loan Eligibility
Effective 9 May 2023, however, the
HDB Flat Portal
was updated to help HDB flat buyers streamline their homebuying process. The steps for assessing your
HDB flat eligibility
, HDB loan eligibility and amount, and
CPF Housing Grant eligibility and amount
are now combined into one step at the start of your HDB homebuying journey. This is also known as the HFE letter application process.
Simply log on to the HDB Flat Portal using your Singpass and apply for your preliminary HFE check for an immediate analysis of your current HDB eligibility statuses; then when you're ready to formally proceed with buying your HDB flat, apply for the official HFE letter and wait up to 21 working days for HDB to process your request!
CPF Housing Grant Eligibility
As mentioned above, you can now find out your CPF Housing Grant eligibility and amount via applying for the HFE letter.
CPF Housing Grants are part of the government's promise to ensure every Singaporean will be able to afford a house. As such, they have a range of eligibility criteria, including income ceilings and purchased HDB flat type.
CPF Housing Grant amounts are also regularly reviewed and revised. For example, to support young married couples with children, the
Budget 2023 announcement
included increased CPF Housing Grants for first-timer family applicants buying
HDB resale flats
. The revised CPF Housing Grant for HDB resale flats was extended to eligible singles too.
Financing a Condo
Condo Home Loan Eligibility
While you can choose to finance an HDB flat with either an
HDB or bank loan
, you can only finance a condo with a bank loan.
There are several bank loan eligibility criteria you need to take note of.
Do note that the above bank loan rules are merely a gauge: while the LTV limit for bank loans is 75%,
banks may not offer you the LTV
limit of your condo's property value.
Financial Planning for Buying Property in Singapore: Need Help?
Preparing your finances for a major and complex purchase like property can be a daunting task –
but by breaking it down into steps and areas as we have shown you, it can be made somewhat easier to manage and understand.
And if it's still too much to absorb, we're always here to help.
Reach out to our
PropertyGuru Finance Mortgage Experts
today for personalised home financing advice to help you choose the best mortgage package for you and refinancing when you're ready to be pegged to even more attractive interest rates – all for free!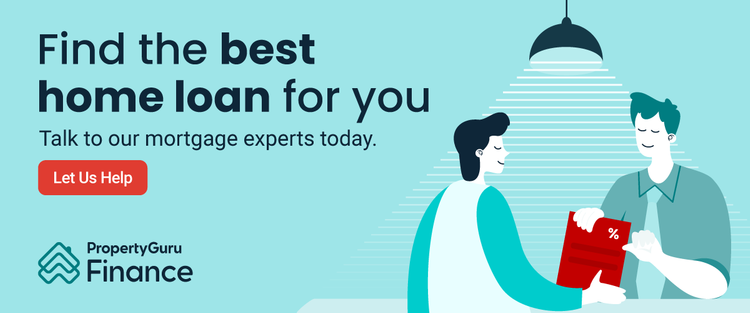 Chat with us on Whatsapp
Fill up an online form
Disclaimer: The information is provided for general information only. PropertyGuru Pte Ltd makes no representations or warranties in relation to the information, including but not limited to any representation or warranty as to the fitness for any particular purpose of the information to the fullest extent permitted by law. While every effort has been made to ensure that the information provided in this article is accurate, reliable, and complete as of the time of writing, the information provided in this article should not be relied upon to make any financial, investment, real estate or legal decisions. Additionally, the information should not substitute advice from a trained professional who can take into account your personal facts and circumstances, and we accept no liability if you use the information to form decisions.