Known for its good governance, political stability, transparency, efficiency and ease of doing business, Singapore is a popular location for foreign investments But can a foreigner buy a property in Singapore? The short answer is yes, and therefore one of the biggest questions among foreign investors is buying property in Singapore and the steps required.
However, who is considered a foreigner and how do they buy a property in Singapore?
Foreigners Buying Property in Singapore: Who's Considered a Foreigner?
Simply put, you're considered a foreigner if you are not a Singapore citizen, a Singapore company, a Singapore limited liability partnership or a Singapore association. As such, Singapore Permanent Residents (SPRs) are also considered foreigners.
What Foreigners Can and Can't Buy
Public/Public-Private Hybrid Homes
The public housing market falls under HDB with certain restrictions.
There are also several conditions.
Eligibility for Foreigners Buying Property in Singapore
1. If You're a Non-SPR Buying Alone
2. If You're an SPR Buying Alone
Apart from new HDB flats, SPRs can't buy a resale HDB flat alone, and can only buy resale ECs that have reached their five-year MOP.
3. If You're an SPR Jointly Buying With Another SPR
A resale HDB flat (three years after obtaining your PR)
A resale EC that is more than five years old
A privatised EC that is more than 10 years old
4. If You're an SPR Buying With a Non-SPR
A resale EC that is more than five years old
A privatised EC that is more than 10 years old
5. If You're Jointly Buying as a Non-SPR Couple
A privatised EC that is more than 10 years old
Buying HDB Flat as a Singaporean-Foreigner Couple
For HDB flats, you are allowed to purchase only a 2-room Flexi BTO flat (with a 99-year lease) in non-mature estates but you would have to be at least 35 years old and meet the income ceiling of $7,000.
Or you could buy any resale flat (excluding 3Gen flats and Prime Location Public Housing resale flats) so long you are 21 years old. At the time you submit your resale flat application, if your non-resident spouse is 21 and above, they must have a valid Long Term Visit Pass or Work Pass of at least 6 months; if they are 35 years and above, they need a Visit Pass or Work Pass of any validity period.
Buying Private Property as a Singaporean-Foreigner Couple
For private properties, there are much fewer restrictions than public housing. They also come with better fittings, and designs and are generally closer to the Central Business District (CBD). If you're buying a private condominium, they also come with facilities such as swimming pools, gyms, saunas, and more. The flip side is that they are more expensive compared to public housing.
Eligibility for Foreigners Buying Property in Singapore
Here are the common property types that foreigners are eligible to buy:
An apartment or condominium unit
A strata-landed house in an approved condominium development
A leasehold estate in a landed residential property for a term not exceeding seven years, including any further term which may be granted by way of an option for renewal
A landed property on Sentosa Cove
Foreigner Restrictions for Buying Private Property in Singapore
There are certain restrictions for foreigners when buying a landed property on the main island of Singapore.
As such, you will need to write to the Land Dealings Approval Unit when looking to purchase the following:
Vacant residential land
Terrace house
Semi-detached house
Bungalow/detached house
Strata landed house which is not within an approved condominium development under the Planning Act (e.g. townhouse or cluster house)
Shophouse (for non-commercial use)
The approval is on a case-by-case basis. Applicants stand a better chance if they can show proof that they have made an "exceptional economic contribution to Singapore", as SLA puts it.
Procedures for Buying Property in Singapore
1. Use PropertyGuru's Affordability Calculator
Now that you have a general idea of where to buy, the next step is to see if you can afford it.
2. Check If You Need to Pay Taxes
BSD Rates Rates For Buying Property in Singapore (2023)
Or just use our stamp duty calculator to work out your duties payable on your new home.
ABSD Rates For Buying Property in Singapore (2023)
SPRs have different rates depending on the number of residential properties purchased. Meanwhile, thanks to the April 2023 property cooling measures, an ABSD rate of 60% applies to foreigners buying any residential property in Singapore.
Aside from these costs, also note you need to factor in legal fees and other administrative fees too.
3. Go Through PropertyGuru's Listings
Our listings provide a comprehensive selection of resale HDB flats, ECs and private condos as well as new private property launches to suit your budget and desired location.
As a general guide, you should consider proximity to nearby amenities, such as MRT stations, parks, economic drivers and ease of commuting to work as part of your selection criteria.
4. Hire a Property Agent
5. Apply for a Bank Loan
Foreigners are only eligible for a bank loan in Singapore. You can get up to 75% financing on the property's purchase price. Bank loans are subjected to floating rates, meaning their interest rate can go higher or lower. Do note that bank home loans highly depend on the market.
Banks are also very strict should you default on your repayments and will not hesitate to repossess your home. Thus, it's advisable to set aside at least 12 months of savings, just in case.
If you're looking for a mortgage, consider signing up for a home loan with PropertyGuru Finance. You'll be rewarded with up to $700 worth of shopping vouchers. This promo is open to those who have just bought a new home and are searching for a mortgage too!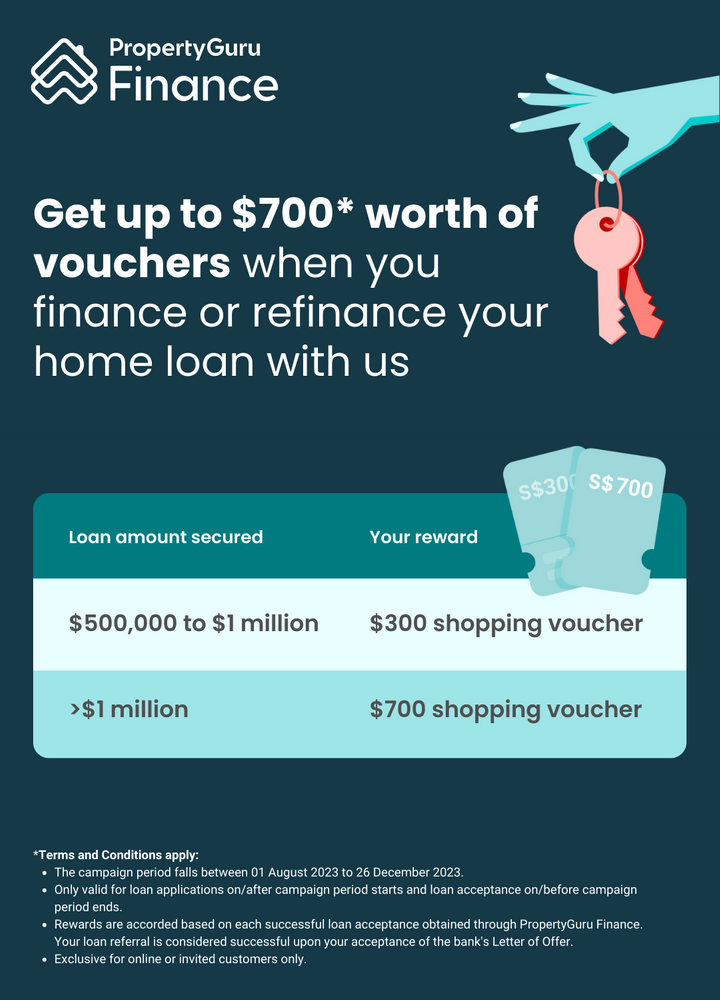 6. Make an Offer and Seal the Deal
Now that you have found your dream property in the HDB or private property market, it is time to seal the deal.
For HDB resale flats, you will need to log into the HDB Flat Portal with your SingPass. You may refer to the resale procedure on the HDB website. Here is a quick outline of the timeline for an HDB resale flat:
For condominiums, you will need to put down an option fee of 1% of the purchase price, secure financing and pay the remaining option fee of 4% within a month. After this, you will need to pay the downpayment of 25%.
For foreigners, you will need to pay the downpayment in cash. For SPRs, you can use a mixture of your CPF OA savings and cash (of which at least 5% must be in cash).
Disclaimer: The information is provided for general information only. PropertyGuru Pte Ltd makes no representations or warranties in relation to the information, including but not limited to any representation or warranty as to the fitness for any particular purpose of the information to the fullest extent permitted by law. While every effort has been made to ensure that the information provided in this article is accurate, reliable, and complete as of the time of writing, the information provided in this article should not be relied upon to make any financial, investment, real estate or legal decisions. Additionally, the information should not substitute advice from a trained professional who can take into account your personal facts and circumstances, and we accept no liability if you use the information to form decisions.