Despite the pandemic slowing Singapore's economic growth since its onset, the housing market showed no signs of slowing down. According to HDB Q3 2022 flash estimates, resale flat prices are up 2.4% increasing for the tenth consecutive quarter. Following the same upward pattern, the URA Q3 2022 flash estimates indicate that private residential property prices have gone up 3.4% quarter on quarter.
As the property market fervently heated up, and prices continually rose, the slew of 
property cooling measures
 announced in September 2022 might not be entirely unexpected. With the economy still reeling from the effects of the pandemic, the Government took swift action to reduce housing prices. The three new measures introduced are:
If you are reading this while
budgeting your home purchase
, the announcement of such measures may have caused you some concern, especially if you are buying a subsequent property, HDB flat or require a high LTV to finance your new home.
This article will look at the new cooling measures and discuss their implications for property buyers going forward.
Reduced LTV Limits: Will It Reduce My Loan Quantum?
The Government implemented the LTV ratio to limit the maximum amount of loan property buyers can
borrow from banks and HDB
. As long as the loan is meant to finance a property, the LTV limit will apply regardless of whether it is for the first or subsequent residential purchase.
For private properties, the latest LTV limit remains at 75% and shouldn't affect your dream of owning that condominium, terrace, semi-detached house, or bungalow. However, HDB loan applicants are less fortunate, as the LTV has been reduced to 80%, down from 85% previously.
Tightened TDSR Limits: Will it Affect My Loan Eligibility
The TDSR framework limits the amount of home loan a buyer can borrow by setting a debt repayment limit of 55% against the borrower's gross monthly income. You can calculate the TDSR based on the formula below:
TDSR = (Total monthly debt obligations* / Gross monthly income**) x 100%
*Monthly debt obligations to be included:
Property-related loans (including the loan being applied for) Car loans
Student loans
Renovation loans
Credit card loans
Any other secured or unsecured loans (including revolving loans)
**Before tax and excluding any CPF contributions made by the employer.
As the TDSR threshold has been revised to 55% from 60% previously, those with high debt obligations may not be able to borrow as much, and vice versa. Also, if your age permits, you could stretch out your loan repayment period to fit within the TDSR threshold.
With the exorbitant prices of private properties in Singapore, a reduced TDSR limit will affect you more if you are interested in buying a big-ticket property. Since a bungalow will likely require a bigger loan than a condo, you may find yourself constrained by the reduced TDSR, especially if you have high debt obligations. For this reason, you would likely need to pay off your current debts or gain a higher income to qualify for a larger mortgage.
Let us now compare the differences in loan eligibility criteria under the two TDSR limits.
In order to qualify for a mortgage of S$1,575,000, the maximum debt that a borrower can incur with a 60% TDSR limit is S$7,800. However, this greatly decreases to S$7,150 with a lowered TDSR of 55%. Therefore, the borrower would not be eligible for the loan under the new limit because their combined monthly debt repayment of S$7,499 has exceeded the 55% limit.
Alternatively, they could either seek an additional monthly income of S$349 or apply for a smaller loan.
This applies to new property purchases after 16 December 2021. When refinancing your mortgages, existing homeowners with property loans granted before the date will not be affected by the TDSR threshold.
First-Time Singaporean and SPR Buyers Least Affected By New Measures
In a nutshell, the overall impact of cooling measures is to ensure that home buyers exercise financial prudence when purchasing a property and not overstretch themselves.
Since two of the three new measures will likely affect more of the mid-level market segment and above, HDB or
first-time homebuyers
would likely only be affected by either the lowered LTV limit for HDB loans or the reduced TDSR limit for private property purchases.
In contrast, buyers who wish to purchase a subsequent property will incur the hefty
Additional Buyer's Stamp Duty (ABSD)
, which starts at 17% and increases to 35% for foreigners and entities. Coupled with the tighter TDSR limit at 55%, this group of buyers may find it hard to borrow a loan at the LTV limit, which means more up-front cash or
CPF OA downpayment
due to the reduced loan amount.
Still confused about whether you are subject to the new cooling measures? No problem, PropertyGuru Finance's friendly mortgage experts are here to assist you. If you need any advice on your new property purchase or refinancing your current
home loan
, feel free to chat with us any time!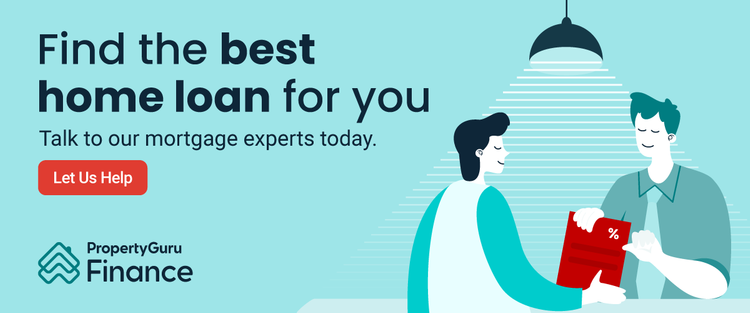 Chat with us on Whatsapp
Fill up an online form
Disclaimer: Information provided on this website is general in nature and does not constitute financial advice.
PropertyGuru will endeavour to update the website as needed. However, information can change without notice and we do not guarantee the accuracy of the information on the website, including information provided by third parties, at any particular time. Whilst every effort has been made to ensure that the information provided is accurate, individuals must not rely on this information to make a financial or investment decision. Before making any decision, we recommend you consult a financial planner or your bank to take into account your particular financial situation and individual needs. PropertyGuru does not give any warranty as to the accuracy, reliability or completeness of information which is contained on this website. Except insofar as any liability under statute cannot be excluded, PropertyGuru and its employees do not accept any liability for any error or omission on this website or for any resulting loss or damage suffered by the recipient or any other person.