On 29 September 2022, close to midnight, the government sprung on us another round of property cooling measures. This is the first time multiple rounds of property curbs have been implemented in such a short period – this announcement comes less than a year after the previous round in December 2021. However, given the pace at which property prices and transaction volumes have been soaring, this was expected.
Back then, Paul Wee, Vice President, PropertyGuru Finance, PropertyGuru Group, identified that the likely trigger for the
cooling measures (in December 2021)
was the increase in the number of million-dollar HDB flat transactions. "The HDB property market underpins the whole residential property market in Singapore. That's why the government started with reduced TDSR and lower LTV for HDB-financed loans," he said.
Nine months on, this remains unchanged. Despite the new curbs put in place in December 2021 – and not to mention, the
rising interest rates
– the HDB resale market continues to be bullish, setting new price records every other month or so. From January to August 2022, already 231 HDB flats have changed hands for $1 million or more. As such, it is no surprise that the new measures most directly impact HDB buyers in the market.
New Property Cooling Measures (Sep 2022)
Here's a summary of the measures: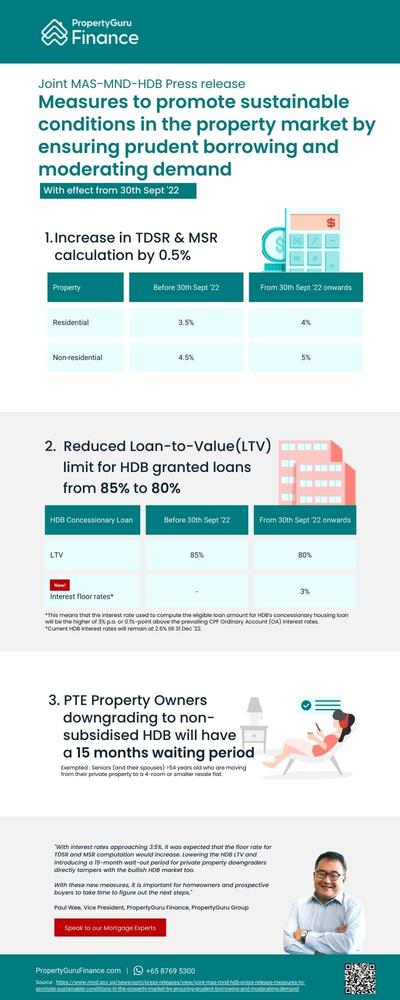 Now, let's deep dive into the specifics of each new measure, and how they might impact home buyers and owners.
1. Tightening of Maximum Loan Quantum Limits Through Interest Rate Floors
Due to the increase in market interest rates (as well as the expectation of further increase), the government has tightened the maximum loan quantum for mortgages. According to the
official statement from MND and HDB
, this is "to ensure prudent borrowing and avoid future difficulties in servicing home loans".
| | |
| --- | --- |
| Type of home loan | Interest Rate Floor |
| Bank loans (including financial institutions) | 4% (previously 3.5%) |
| HDB loans | 3% |
For home loans from banks and financial institutions granted on or after 30 September 2022, the medium-term interest rate floor used to compute the
TDSR
and
MSR
will be increased by 0.5%. It will go up from 3.5% to 4%. If there is no
Option-to-Purchase (OTP)
, the date of the Sale and Purchase Agreement will be used. The actual interest rate will still be determined by the lender, this impacts only the computation of TDSR and MSR, and hence, the final borrowing amount.
"With interest rates rising in 2022 and approaching the 3.5% interest rate levels, it was expected that the Monetary Authority of Singapore (MAS) would act to increase this base rate within MAS Notice 645. The impact of this 0.50% increase in floor rate translates to an approximate 5% drop in the budget available for one's purchase," said Paul.
For HDB-granted loans, the government introduced a new interest rate floor of 3%. Likewise, this will apply to all new applications for the
HDB Loan Eligibility (HLE) letter
received on or after 30 September 2022. Again, this does not affect the actual HDB interest rate (which stands at 2.6% for now).
Affordability Calculator
Estimate what you can comfortably spend on your new home
2. HDB Loan Loan-to-Value (LTV) Limit Reduced to 80%
One of the key benefits of taking up an HDB loan is that it requires a lower minimum downpayment than bank loans. However, this gap is closing. In the December 2021 cooling measures, the government lowered the HDB LTV limit from 90% to 85%. This time, they further slashed it to 80%. This means that in less than a year, the minimum downpayment for HDB loans has doubled from 10% (before 16 December 2021) to 20% (30 September 2022 onwards).
This will apply for all new flat applications (
HDB BTO
,
Sale of Balance Flat (SBF)
, and open booking exercises), and all complete HDB resale flat applications received on or after 30 September 2022.
3. 15-Month Wait-out Period for private Home owners buying HDB Flats
Finally, the government introduced a 15-month wait-out period for private property owners and ex-private property owners looking to buy non-subsidised HDB resale flats. Seniors aged 55 and above moving to a 4-room or smaller resale flat will be exempted.
According to the official release, this is specifically to "moderate demand in the HDB resale market". It is also a temporary measure that will be reviewed.
"Lowering the LTV for HDB loans by 5% and introducing a 15-month wait-out period for private property downgraders tampers with the bullish HDB market. This will relieve pressure from the market and is likely to have a significant impact," said Paul.
Dr. Lee Nai Jia, Head of Real Estate Intelligence – Data and Software Solutions, PropertyGuru, agreed, adding that the increase of the floor rates will impact the most people, but the reduction of the HDB LTV limit to 80% and the 15-month waiting period will impact the closing of deals most significantly.
Impact of The 2022 Property Cooling Measures on the Singapore Property Market
As with every round of new property curbs, a knee-jerk reaction and slowdown in the market is expected in the immediate term. This happens as buyers in the market take some time to digest the new regulations, evaluate how they are affected, and figure out their next best step.
In the short term, the market will cool.
"We anticipate that prospective buyers will likely take longer to commit to home purchases, translating to a slowdown in sales as the negotiation of prices and matching of buyers takes longer," said Dr. Tan Tee Khoon, Country Manager, PropertyGuru Singapore.
HDB resale flat prices and the high-quantum transactions ($1 million and more) are also expected to slow, thanks to the increased wait-out period and tighter financial restriction affecting this group. According to Paul, downgraders (from private property) are likely to be behind many million-dollar HDB resale flat transactions. With the new measures, they may turn to the private resale market for smaller units, or turn to the rental market during the new 15-month wait.
Demand may flow into the rental segment.
The possibility of further driving the rental market is an exciting one. As it is, property rental prices are at record highs, and are expected to continue trending upwards thanks to ongoing construction delays and the reopening of borders to foreigners.
"Those in need of accommodation (for example, due to recent
en bloc
sales) may resort to leasing or purchasing a private property in the secondary market. This may bolster rents but how much more depends on future demand for lease," explained Dr. Tan.
These measures are unlikely to impact the high-end market.
These new measures are unlikely to affect buyers in the luxury and high-end market who have sufficient cash and/or capital. "The impact on the high-end market will be limited. The slowing of sales is likely to be felt on mass market condominium projects that rely on demand from HDB upgraders," said Dr. Lee.
This is quite a big group, considering that over 31,000 HDB flats are expected to fulfill their minimum occupation period (MOP) this year. Those hoping to cash out on their flats will now have to think twice about upgrading to a larger HDB resale flat or private property.
What Can We Expect in 2023 and Beyond?
"The impact of the measures in the middle to long term is likely to be dwarfed by the volatile global economic conditions in 2023 and beyond. Higher interest rate hikes and recessionary pressure will lead to more caution in discretionary spending and purchasing of homes," said Dr. Tan.
He added that for foreign buyers, these cooling measures may boost confidence among those with strong wealth preservation motives, as it suggests that Singapore's residential market is on a sustainable path of growth.
Chat with us on Whatsapp
Fill up an online form
Disclaimer: Information provided on this website is general in nature and does not constitute financial advice.
PropertyGuru will endeavour to update the website as needed. However, information can change without notice and we do not guarantee the accuracy of the information on the website, including information provided by third parties, at any particular time. Whilst every effort has been made to ensure that the information provided is accurate, individuals must not rely on this information to make a financial or investment decision. Before making any decision, we recommend you consult a financial planner or your bank to take into account your particular financial situation and individual needs. PropertyGuru does not give any warranty as to the accuracy, reliability or completeness of information which is contained on this website. Except insofar as any liability under statute cannot be excluded, PropertyGuru and its employees do not accept any liability for any error or omission on this website or for any resulting loss or damage suffered by the recipient or any other person.