This is regardless of your personal circumstances or even if you have the means to purchase a much more expensive property. Maybe you have a couple of kids now and a 3-room flat is too small. Or you need to move closer to your ageing parents.
Whatever your considerations, we want to help you better understand how to go about buying your next home. So, we've put together a list and answered some common questions HDB upgraders may have about the MOP.
1. When Does My Minimum Occupation Period (MOP) End?
The first question probably have is when exactly your MOP ends. This may be confusing because even within the same BTO project, different households collect their keys in different phases, and move in at different times. To answer, for those with BTO flats, your MOP end date is five amount of years from the date you collect your keys to the HDB flat. So according to HDB MOP rules, if you were one of the earliest to move in, congrats! You're one step ahead.
Are There Any HDB MOP Exemptions?
Reasons for cases that were approved include "financial hardship, divorce, or the demise of the owner". If you have clear evidence, there is a good chance HDB will seriously consider your case. If not, HDB MOP rules should be followed and we do not advise you to try to bend these HDB MOP rules!
2. Can I Apply for a Second BTO Flat or EC If the Completion Date Is after My MOP?
Unfortunately, you can only apply for your second BTO HDB flat or EC after you have fulfilled your MOP for your current HDB flat. No earlier, no exceptions.
That means you probably won't be able to move right after the five-year mark unless you buy a completed or resale property. If you're eyeing a new BTO flat or EC, the timeline is likely to be like this:
Five years in the first BTO
Apply for a second BTO or new EC
Continue living in your first BTO until the new property is ready
Move to the new property
Sell your existing flat
3. Can I Buy a Private Property Before I Sell My HDB Flat?
Yes, however, there will be certain ramifications to the loan limit and cash outlay for your private property purchase.
Firstly, if you have an outstanding loan for your HDB flat, then your maximum borrowing limit for the private property will be limited to 45% of its value rather than 75%.
But if you're intending to sell your HDB flat and live in the private property, you would be eligible for a remission of the ABSD amount if you sell the first property within six months. However, you will still have to cough up the cash for the ABSD tax first.
4. How Much Money Do I Need to Refund Into My CPF OA?
When you want to upgrade to a bigger home, you typically need to pay a larger downpayment as it will be more expensive. This is when you may start calculating whether you would have enough cash for the down payment and renovation costs after refunding your CPF.
In general, you will have to refund any funds used for your purchase. This may include the initial downpayment, administrative fees and stamp duty, monthly mortgage repayments, government housing grants, as well as accrued interest on all of the funds used. This may significantly deplete the amount of cash you think you'd get in hand.
Not to worry though, you would probably be able to use the bulk of your refunds for your next property purchase. The only concern would be how much cash in hand you'd get to retain.
5. Must I Pay HDB Resale Levy When Upgrading to a Private Property?
If you are selling your current subsidised flat to either purchase another subsidised flat directly from HDB or an EC you are required to pay the HDB resale levy.
HDB Resale Levy Amount
6. What Is the Timeline for the Sale of HDB Flat?
For most people, you would look to sell your HDB flat first before upgrading to a private property as this means you don't have to pay any ABSD taxes, you can use the sales profits for your next downpayment and you will still qualify for the higher loan limit (first mortgage).
In such a scenario, the following outlines the steps required to complete the sale of your HDB home and to buy your private property.
Selling the HDB Flat
Register Intent to Sell and finds an interested buyer
Buyer signs Option-To-Purchase (OTP)
Buyer exercises OTP
Seller and buyer submit HDB resale application
HDB accepts the application
The sale is completed and the handover begins
Buying the Private Property
Find preferred private property to buy
Buyer sign OTP
Buyer exercises OTP
The sale is completed and the handover begins
7. How Much Can I Get for My HDB Flat and How Much Are Other Resale HDB Flats?
To know whether you are getting a good price for your flat, you need to know where the property cycle is. HDB resale flat prices dipped and held relatively steady after reaching an all-time high in 2013.
But the COVID-19 pandemic saw many construction delays, which pushed many buyers into the resale market. In turn, prices for HDB resale flats started to pick up and increase sharply from the Circuit Breaker onwards. This surge in demand could mean you may be able to turn a tidy profit from the sale of your first home, especially if it is a BTO flat.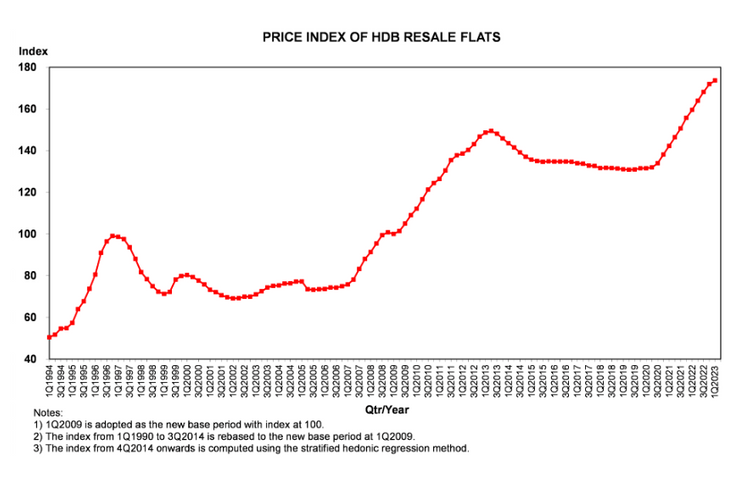 From these figures, you can make a good 'guesstimate' on how much to sell your current property for and how much to offer for a new one.
8. Is Now a Good Time to Upgrade to a Bigger Flat or Private Property?
Many people have aspirations of upgrading, but most simply stay on the sidelines wondering when to bite the bullet as property prices climb higher and higher beyond their reach.
You may have noticed that both HDB and private property prices in Singapore tend to rise. Over the years, what's considered the 'new low' is likely to still be higher than the previous low. Likewise, the 'new high' is expected to be higher than the previous high. Following this logic, wouldn't every time be a good time to buy?
Disclaimer: The information is provided for general information only. PropertyGuru Pte Ltd makes no representations or warranties in relation to the information, including but not limited to any representation or warranty as to the fitness for any particular purpose of the information to the fullest extent permitted by law. While every effort has been made to ensure that the information provided in this article is accurate, reliable, and complete as of the time of writing, the information provided in this article should not be relied upon to make any financial, investment, real estate or legal decisions. Additionally, the information should not substitute advice from a trained professional who can take into account your personal facts and circumstances, and we accept no liability if you use the information to form decisions.