Moving overseas can be a big adjustment. That is why for Jamie Jang and Carl Apelqvist, it was important for their new apartment to truly feel like home and represent a part of their life back in South Korea and Sweden.
Building A Life in Singapore
It was two years ago that Jamie and Carl found love in Singapore. Fast forward to 2021, and the couple is happily engaged and enjoying all that the city has to offer.
For Jamie, who resided in Seoul before her move, living in Singapore is not that different. But for Carl, there is a significant contrast compared to his small hometown of
Särö
in Gothenburg, Sweden. In
Särö
, there are only 3,000 inhabitants, and there are bountiful open spaces.
Carl, 31, who works in the construction industry, remarks, "It is quite different being in Singapore. There is more of a big city vibe, but at the same time, I like that there is this natural, relaxed vibe too. There is a lot of greenery, so I don't feel like I really completely lost the feeling of being home in Sweden."
While there are several things they enjoy about Singapore, the one thing they both agree on, which may come off as a surprise, is the weather.
Jamie says, "I do appreciate the four seasons back home, but winter was difficult for me to go through." To which Carl adds, "I'm happy to see the sun every day. It makes a huge difference as I feel more energetic each day."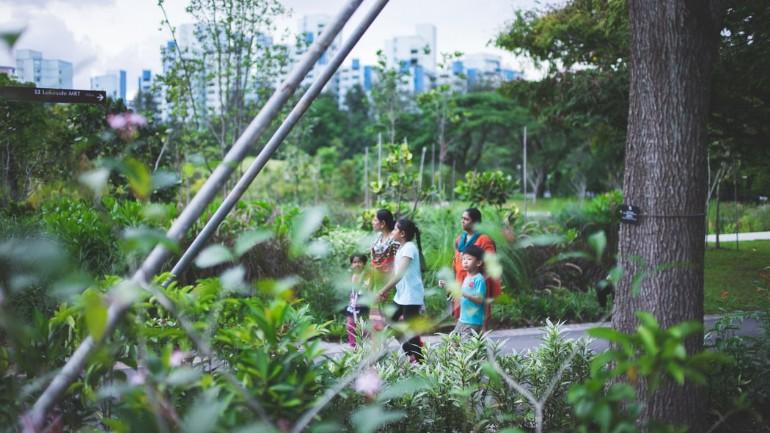 A Change of Scenery
Before their move to their current home, the couple lived in Carl's bachelor pad – his first home which he rented when he moved to Singapore in 2019. It was a loft apartment that was clearly not suited for two. The COVID-19 pandemic also opened their eyes to the need to have their own space where they truly felt home.
"We started working at home together more. We also needed to spend quality time at home rather than outside. So it was important for me to have the right environment and vibe at home," says Jamie.
After coming to that realisation, the couple started searching for a new rental apartment suitable for two. Before heading onto the PropertyGuru website, the couple made a list. On the top was location. While they wanted an area closer to the city and their offices, they wanted to avoid the hustle and bustle that comes with the territory.
For Carl, the one must-have in his new home was a tennis court in the condominium complex. As a former competitive tennis player on a junior level, tennis is in Carl's blood. He typically hits the court a few times a week.
Using PropertyGuru's search filters, the couple narrowed their search to the areas just outside the prime central area, such as River Valley, Tiong Bahru and Novena, and included their maximum monthly rental budget of $3,500. From the extensive options, Jamie and Carl ran through each listing they liked to make sure the condominium fulfilled all their criteria.
Connecting the Dots
After viewing seven homes, the couple finally found an apartment in River Valley they immediately fell in love with.
It ticked every box, especially the location. To the couple, River Valley had the "greatest vibe and was the best choice". As for the apartment, it was more than anything they could have asked for, so much so that they made an offer right away.
Thinking back, Carl admits that he might have been subconsciously looking for a place that had more of an open concept because it reminded him of his home in Sweden. Luckily enough, their current home is indeed very open and housed a spacious balcony. From the balcony, Jamie and Carl can enjoy the breathtaking view of the area.
"You can see the skyscrapers, a little bit of Chinatown and Tanjong Pagar, and the river. Plus, a lot of light comes through into our home," says Jamie.
Jamie and Carl have been in their new home for five months. They love everything about it and the neighbourhood, especially with the nearby Zion Food Centre's recent reopening. Jamie is looking forward to enjoying a bowl of laksa, while Carl cannot wait to dig into a plate of chicken rice.
Jamie laughs and says, "As a joke, I always say everyone that stays in River Valley has two things: A stroller and a dog. Or even two dogs. Living here in River Valley makes Singapore feel more like home even though we are from different countries."
While they enjoy living in the area, the dog and stroller will have to wait for the time being.
All images featured in this article are owned by PropertyGuru and should not be used without permission.