Hari Raya 2022: 6 Easy DIY Home Makeover Ideas in Singapore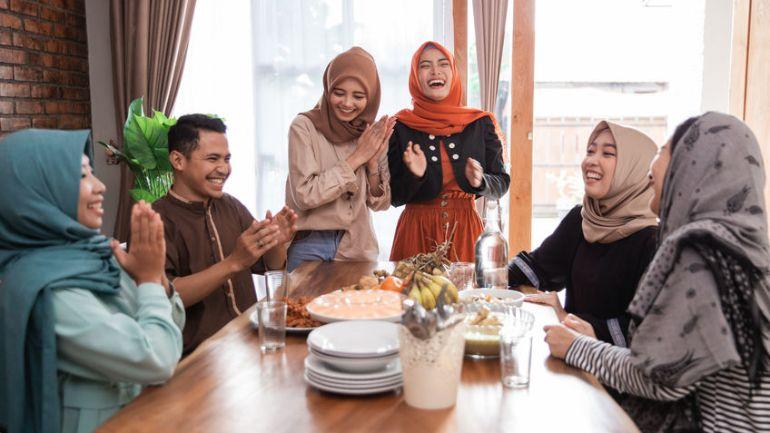 Hari Raya 2022 is just around the corner, and after a year where we've all spent an inordinate amount of time at home, you might be itching to spruce up your abode.
Be that as it may, there's no reason not to make your home look its best for the special people who'll be spending Hari Raya together! Here are six creative ideas to transform your home on a budget.
1. Add a Statement Rug
You don't have to
paint the walls
or
change all your furniture
in order to give your home a burst of colour. Buying a big rug can instantly transform the look of your space with minimal effort, and the look is completely reversible if you don't want it to last all year long. You can opt for a rug in a bright colour or bold print if you'd like to make a statement or create a more vibrant ambience for Hari Raya 2022.
If you have a small living room, a rug when accessorised with floor cushions can also double up as a sitting space for your guests. You can also opt for smaller Japanese-style floor seating or bigger beanbags or floor cushions.
Related articles:
2. Build a DIY Feature Wall
Chances are, there are some blank walls in your home that aren't really being used, such as the space behind your sofa or above your bed. Transforming just one of these walls into a
feature wall
with a different colour, texture or pattern than the other walls can alter the appearance of the space.
There are countless tutorials for all skill levels and for all kinds of textures and patterns, but the easiest way to create a feature wall is to simply use paint. Patterns like stripes, honeycombs or geometric shapes can be created by using masking tape to delineate the different colours.
Simply stick the masking tape around the borders of the first shape you wish to paint, apply the paint and then remove the tape when it is dry. You can then continue by using tape to delineate the edges of your next patch of colour.
For those with an artistic flair, you can even paint a mural or more complicated motifs like flours and leaves.
3. Decorate With Indoor Plants
Green is commonly associated with Hari Raya Puasa and Hari Raya Haji. What better way to add some green to your house than with plants? You don't have to have a green thumb to benefit from
having plants in the home
. Choose
low maintenance varieties
like spider plants and peace lilies that don't need a lot of sunlight. In order to fill a dead space, you can also use bigger plants like areca palms to place on the floor.
Having some greenery can instantly make an otherwise plain or sterile-looking interior more welcoming, and can be ideal if you have a minimalist or Scandinavian-style interior.
Some plants can even help to purify the air
— now, that's what we call a real bonus during haze season!
4. Sew Your Own Cushion Covers
Changing your cushion covers can be a quick and easy way to update the look of your living room. Head to DIY stores like Spotlight to source for fabric at an affordable price.
If you know how to operate a sewing machine, sewing your own cushion covers is quite simple. Simply cut out two squares about the same size as your existing cushion covers, leaving an extra border of about 1cm.
Next, sew the edges together on all but one side. On the remaining side, you can either add a zip or buttons and loops. Alternatively, you can sew the cushion cover in the style of a pillowcase with a flap inside to keep the cushion from falling out.
5. Recycle Bottles and Jars Into Flower Vases
Fresh flowers instantly make an interior more charming. There is no need to spend money on flower vases—simply remove the labels on glass bottles and jars by soaking them for a few hours in hot, soapy water and repurpose them as vases. Head to local markets or supermarkets to buy flowers at low prices, and then insert them into the containers.
As these containers are not large, you can cluster several together in a few areas to create a more eye-catching effect, adding just one or two stalks to each bottle or jar. You can also assemble a cluster of bottles and jars of different sizes to create a dining room centrepiece.
6. Weave a Wooden Bath Mat
Spas and resorts often have these little raised wooden bath mats that keep your feet and the floor dry when you step out of the shower. They're easy to make and instantly
make your bathroom feel more luxurious
.
You'll need some wood—teak, cedar and oak work well. Cut out six planks measuring 75cm in length. For the base, you'll need three planks 30cm in length. The width of the planks should be about 3cm to 5cm. Feel free to adjust the lengths according to your needs.
Sand down the edges and assemble the six long planks side by side, with gaps in between them. Glue the two shorter planks across the six planks, one at each end and one in the middle.
Celebrating Hari Raya Puasa 2022
This is certainly a cause to celebrate, after all the Zoom gatherings you had for the past two years, taking video calls from family members who couldn't join you. PropertyGuru wishes you a safe and fun Hari Raya Puasa filled with good food, good cheer and a wonderful time with the people you love.
This article was written by Joanne Poh. A former real estate lawyer, she writes about property and personal finance and spends her free time compulsively learning languages and roller skating in carparks.