"We really wanted them to come and see this place for themselves."
"I remember saying we did not want to view anymore," Pooja recalled.
Ankit and Pooja had just finished their third house viewing that day, with a fourth one to go. As fatigue set in, the young couple decided to forgo their fourth house viewing.
However, the agent urged them to press on. Almost reluctantly, the duo continued on to the fourth house.
And then everything fell into place.
Upon entering the door, Ankit and Pooja fell in love with the place instantly. Looking back, it's funny to think how their house hunt finally paid off, when it almost never did.
A new love—and a new home
Ankit Singi started working in Singapore since 2015. Before long, his family introduced him to Pooja Muchhal, and a relationship blossomed. After flying back and forth multiple times, the duo finally tied the knot and Pooja moved to Singapore to stay with her husband in 2017.
When Pooja first arrived, the couple lived in a rental HDB flat in Ang Mo Kio. As the two-year lease approached expiry, they wanted a change of environment and began looking for another place.
For the HDB home, Ankit found it on a Facebook community of homeowners and tenants. There, it took patience and luck to find the ideal place, as home listings came in an infrequent stream of social media posts.
It was Pooja who discovered the PropertyGuru app when she decided to help Ankit search for their next home. "The search filters were very useful," Pooja says. "We could set our preferences easily and filter out the listings we needed, unlike in a community group where everything just comes and goes."
Making room for family
When it comes to house-hunting, space was one of the young couple's main requirements.
"We needed a home that's big enough to accommodate visiting family members and friends," Ankit said. "When our parents knew we were moving, they kept asking 'Is there enough space at your new home?'"
Ankit and Pooja also enjoy hosting visiting family members and friends regularly. Not long before they moved into their current Thomson V One apartment in Sin Ming
—
a home that they almost missed out on because they were tired of viewings
—
they even hosted eight family members at one go.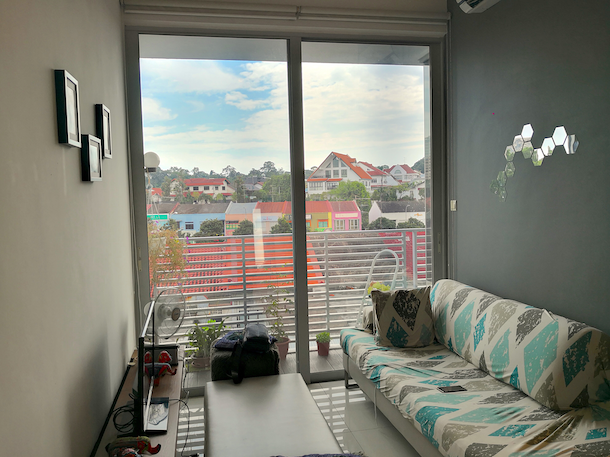 Their new duplex penthouse was certainly an upgrade on their rented HDB home. In particular, the first storey packs a nice surprise
—
a storage-staircase leading up to a mezzanine that can easily accommodate three guests for the night. "It's perfect for my sisters when they visit," said Pooja.
Kitchen space was equally important for Ankit and Pooja as the vegetarian couple prefers to cook their own meals. "Most new condos have really tiny kitchens that were not suitable for us," Ankit described. "We needed a big kitchen to make sure we could easily cook on a daily basis."
They also wanted to give their parents a real surprise when they first moved in. For starters, they didn't want to do the usual video-call with their family members. "We really wanted them to come and see this place for themselves," Ankit enthused.
Settling into a haven
Six months into their new residence, Ankit and Pooja admit they got lucky. Not only are they able to host a big group of family members and friends in their new home, but the spaciousness of their apartment also lets them be in their own comfort zone. The see-through walk-in wardrobe, situated right next to their master bedroom on the upper floor, was also a convenient bonus.
Pooja, in particular, has her own creative space on the upper level. There, she practices yoga every day and channels her creativity through a newfound love for painting. Not a fan of minimalist interiors, Pooja set about adorning the plain walls of her new apartment, including putting up a painting by her sister and decorating a hallway with touches of greenery.
Pooja also picked up gardening as a hobby since they moved in with the space afforded by their ground floor balcony. The balcony also has a mini pool that leads out to the main pool of the condominium, much to the envy of visiting guests!
Looking back, the couple still finds it a true blessing to have discovered this gem by persevering in their home search. When asked about their definition of an ideal home, though, it's not the features that stand out as Ankit admitted cheekily, "Home is where my wife is!"