This time around, there will be about 2,960 units up for grabs across all flat types from 2-room Flexi to 5-room units. This is a large supply, but considering the previous launches in the area were oversubscribed, it seems there are actually many people who want to live in Yishun.
HDB BTO November 2022 Yishun BTO Map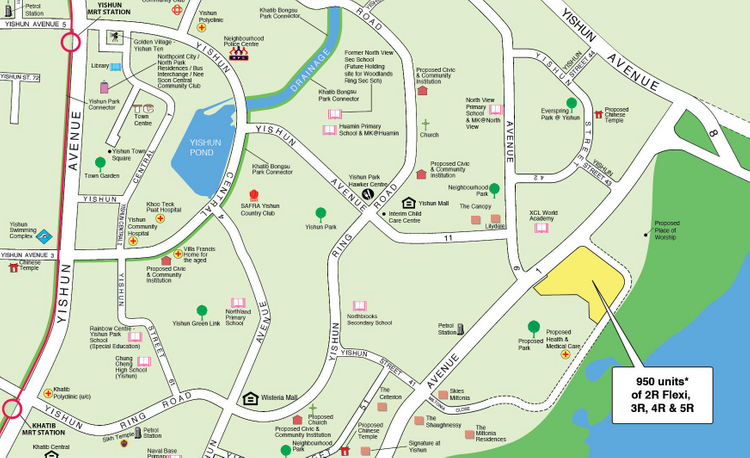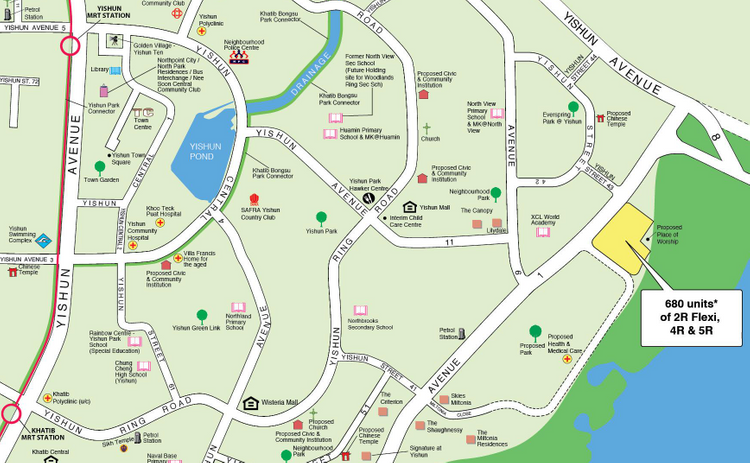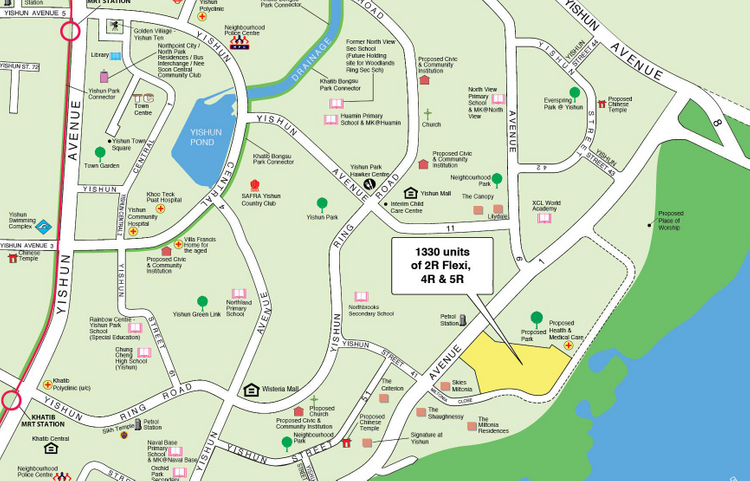 Yishun BTO Location (HDB BTO November 2022 Launch)
Although there are three different sites in Yishun being launched, they are actually very close to each other and all bordered by Yishun Avenue 1 and Miltonia Close.
The sites overlook Orchid Country Club's golf course, with the Lower Seletar Reservoir beyond. Yishun Dam is not far away and can be reached easily by bicycle. They are hence ideal for applicants looking for scenic views and a quiet environment.
However, this tranquillity comes at a price, as the Yishun town centre with key amenities like Northpoint City and Yishun Public Library are not accessible by foot.
The biggest drawback to the Yishun BTO sites is their distance to the city centre and public transport connectivity. The nearest MRT stations, Khatib and Yishun, are located about half an hour's walk away, so most residents who rely on public transport will have to take a bus there.
Yishun BTO Price (HDB BTO November 2022 Launch)
With a total of about 2,960 available units, there should be plenty to go around when applicants submit their ballots. However, it should be noted that previous launches in Yishun were oversubscribed, so expect some competition.
Budgeting for Your Yishun November 2022 BTO Home Loan
The Yishun BTO flats are likely to be relatively affordable, but you should still plan your finances and be clear on how much you can afford to pay before balloting for a flat.
All examples go on the basis of a 25-year loan, but you can opt for a shorter loan if you are able to take on higher monthly instalments.
Yishun BTO Amenities (HDB BTO November 2022 Launch)
Close to Nature
The Yishun BTO flats overlook Orchid Country Club's golf course and the Lower Seletar Reservoir. Yishun Dam is not far away, and there are plans to build a small park next to the BTO sites.
Nature lovers or those who enjoy taking an evening walk by a body of water will appreciate living near these amenities.
Many Schools Nearby
There are many schools in the vicinity, including Chung Cheng High School (Yishun), Northbrooks Secondary School, Naval Base Primary School, and Orchid Park Secondary School, just to name a few.
Conclusion: Is HDB November 2022 Yishun BTO Worth Balloting For?
With a large supply of flats up for grabs, the three upcoming Yishun BTO projects can be attainable for those looking to buy an affordable starter home. However, the relative inaccessibility to the nearest MRT stations might push some to look elsewhere.
Pros of November 2022 Yishun HDB BTO
Affordable
Large supply of flats
Various flat types available, from 2-room Flexi to 5-room units
Surrounded by nature
Many schools nearby
Not within walking distance of MRT stations
Far from city centre
Not many shopping and food options
With about 2,960 units across three BTO sites, the launch in Yishun will be a big one, which could make getting allocated a flat easier. As Yishun is a non-mature estate far away from the city centre and the location of the BTO sites is not near any MRT stations, the flats are likely to be affordably priced.
A full range of flat sizes from 2-room to 5-room is available, making the Yishun launch a possibility for households of all sizes. The launch is best suited to those who are looking for a tranquil suburban home close to nature. Those who work from home and like outdoor activities would be ideal candidates.
Applying for November 2022 HDB BTO Flats
Not sure if you should ballot for the HDB BTO November 2022 Yishun flats? Read about the other upcoming BTO 2022 launches in November below:
This article was written by Joanne Poh. A former real estate lawyer, she writes about property and personal finance and spends her free time compulsively learning languages and roller skating in carparks.