Note: The May 2023 SBF launches have been released. Applications close on 8 June 2023, 11.59pm.
This means that SBF units usually have a shorter waiting time and offer a larger variety of flats to choose from. The
benefits of SBF units
are no wonder they're popular among Singaporeans!
Guide to Applying for the Sale of Balance Flats 2023 Launches
Sale of Balance Flats 2023 Launches
| | |
| --- | --- |
| Frequency of launches | In May and November, alongside BTO launches during those months |
| Completion time | Shorter waiting time than BTO flats, some of which may already be completed |
| Tenure | A mix of new, 99-year leasehold flats and other flats that have been completed for some time |
| Unit types | Fewer units, but more locations to choose from compared to those during BTO launches |
| Priority schemes | 50% of SBF units are set aside for families applying under the Parenthood Priority Scheme (PPS)* (i.e. first-timer married couples with children, who are more likely to need to move into their new homes immediately) |
| Prices | Tend to be more expensive than BTO flats |
From the lower frequency of launches to the fewer units available in each launch, those of us who are intending to apply for the SBF May 2023 launch are likely eager to find out how to maximise our chances of securing a flat.
Unsurprisingly, the
success rate of applying for an SBF unit has declined since 2017
, leaving potential homebuyers eager to find ways to increase their chances of securing an SBF unit in upcoming SBF 2023 launches. We chatted with five Singaporeans to find out how they secured an SBF unit and their top tips for securing an SBF unit in 2023.
Secure a Sale of Balance Flats Unit
1. Apply Closer to the SBF May 2023 Application Deadline
John, 32, and his wife managed to get a flat in Sengkang through the SBF May 2018 launch. This was their third try; the previous two times saw them getting disastrously large queue numbers or being left with units/projects that they really didn't want.
"I think what we were doing 'wrong' was that whenever an SBF exercise launched, my wife and I would set our alarms and rush in to apply immediately. We also applied for the locations that were more central and hence popular," the sales manager recalled.
"After failing the first time and getting SBF units in a project that wasn't 'new', we finally realised that the application rate page is regularly updated during the application window and not only at the end of it all. Better late than never, right?
"So for our third try, we decided to literally wait till the eleventh hour, when we checked the numbers and picked the area/unit type with the highest probability, based on the number of units available and lower application rate. Not to say whether it's a foolproof strategy or not, but this time we secured our flat and we're quite happy with it."
2. Apply for the SBF May 2023 Launch Under the PPS
The HDB has several priority schemes that ensure certain groups of applicants have a percentage of flats reserved for their profile types. Currently, the PPS ensures that 50% and 30% of BTO and SBF units, respectively, are reserved for married couples with children who apply for those launches.
That's exactly what adjunct lecturer Sandra did when applying for her SBF unit as an expecting newlywed.
"Somehow this PPS is a bit overlooked but a friend who knew about our difficulties in getting an HDB flat alerted us to it when we announced our pregnancy on Facebook. Although it's just an additional 20% chance, anything helps!" the 28-year-old shared.
"We managed to successfully get a 4-room SBF unit in Bukit Batok from the SBF May 2022 exercise, and we had to submit the doctor's certification of my pregnancy. We chose Bukit Batok because it was one of the few estates that had 60-plus 4-room flats as compared to other unit types like 2-room Flexi and 3-room flats, which we felt were too small. We want a big family!"
3. Maximise Your SBF May 2023 Chances Via Other Priority Schemes
HDB offers several priority schemes, apart from the PPS, for couples who wish to apply for SBF launches. These schemes, as stated by HDB, aim to improve your likelihood of being selected for the computer ballot. You have the option to apply for a maximum of two priority schemes, even if you qualify for more. However, since the computer ballot is randomised, HDB emphasises that there is no advantage or special privilege in obtaining a low queue number to secure a flat booking.
For the former, the quota of flats given priority under MCPS for SBF applicants is 30%. In the SBF May 2023 context, this means that applicants who apply for a flat under MCPS intend to live together with their parents only (for normal BTO ballot in non-mature estates, this priority extends to couples who want to live close to their parents).
For the latter, it's for families with three or more Singaporean/Singapore Permanent Resident children, the youngest born on or after 1 January 1987. The application will be included in the first ballot round with other TCPS applicants; only if unsuccessful, will there be another round with the public ballot. The flat allocation for TCPS applicants is up to 5% of SBF units, and all three children must live with you in the flat till after the
Minimum Occupation Period (MOP)
.
Gail, 43, managed to get her sale of balance flat via the TCPS. The mother of three, with children aged 13, 10 and 1, had been living with her in-laws but the space was getting too crowded, especially during the pandemic when everyone was stuck at home and each others' faces.
"It has always been a wish of ours to have our own home, but it was not a pressing issue till the pandemic and all of us were just stuck at home. Previously, we had just been trying our luck at BTO and SBF launches but never seemed to get a good result," she said.
"I grew anxious in late-2020 when I found out I was expecting number 3, our 'COVID baby'. It was then I realised that we qualified for the TCPS. I was waiting for the May 2021 exercise but somehow that was skipped due to the pandemic. So I had no choice but to try for the Nov 2021 SBF exercise, although I was extremely worried as everyone else who had wanted to apply in the earlier cycle would be 'fighting' with me as well."
"Somehow we got lucky and I managed to get a flat of our own in Canberra."
4. Choose A Smaller Flat If You're Comfortable With It
It was by sheer luck that Meiling and her then-boyfriend secured an SBF unit in Toa Payoh. They just happened to visit the HDB Flat Portal one day "for fun", and the SBF launch was open, which included Toa Payoh. This was in 2015.
"What are the odds? We just visited the website on a whim and my dream location, Toa Payoh, was one of the SBF options. We didn't even tell my parents we were dating, so we bypassed all of the priority schemes, although my family lives in Toa Payoh (the main reason for wanting to stay there)," the 37-year-old shared.
"Somehow, after months of saying 'won't get it, lah!', we got a decent queue number and managed to book our flat. It's quite surreal. However, we had to lower our expectations."
"A 4-room SBF unit was what we wanted, but seeing that there were just 20 available, our chances of securing one would likely be very slim. In comparison, there were slightly more than 100 available 3-room HDB flats, so it was worth a shot. Given that the pool of flats also included old flats from Joo Seng, we were really hoping we didn't get those as the area is an issue to me. But we just put down our $10, because, why not?
"Anyway, it kinda worked out. We weren't earning much when we applied, so we even managed to get the additional
CPF Housing Grants
as our income was below $5,000 a month. Although we are earning more now, getting a 3-room flat means that the monthly mortgage is super affordable and is totally covered by CPF," the freelance designer added.
"We also only waited two years for the flat, while our neighbours had to wait five years. The house isn't big but we don't plan to have kids so it's an okay size, although we do wish there was a larger kitchen and an open sun-facing balcony. The location, however, is fantastic, with so many MRT lines and amenities. Plus, it's near to my mum's."
5. At the End of the Day, Your Home Is What You Make of It
Last but not least, we have Shah, 35. All he wanted was a place of his own with his then-fiancee. So when his application for the SBF Nov 2019 launch was successful, his first reaction was to jump for joy and hug his partner.
Although the unit they finally got was not a "fresh" flat with a 99-year lease, the couple is still grateful to have a place to call their own.
"Although we got one that had TOP-ed some years back, we are happy because we can finally have a home together. The price was good, the location is still okay for us as Singapore is already very convenient. And we feel ultra-lucky because we managed to get a unit just before the pandemic hit. Our friends have not been so lucky and are still trying to find their dream place," the finance professional explained.
Admittedly, there are things that Shah isn't completely satisfied with, such as the layout, the distance from the nearest station, and the unit being situated on a low floor; the surrounding amenities could also be better. But these are small matters when all you want is a house.
"Some who are 'pantang' (superstitious) may find SBF units unfavourable, as they may think the house got repossessed by HDB due to divorce, the owner passing away, and so on. But to us that's not important; the house becomes a home by our effort – it's just a structure for us to fill with the things that truly matter."
Apply for the SBF May 2023 Launch
Effective from 9 May 2023, the
HDB Flat Eligibility (HFE) letter
officially replaced the
HDB Loan Eligibility (HLE) letter
. This change was made to help streamline the HDB homebuying process by combining checks for HDB flat eligibility, CPF Housing Grant eligibility and amount, and HDB loan eligibility and amount into a single step.
If you're intending to apply for the SBF May 2023 launch, you will need to have at least conducted your HFE preliminary check. This process gives you a general assessment of your eligibility to buy and finance your desired SBF unit before you formally apply for the HFE letter to submit with your flat application later on.
Those who wish to finance their HDB flats with loans from participating Financial Institutions (FIs) can also request an
In-Principal Approval (IPA)
via the HDB Flat Portal. If you need help choosing the best home loan for your HDB flat, reach out to our PropertyGuru Finance Mortgage Experts for help – at no cost at all!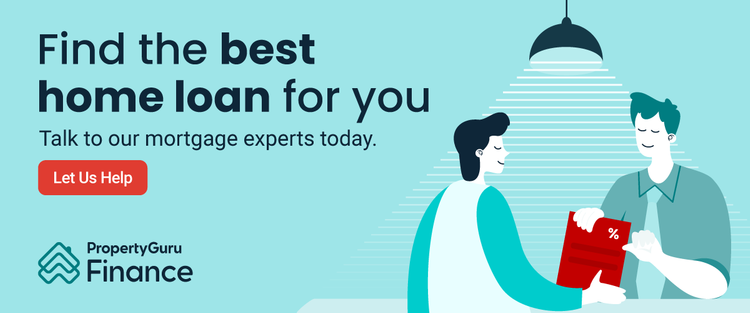 Chat with us on Whatsapp
Fill up an online form
Disclaimer: The information is provided for general information only. PropertyGuru Pte Ltd makes no representations or warranties in relation to the information, including but not limited to any representation or warranty as to the fitness for any particular purpose of the information to the fullest extent permitted by law. While every effort has been made to ensure that the information provided in this article is accurate, reliable, and complete as of the time of writing, the information provided in this article should not be relied upon to make any financial, investment, real estate or legal decisions. Additionally, the information should not substitute advice from a trained professional who can take into account your personal facts and circumstances, and we accept no liability if you use the information to form decisions.