Condominiums
with expansive gardens and well-manicured outdoor landscapes are nothing new. But as the COVID-19 pandemic persists, causing uncertainties over how people live, work, and play, many will find that staying at home will continue to offer even greater incentives.
Luckily, plenty of condo developments spread out over Singapore's different districts are integrating well-thought-out green spaces into their projects, offering residents a reprieve from the gray concrete jungle.
In the new normal, your condo garden might just become your new favourite place. Here are a few reasons to spend more time in it, featuring PropertyGuru Asia Property Award-winning developments.
Condo Gardens Encourage An Active Lifestyle
Access to lifestyle amenities and facilities is one of the main reasons many people are opting for condo living. But a little green space has become one of today's most sought-after amenities. Garden areas and other open spaces help facilitate a healthier lifestyle for residents, especially when these are a few steps away from facilities such as pool, gym, and sports lounge.
Midtown Modern
Midtown Modern (Winner of Best Luxury Condo Development, Best Luxury Condo Architectural Design, and Best Luxury Condo Landscape Architectural Design), accounts for tenants' need for recreational amenities and green spaces. The two-storey residential tower is poised to become one of Central district's most well-rounded and greenest condos. With facilities that include a tennis court and a 50-metre-long pool situated near vast, lush gardens and landscaping, tenants in Midtown Modern will have more reasons to step out of their homes and get more physically active.
Juniper Hill
Green spaces' therapeutic effects also extend to their ability to relieve stress. Living in a condo like Juniper Hill by developer Allgreen Properties Limited can help ease urbanites' perennially stressful lifestyles. The Best Boutique Condo Landscape Architectural Design winner will be generous with green spaces whilst giving residents a convenient way to stay active.
It features an impressive mix of luxurious, minimalist, and contemporary designs, and its fitness facilities are just as remarkable. For instance, the yoga deck and Sky Fitness facilities offer opportunities for residents to stay active and look out at the greenery surrounding this Central property. With facilities so easily accessible and so close to green spaces, there's no excuse not to get fit and get closer to nature.
Green Spaces Boost Mental Health and Wellness
There is solid psychological evidence that being in green environments is one of the best ways to boost one's mood, memory, and creativity. This is why city dwellers value having access to natural spaces like parks and nature reserves almost as much as they value living close to train stations or commercial centres.
Parc Central Residences
Parc Central Residences (Winner of Best Executive Condo Development and Best Executive Condo Landscape Architectural Design) by Hoi Hup Sunway Tampines JV Pte Ltd offers the health-boosting benefits of living near a park. The condo development positions itself as an oasis in the city and will be built with a park that will serve as its centerpiece, taking cues from the iconic New York City landmark, Central Park. Parc Central Residences is set to combine high-quality living spaces characterised by elegant interiors in a nature-inspired enclave.
Lattice One
Similarly, Amcorp Global Limited's Lattice One (Highly Commended,
Best Boutique Condo Development
) is close to the Peirce Reservoir, one of Singapore's oldest nature parks. Being close to a nature reserve undoubtedly offers convenience and can positively impact mental wellbeing.
Green Spaces Beautify A Condominium's Overall Aesthetics
A condominium doesn't have to overwhelm the senses with huge tracts of greenery to become appealing.
Fourth Avenue Residences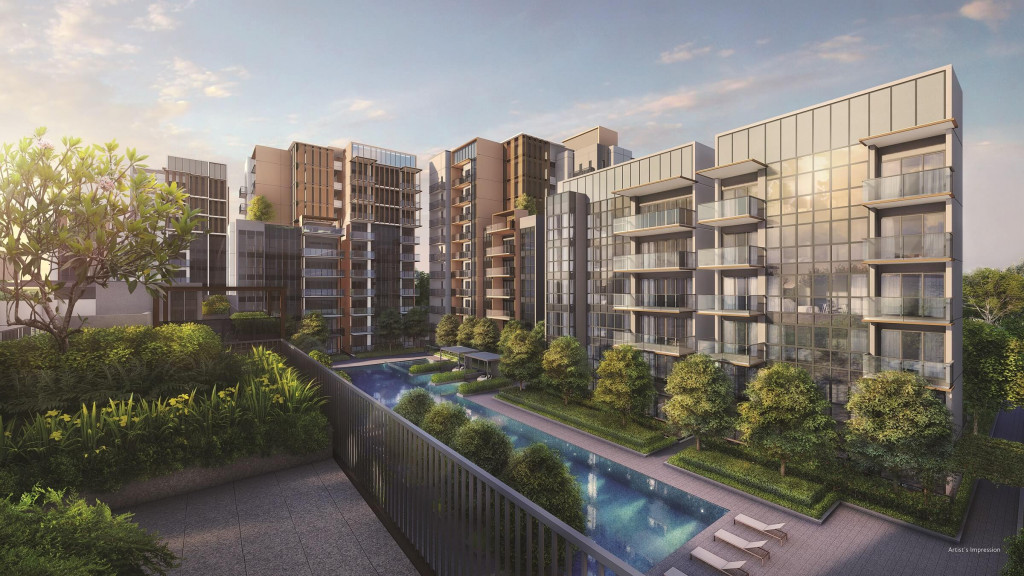 Beautifully landscaped gardens with flowers blooming all year long also do a fine job of elevating the natural surroundings, as in Allgreen Properties Limited's development Fourth Avenue Residences (Highly Commended, Best Private Condo Development).
The development is worth considering if you are on the hunt for a condo with green-focused architectural design touches, with greenery that extends from the ground level up to the roof gardens.
The Watergardens at Canberra
If water is more your element, condo gardens' water features might make it your new favorite place. Water features amid vast verdure are a welcome respite and can augment a garden's mood-boosting effects as in The Watergardens at Canberra (Highly Commended, Best Private Condo Development, Best Private Condo Architectural Design and Best Private Condo Landscape Architectural Design). This development by UOL Group, Kheng Leong Company, and Singapore Land Group will have resort-style features, including a forest-themed pool, water slide, and flower gardens, which enhance the property's appeal.
Greenery Can Encourage A Sense of Community
Green patches of land within a condominium complex can bring out one's social nature.
Royalgreen
Allgreen Properties Limited's Royalgreen development (Highly Commended, Best Luxury Condo Development) offers opportunities for residents to build a strong community. Its communal facilities will have three landscape features for each cluster of its landscape areas: "Autumn Gold", "Forest Bathing", and "Greenery in the Sky", spaces where residents can forge neighbourly bonds. On the ground, there's a landscaped deck where residents and their guests can co-mingle with other residents in various facilities.