3 Key Reasons Why The M Condo Was a Success, Despite the Coronavirus Outbreak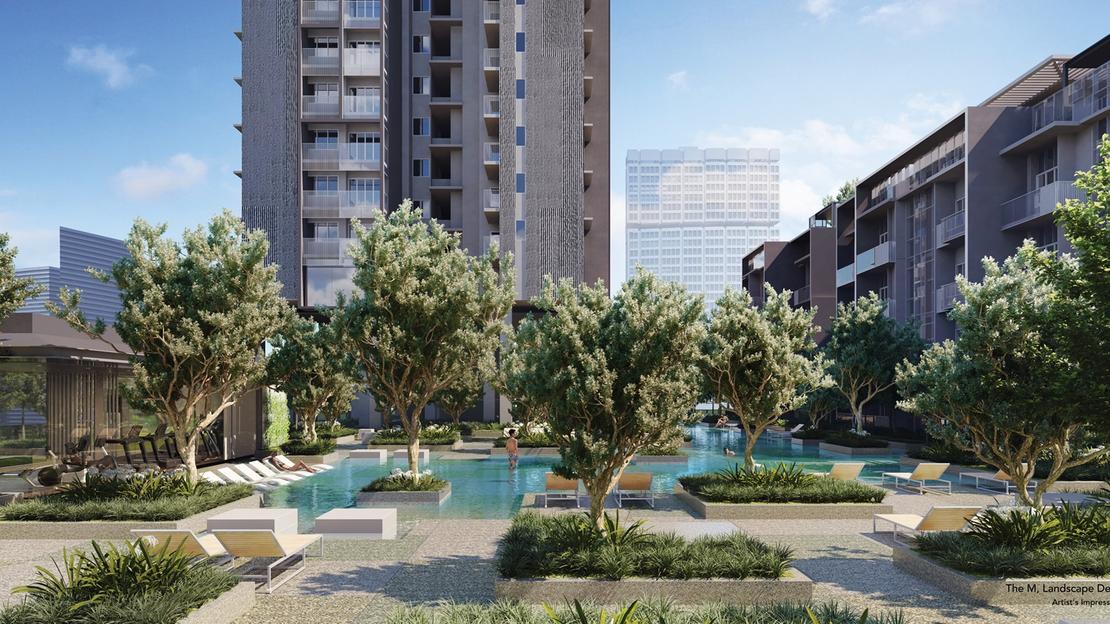 Despite the plight of the coronavirus (COVID-19) continuing to affect businesses and sentiments in Singapore and beyond, some recent projects still had successful launches. One such project was The M in District 7;
The development saw over 70% of its units sold over its launch weekend
, proving that there's still life amidst the fears and concerns of the virus.
Developed by Wing Tai Asia,
The M
is a 522-unit residential-commercial project at Middle Road in District 7, and comprises a mix of studio and one- to three-bedroom units, with sizes ranging between 409 sq ft and 904 sq ft.
We take a look at the three key reasons behind its successful launch:
#1. Superb Location
It goes without saying that being in a prime location in the Ophir-Rochor Corridor in District 7 (which BTW was mentioned in our
Property Market Outlook 2020 report
as the area that is set to overtake District 9 as a prime district), that made it a top draw for those looking for a location that's close to the CBD while also located in a cultural district with loads of dining and entertainment options.
Furthermore, the development is also served by three MRT stations that are all below 1km by foot (according to Google Maps):
Bugis MRT interchange (350m)
Esplanade MRT Station (600m)
City Hall MRT Station (700m)
Tan Tee Khoon, Country Manager at PropertyGuru-Singapore, says that the launch exceeded expectations and was one of the better projects in recent years.
"In fact, we have not seen a project in the CCR performed this well since November 2013 which was when 468 units (71%) of the 660-unit DUO Residences flew off the shelf in three days at a concurrent launch in Kuala Lumpur and Singapore by M+S.
"I don't think it is mere coincidence that the integrated development is also located in the Ophir-Rochor corridor, near The M," he added.
Stacey Ow Yeong, Head of Marketing at Wing Tai Property Management says the majority of the buyers were Singaporeans in their 30s and 40s that comprised of investors and owner-occupiers who were drawn to the prime location.
"Many of them were drawn to The M's prime location in the Ophir-Rochor Corridor which is rapidly transforming into a vibrant, mixed-use and eventually car-lite district, our unique work-life design concept and our reasonable pricing," she said.
#2. Attractive pricing and work-life concept
Apart from its prime location, another draw for investors and homebuyers was the work-life (home/work) concept as well as reasonable pricing, says Tee Khoon.
"The studios, for example, starts below $1 million, while the one-bedders are priced from $1.1 million, the two-bedders are priced between $1.3 and $1.6 million, and only the three-bedders, dual-key units start from $2 million," he says, adding that The M also appeals to investors who are looking for good rental yields.
Meanwhile, the project's home/work concept was also one of the main reasons why the project resonated well with buyers.
According to Wing Tai, The M is designed to effortlessly and seamlessly transform a home space into an office space and vice versa.
These include a multi-function kitchen table for dining and entertainment, and a sliding wardrobe that also acts as a workspace storage solution. These features are perfect for professionals who embody the live-work-play lifestyles, namely those from the creative industry and gig economy.
Besides that, Wing Tai is also working with LASALLE's McNally School of Fine Arts and LASALLE's School of Spatial and Product Design to produce unique pieces of urban living art to the enliven the space.
#3. Measures taken against the virus
Despite expecting a lesser crowd turnout for its public preview because of the virus outbreak, Wing Tai worked on several precautionary measures beforehand in order to instil confidence and safety for everyone.
These include setting up thermal temperature scanners, contact recording and self-declaration forms, and setting up aircon tentages outside the showflat as an additional space in case the sales gallery becomes overcrowded.
However, fears of the coronavirus did not keep crowds away from the showflat during its launch,
which saw over 2,000 visits
, exceeding the expectations of even Wing Tai.
"We believe that the precautionary measures we have put in place to ensure that our visitors are protected have boosted confidence," said Stacey.
The M is slated for completion in the first quarter of 2024. Its sales gallery is situated at the junction of Selegie Road and Middle Road. Interested in getting a unit? Find a unit for sale on PropertyGuru now.