Before the idea of having a Thomson-East Coast Line (TEL) came about,
the Thomson Line (TSL) and Eastern Region Line (ERL) were planned as two separate MRT lines. The TSL would run between Woodlands and Marina Bay, while the ERL would loop around Jalan Besar and Expo. However, the LTA saw that merging the two lines would be worth more than the sum of their parts, and thus the Thomson-East Coast Line (TEL) was born.
Thomson-East Coast Line Map: Which MRT Stations Are Part of the TEL?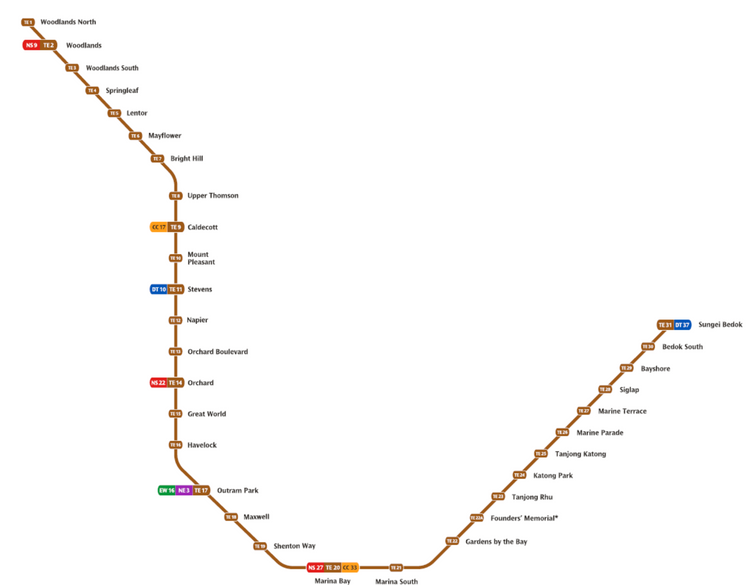 Once the entire line has been constructed, it will link the Northern and Eastern regions via the Central region. Its two ends are Woodlands North (TE1) and Sungei Bedok (TE31), and the MRT will run through places such as Upper Thomson, Stevens, Orchard, Shenton Way, Marina Bay, Tanjong Rhu, Marine Parade, and Sungei Bedok.
For people residing in the North, the TEL offers a quicker way to go to Orchard or the CBD region. Additionally, the stations expected to open later this year are Stevens, Napier, Orchard Boulevard, Orchard, Great World, Havelock, Outram Park, Maxwell, Shenton Way, Marina Bay and Gardens by the Bay.
Thomson-East Coast Line: The Different Construction Stages and Timelines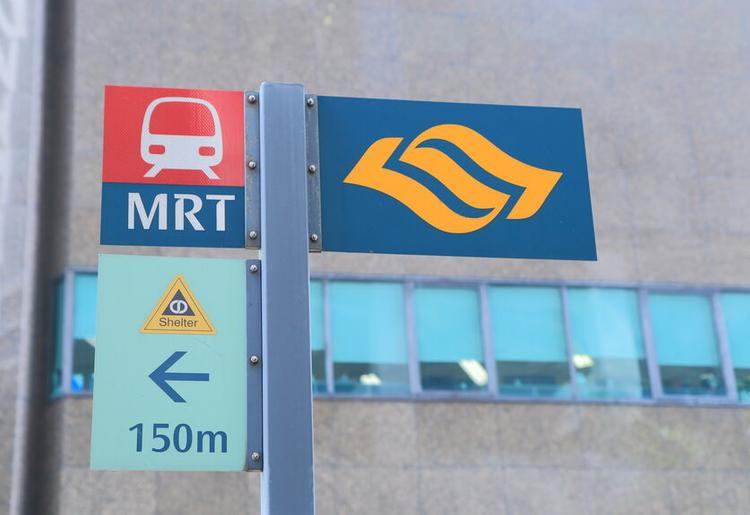 There are a total of five stages which will open from 2020 to 2025.
The following table shows the various construction phases for the MRT stations on the Thomson-East Coast Line.
Thomson-East Coast line stage 1: 2020

TE1 Woodlands North

TE2 Woodlands

TE3 Woodlands South

Thomson-East Coast line stage 2: 2021

TE4 Springleaf

TE5 Lentor

TE6 Mayflower

TE7 Bright Hill

TE8 Upper Thomson

TE9 Caldecott

Thomson-East Coast line stage 3: H2 2022*

TE11 Stevens

TE12 Napier

TE13 Orchard Boulevard

TE14 Orchard

TE15 Great World

TE16 Havelock

TE17 Outram Park

TE18 Maxwell

TE19 Shenton Way

TE20 Marina Bay

TE22 Gardens by the Bay

Thomson-East Coast line stage 4: 2024

TE22A Founders' Memorial

TE23 Tanjong Rhu

TE24 Katong Park

TE25 Tanjong Katong

TE26 Marine Parade

TE27 Marine Terrace

TE28 Siglap

TE29 Bayshore

Thomson-East Coast line stage 5: 2025

TE30 Bedok South

TE31 Sungei Bedok
*Do note that
TE10 Mount Pleasant and TE21 Marina South will not be part of the Thomson-East Coast Line stage 3 opening.
It's a long list, but that's not the end of it yet. Under the Land Transport Master Plan 2040, the Thomson-East Coast Line will see an extension sometime in 2040. This will extend from Sungei Bedok Station to the upcoming Changi Airport Terminal 5, as well as Changi Airport itself.
This extension will allow those living in the South to gain easy access to Changi Airport. It will also link Changi Airport directly to sightseeing spots such as Marina Bay and Gardens By the Bay, which could mean improved convenience for tourists. For Singaporeans, it would mean that those living in places such as Marine Parade can finally travel overseas without calling a taxi.
Thomson-East Coast Line: How Will the TEL Benefit Citizens?
Currently, those living in areas in the North such as Woodlands and Sembawang have very few transport options to the Downtown Line, and by extension, a large portion of the business hub. Likewise, those living in the Marine Parade and Siglap region currently lack accessible MRT transport from their estates.
What Are Some Properties to Look Out for Along the Thomson-East Coast Line?
Mature estates are typically a more popular choice for new homeowners. Marine Parade is well developed with plenty of amenities and eateries and is within close proximity to East Coast Park and Marina Bay. It has always been a hot spot for higher income citizens, but lacks good MRT accessibility. With the TEL set to arrive in Marine Parade by 2023, developments such as
Coastline Residences
and
Seaside Residences
may
become more attractive in the future.
Tanglin is also another popular spot for those looking for a more upscale area to live in. Situated at the heart of Singapore, Tanglin is in close proximity to areas such as Orchard, Newton, and other central parts of Singapore.
When TE12 Napier opens later this year, Tanglin will enjoy even more connectivity to other places in Singapore. This would likely increase the popularity of properties such as
120 Grange
.