Whether you are a tenant looking for a place to rent or a landlord looking to rent out your home, it's important to always keep up to date with the latest rental market trends. This is especially so given these unprecedented times, thanks to the global COVID-19 pandemic.
To help tenants and landlords make smarter rental decisions, we did some background research into the H1 2020 rental market, and interviewed some of our property agents to help provide a better understanding of the current situation. Here are our insights.
Before we get into rental trends, it's important to first understand the property price trends in the first half of this year, during the peak of the COVID-19 outbreak.
Non-landed private property prices fell In Q1 and Q2 2020
Since the start of the year, the property market has been impacted by the rise of the COVID-19. According to statistics released by Urban Redevelopment Authority (URA), the price index of non-landed properties dipped 1.0% in Q1 2020 and 1.1% in Q2 2020. This is a downtrend from Q4 2019 where the price index fell by 0.3% quarter-on-quarter.
In Q1 2020, the Core Central Region (CCR) saw a larger decrease than the Rest of Central Region (RCR) and Outside Central Region (OCR). Prices of non-landed properties in CCR dropped by 2.8% and 2.2% in Q4 2019 and Q1 2020 respectively.
In contrast, prices of non-landed properties in RCR only decreased by 1.3% and 0.5% in Q4 2019 and Q1 2020 respectively. OCR non-landed properties performed even better with price falling only 0.4% in Q1 2020 after a 2.8% increase in Q4 2019.
For Q2, the CCR prices decreased by 0.1% (compared to 2.2% in Q1), while RCR prices decreased by 1.9% (compared to the 0.5% in Q1). There were no changes in OCR prices for Q2, despite the 0.4% in Q1.
With the value of non-landed properties falling across the board in 2020 so far, how did the rental market do?
Surprisingly, non-landed property rental prices rose in Q1 2020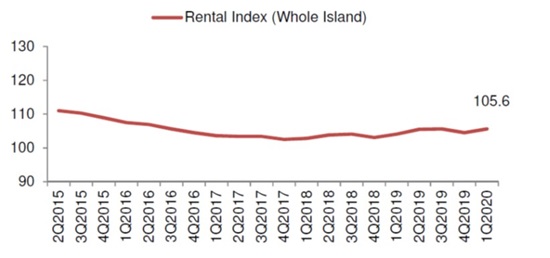 Source: URA
Surprisingly, rental prices showed a strong quarter as rental prices bounced back from a dismal quarter in Q4 2019. Overall, rentals of non-landed properties in Singapore increased by 1.3% compared to a 0.9% decrease back in Q4 2019. The strongest comeback came from OCR as rents saw an uptick of 1.9% followed by CCR (+1.4%) and RCR (+0.6%).
These figures looked promising, but in the second quarter of 2020, the government implemented strict circuit breaker measures that prevent prospective tenants from viewing and visiting properties for rent.
How did this affect the rental market in Q2 2020?
However, rental demand was affected by circuit breaker measures in Q2 2020
While the rental market looked set to recover in 2020, the inevitable circuit breaker happened, throwing everyone off tangent.
Rental demand in April 2020 lowest since 2011
According to a report by The Straits Times, demand for renting both private apartments and HDB flats plunged in April, seeing its most dramatic month-on-month drop since at least 2011. April's rental volume for condos and HDB flats were 40.6% and 41.3% lower than they were a year ago.
When interviewed, here's what some of our property agents had to share.
Enquiry volumes went up due to displaced Malaysian and foreign workers
When the circuit breaker was first announced, rental enquiry volumes did go up, as companies' HR were urgently looking for temporary housing for their Malaysian and foreign workers.
Jeremy Goh, an ERA Associate Division Director, shares, "There were many enquiries on my end from company HRs, desperately looking for cheap and big unit rentals to house their Malaysian & foreigner workers who were stuck during the circuit breaker period.
As the circuit breaker period was originally only slated for 7th April to 4th May, many asked for short-term rentals due to uncertainty."
Although the sudden increase in demand for short-term leases was encouraging, Jeremy added that they still needed to abide by the minimum lease periods (3 months for private, 6 months for HDB).
"Some landlords were not too willing to go for short term (leases) because of the fuss, but there were also some who would rather lease out first to tide through than to leave (their properties) vacant," he says.
Additionally, soon after the lockdown started, many property agents saw almost no enquiries for almost two weeks. The volume of enquiries and confirmed rental transactions only gradually increased towards late April.
Existing tenants were seeking cheaper alternatives, especially those in the CCR
Of those who continued actively scouting for rental homes during the circuit breaker, many wanted to switch out from their existing apartment to a cheaper alternative.
"Before the circuit breaker, the rental price for 1-bedroom units were in the $3,800 to $4,300 range. During CB, it dropped to $3,400 to $3,800. Rental in the OCR was actually pretty resilient, and I believe this is due to the movement of tenants from CCR to OCR," she says.
Rental demand was affected by travel restrictions, which stopped expats from entering Singapore
In Singapore, the rental market is significantly driven by working expatriates. According to ERA Senior Marketing Director Elizabeth Lin, renters are mostly expats and Singapore PRs, who pay about $3,000 to $4,000 monthly for 2- to 3-bedroom units.
As such, the travel bans to curb COVID-19 have inevitably hurt the rental market.
Bendon Tan, ERA Associate Division Director, explains, "With the current lockdown, new expatriates haven't been able to come into Singapore to work since March. There were also many working expatriates who faced retrenchment and had to leave Singapore."
Elizabeth personally witnessed three such cases: "I had a total of three tenants who had to break their lease and went back to the U.S. and Europe. They were from Districts 1, 8 and 15."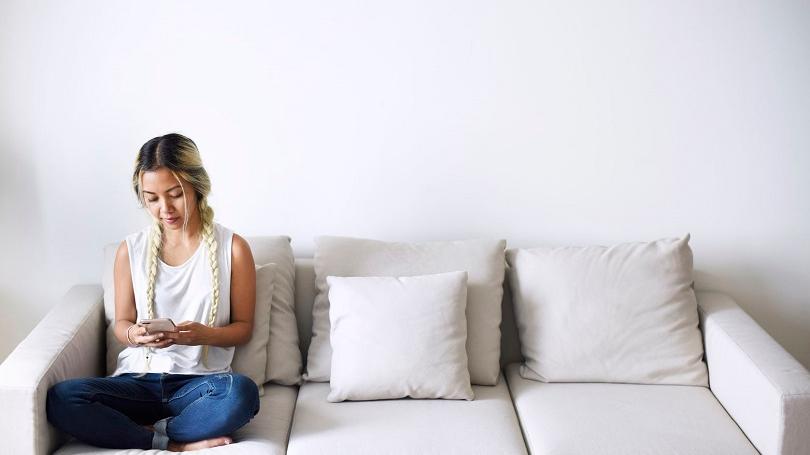 So where does Singapore's rental market go from here?
Despite its shaky performance in Q2 2020, most of the agents interviewed agree that although it will take some time to recover, they remain optimistic about the rental market moving forward.
Traditionally, the CCR areas have always been prime areas for lease. April, July, and August (i.e. this time of the year) is also usually the peak period for rental transactions. Due to the current circumstances, however, the expatriate market has been affected, hitting the CCR the hardest.
"CCR condos mostly get the hardest hit during the downtimes, because MNCs usually stop bringing in expatriate workers, and train local hires instead to save on accommodations. My colleagues have also encountered cases of tenants just leaving the country and forfeiting their deposits. We may hear of more cases during this period," says Jeremy.
Despite that, he is hopeful that as Singapore goes into phase 2 of our reopening, things will improve.
Although Bendon highlighted the above issue of reduced expats in Singapore, he feels that rental volumes are still relatively healthy due to the strong support of existing working expats over the years.
Brett, in particular, predicts heightened demand towards the end of the year.
"Firstly, there are sellers who are betting on residential property prices to continue falling, and thus seek temporary rental arrangements.
Secondly, with the political instability in Hong Kong and the U.S.'s floating plans to expel thousands Chinese students, it only makes sense to remain bullish in this period of time," he explains.