The US Fed has introduced a series of interest rate hikes all through 2022 and is expected to implement more interest rate hikes throughout 2023. This year, it has been predicted that the
US Fed Funds rate could reach 5.25% to 5.50%
.
So, what does this mean for Singaporeans? Well, homeowners can expect to pay even more interest on their mortgage in 2023. As it is, those who are on a floating rate home loan are likely to have already felt the pinch.
But don't worry, this is where refinancing your home loan can come in handy. If you're thinking of searching up, "What is home loan refinancing" on Google, chances are that you're not quite sure where to begin or what to expect during the refinancing process.
Maybe you're wondering whether home loan refinancing is even worth the time and effort. We're here to help! Learn all about home loan refinancing with this step-by-step refinancing checklist.
1. Check When Your Lock-in Period Is Over Before Embarking on the Home Loan Refinancing Process
Most home loans come with a lock-in period. In other words, once you accept the home loan, you'll be 'locked-in' and won't have the option to switch to a better rate without incurring a pre-payment penalty. Usually, this pre-payment penalty is 1.5%.
So, if you'd like to refinance your home loan without incurring additional fees, you should ensure you refinance your home loan outside of your lock-in period.
If you are still within your lock-in period, make a note of the expiration date and only consider refinancing after the lock-in period to avoid penalty fees.
2. Do the Math and Make Sure Home Loan Refinancing Will Save You Money
If your goal is to reduce the total amount you're spending on your mortgage, refinancing your home loan in Singapore makes sense only if you're getting a lower interest rate. You want to sit down, do the math, and make sure you're saving more money over the entire course of the home loan.
For example, you could adjust the duration of your home loan by extending your loan term. While this would reduce your monthly payment in the short term and improve your cash flow, it could lead to you paying more interest over the duration of the entire loan.
3. Don't Forget to Factor in Home Loan Refinancing Costs
Refinancing your home loan comes with costs such as legal and valuation fees; you can expect to pay about $1,650 to $2,250.
The good news is that these costs are sometimes subsidised by the bank you're refinancing your home loan with. However, if your bank won't cover these refinancing costs, you'll need to pay for them upfront. Better make sure you can afford it before you commit to refinancing.
4. Read the Fine Print, and Then Read It Again
Just like every other financial product, home loans also come with
fine print.
For
example
, your
current
home loan might
come with a 3-year clawback clause stating that if you refinance during the clawback period, you will need to pay back any subsidies the bank previously gave you. This clawback period is separate from the lock-in period, so e
ven if you are no longer
under
the lock-in period, the clawback
provision
might still be active. It's wise to double-check.
You'll also want to look out for the undisbursed loan amount
. Did you know that 15% of the loan amount is held back from the developer
until
a Title Deed is issued for the property? If
you decide to refinance
before the bank has
paid the developer in full, you'll need to pay 15% towards the undisbursed loan. In addition, the undisbursed loan comes with a 0.75% to 1.5% cancellation fee.
Apart from fees highlighted in the fine print, be sure to check whether you qualify for cashback or any valuation subsidies.
5. Do Your Research and Compare Home Loan Refinancing Packages
You wouldn't buy the first apartment you view, so why should any refinancing home loan package be any different?
Shop around and compare your options to make sure you're
getting the most suitable package for your home financing needs.
As a general rule of thumb, the process of refinancing can take up to five months.
So, you can begin searching for a new home loan four to six months before your lock-in period is over just to search up what is on the market.
This will give you more time to look for the 'best' home loan on the market for you. And when you're ready, you can time refinancing your home loan so you can
'seamlessly' transfer to the more favourable mortgage package, once your lock-in period is over.
You can use PropertyGuru Finance's
home loan comparison tool
to easily compare the most competitive mortgage packages (in terms of the lowest interest rate offered in the first year) across the major banks in Singapore.
Unsure of when is the right time to refinance your home loan? Use our
SmartRefi tool
. Aside from tracking your existing mortgage and comparing it against the available loan packages, the SmartRefi tool will notify you whenever it finds suitable home loan refinancing recommendations, so you don't miss out on the sweet savings.
6. Prepare All the Required Documents for Home Loan Refinancing
The entire process of refinancing is now digital. The moment you apply for a home loan package online, you'll be expected to submit documents before your application can be processed.
Here is a more detailed list of the documents you'll need for your refinance application, and how to extract them.
Here are some other things to take note of.
HDB Flat Information (For HDB Flat Owners Only)
To refinance your HDB flat
, you will need information about the flat as well as your current financial situation. The flat information includes details of when you purchased your HDB, the purchase price and your flat's occupiers. The financial information contains information about your account balance on your mortgage loan, whether that's from HDB or from another financial institution.
To access this information:
Login to

MyHDBPage

via SingPass

Select 'My Flat' on the menu

Choose 'Purchased Flat'

Click 'Financial Info' and 'Flat Details' to download a copy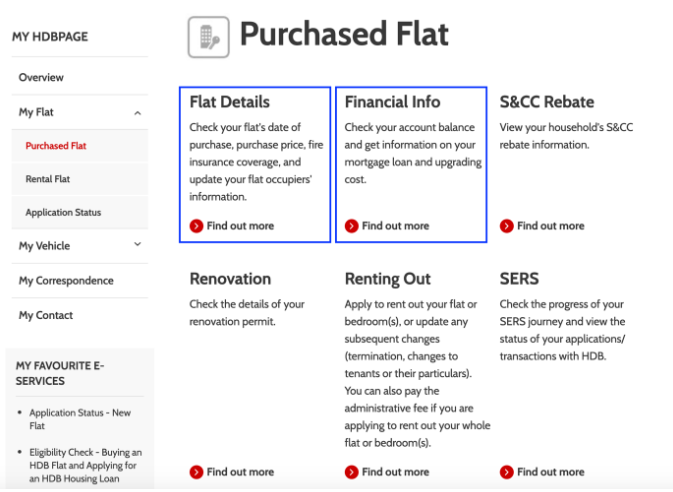 IRAS My Property Tax information
When you refinance your home loan, the financial institution will want to know whether the property is owner-occupied for the purpose of the Total Debt Servicing Ratio (TDSR) exemption. If the property is occupied by the owner, TDSR requirements become less stringent. That's why you need to download the information from your
IRAS MyTax portal
as one of the documents for submission to the financial institution.
To download the My Property Tax Page:
Login into the IRAS MyTax portal

Select the 'Property' tab

Click 'View Property Portfolio'

View and download the details of your property portfolio
Latest IRAS Notice Of Assessment (NOA)
In order to extend a home loan to you, the financial institution needs to know whether you have the financial capability of repaying
the loan
. The financial institution uses your income as a gauge of your financial capability of repayment. This is why you also need to submit your latest IRAS notice of assessment when you
are applying
to refinance
. The
N
otice of
A
ssessment contains your annual income for the latest financial year and how much tax you were subjected to.
To download your
Notice of Assessment from IRAS:
Login into the IRAS MyTax portal

Select 'Notice' tab and then 'Individual'

Download the latest 'Notice of Assessment'
CPF Contribution Statement for the Past 12 Months
Apart from
your IRAS Notice of Assessment, you will also need to provide 12 months
of
CPF contribution
statements
.
To download 12 months of CPF contribution statements:
Login to your CPF account via SingPass

Under 'Section B', select 'Contribution History'

Choose 12 months as the period of contribution

View and download the statements of CPF contribution
Watch Our Video on Refinancing
Refinancing Your Home Loan with PropertyGuru Finance
If you're new to refinancing your home loan, or just need help, reach out to our friendly and knowledgeable PropertyGuru Finance
Mortgage Experts
.
Aside from giving you honest, unbiased recommendations and tailored advice, they can also walk you through the home loan application process and apply for home loans on your behalf – all at no cost!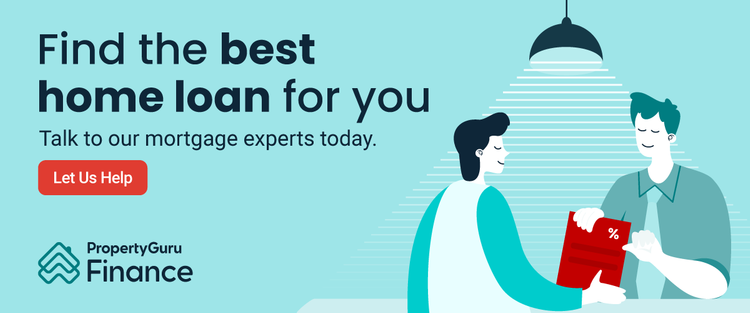 Chat with us on Whatsapp
Fill up an online form
Disclaimer: Information provided on this website is general in nature and does not constitute financial advice.
PropertyGuru will endeavour to update the website as needed. However, information can change without notice and we do not guarantee the accuracy of the information on the website, including information provided by third parties, at any particular time. Whilst every effort has been made to ensure that the information provided is accurate, individuals must not rely on this information to make a financial or investment decision. Before making any decision, we recommend you consult a financial planner or your bank to take into account your particular financial situation and individual needs. PropertyGuru does not give any warranty as to the accuracy, reliability or completeness of information which is contained on this website. Except insofar as any liability under statute cannot be excluded, PropertyGuru and its employees do not accept any liability for any error or omission on this website or for any resulting loss or damage suffered by the recipient or any other person.