Many parts of Singapore have things they're well-known for. Changi has Changi Airport, while Bishan and Kallang have adorable otters. Areas such as Jurong, on the other hand, seem to be known for their poor connectivity to the city centre.
But that's about to change with the Jurong Region Line (JRL).
The JRL will provide accessibility and ease of convenience to residents living in the Jurong area. It will provide a direct route to areas such as Jurong Industrial Estate, Jurong Innovation District, Nanyang Technological University (NTU) as well as Tengah. According to the
Land Transport Authority (LTA)
, residents can expect a train station to be 10 minutes away from their household.
Without further ado, let's take a look at what's in store for Jurong residents in the coming years.
JRL Map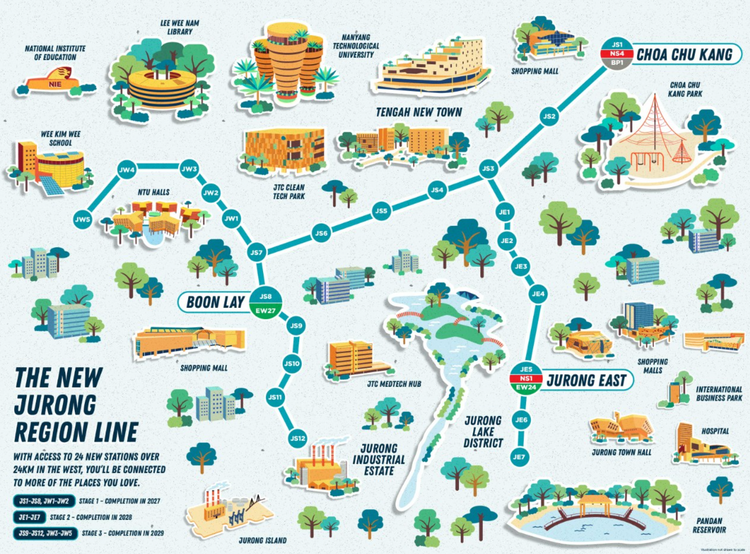 T
he JRL map consists of 24 MRT stations which will be completed by 2029. Besides
the existing stations like Boon Lay (JS8), Choa Chu Kang (JS1) and Jurong East (JE5), there are no confirmed names for the upcoming stations. There are three stages to the JRL with Stage 1 expected to be completed in 2027, Stage 2 in 2028 and Stage 3 to be done by 2029.
If you notice the Jurong Region Line map, the JRL splits off into two branches on either end, with the central line going through Tengah. Instead of creating a shuttle service for the branches, the LTA has elected to create a 'loop' around the various HDB towns. A train from Choa Chu Kang will go directly to Jurong Pier, then turn around and go to Peng Kang Hill, and then back to Choa Chu Kang.
Initially, the JSL was set to be completed in 2028. However, due to COVID-19-induced construction delays, a number of LTA projects have been pushed back by up to a year.
As of May 2021, two stations, currently known as
JS9 and JS10 have started construction works
and are expected to be ready by 2029. Furthermore, the JRL will use smaller carriages at approximately two-thirds the size of our current MRT cars. Since the JRL will weave through many buildings, it has to have smaller carriages in order to be able to make tighter turns.
Who Benefits From the JRL?
Residents in Choa Chu Kang, Boon Lay, and Tengah will likely benefit the most from the JRL, given they are the main housing estates that the JRL will serve. Slated to be Singapore's next full-fledged housing estate, Tengah has been attracting much attention. During the November 2022 BTO launch, Tengah was well-received by applicants likely due to its shorter completion time.
There's one station in the JRL, however, that stands out.
One stop from Jurong East MRT station is Jurong Town Hall MRT station, which was built with the intention to ferry passengers to and fro Malaysia. That is if the Singapore-Kuala Lumpur High-Speed Rail project eventually pulls through.
As of 5 September 2022,
Singapore is open to fresh proposals
from Malaysia regarding the project.
The JRL connects several schools and churches to the network. As a bonus, Choa Chu Kang and Boon Lay will be linked directly to NTU. Instead of taking the 179 feeder bus from either Boon Lay Bus Interchange or Pioneer MRT station, future students can take the JRL from Jurong East or Boon Lay MRT stations.
With the new JRL, many developments in Choa Chu Kang such as
The Rainforest
and the upcoming
Sol Acres
may see an increase in value over the coming years due to their proximity to an MRT station. The same could be said of developments in Boon Lay such as
Lakefront Residences
.
How Does Tengah Fit Into the JRL?
At present, Tengah is still undergoing heavy construction. However, when Tengah is developed, the new Tengah estate will sprawl over 700ha and comprise up to 42,000 new homes. It will be
composed of five housing districts: Garden, Brickland, Forest Hill, Plantation, and Park.
To service the estate that is set to be the size of Bishan, four stations will run through Tengah: Tengah, Hong Kah, Tengah Plantation, and Tengah Park.
The town will also be a
car-lite housing estate. Roads and cars will run underground as they approach the town centre, freeing up space for bicycles on the surface level. The Government has also planned for most major facilities to be located at the heart of Tengah, otherwise known as the Market Place.
Ultimately, the goal is to provide so many activities and amenities at the Market Place that residents don't need to venture past Tengah to fulfil their daily needs.
Tengah BTO Projects
The first batch of Tengah BTO flats launched in November 2018, Plantation Grove, is set to be completed by Q3 2023. In the upcoming
BTO launch in February 2023
, we will see another Tengah BTO site.
Here are all the Tengah BTO projects launched to date:
Want to Live Along the JRL in Singapore?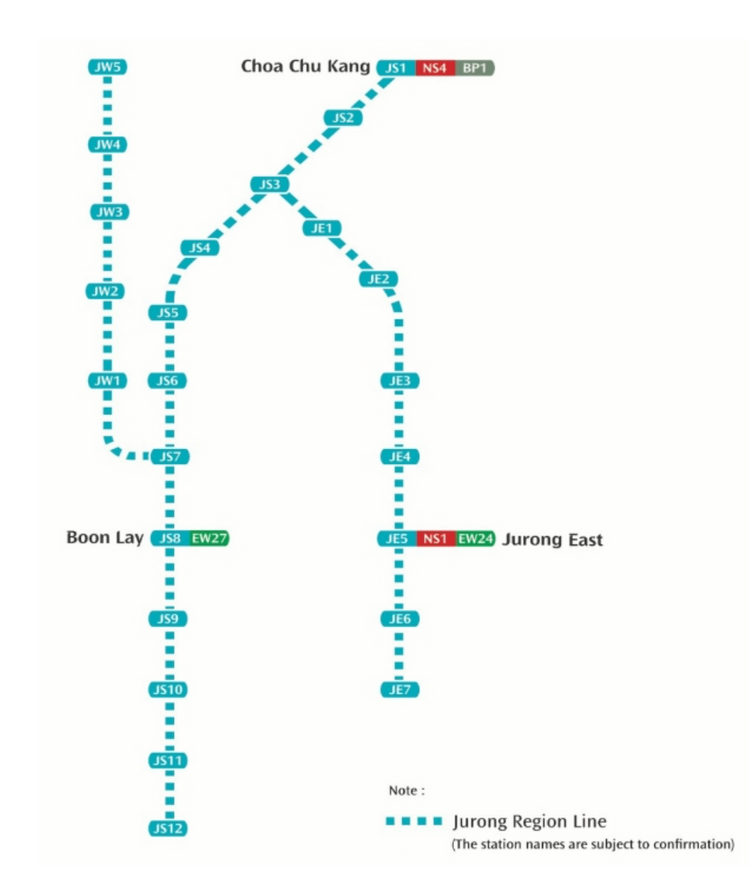 Apart from the upcoming BTO projects in Tengah, there are many properties in the JRL's vicinity that you can look out for.
Le Quest
condominium s
aw a huge interest in its projects after the announcement of the JRL. If you are looking for an executive condominium, check out Westwood Residences EC
which is about six minutes away from the upcoming MRT station, on foot. For extreme convenience, consider
Parc Oasis
,
Mi Casa
and
J Gateway
.