If you're wondering, "How does refinancing work?" No worries, you've come to the right place. In this refinancing 101 guide, we'll cover the basics to get you on the right track!
What Is Home Loan Refinancing?
Put simply, to refinance is to replace your existing property loan with a new one. This is usually done when the new housing loan offers more favourable terms.
You may also choose to move from one bank to another bank once your lock-in period is over and your existing plan's interest rate goes up.
Home Loan Refinancing Vs Repricing
How Does Home Loan Refinancing Work?
You might have Google searched, "How does refinancing work?" Here's your answer. How refinancing works is that when your application for a refinance property loan with Bank B is approved, Bank B will proceed to pay off your existing mortgage with Bank A, and bring over the prior loan balance.
Example of How Does Refinancing Work
Say, in 2017 you took a property loan with Bank A at 1.8% (3-year fixed rate). Now that the three years is over, the rates have gone up to over 2%. At this point, you still owe Bank A $300,000.
Thinking that this is too expensive to service the rest of your debt, you decide to shop around and found that Bank B is offering interest rates of 1.5% (3-year fixed rate). Hence, you decide to apply to refinance to Bank B.
If your refinancing application is approved, Bank B will pay Bank A the $300,000 that you owe. You will no longer owe Bank A any money; instead, you will owe Bank B $300,000 under the terms of the new loan. The loan is essentially 'transferred' to Bank B.
When Should You Refinance Your Home Loan?
You can work out whether it makes sense to refinance by calculating your potential savings. Based on the above-mentioned example…
As you can see, in this case, refinancing will save you a significant sum. Assuming a 25-year tenure, if you do not refinance, you can expect to pay $1,271.56 per month when Bank A's interest rates rise. If you do refinance to Bank B at 1.5%, you will only need to pay $1,199.81 monthly. That's $71.75 less per month, and $2,583 saved after three years!
Of course, this is a very simplistic illustration, and the actual amount saved will depend on things like your outstanding balance, preferred tenure, etc. You'll also need to factor in refinancing costs, such as legal and valuation fees… Which bring us to our next point.
Do You Need to Pay to Refinance?
Yes, there are certain costs involved with refinancing your home loan. The two main fees are 1) legal fees and 2) valuation fees. Added up, these can cost up to $3,000. However, many times, banks will offer to subsidize these costs to incentivise homeowners to refinance.
For example, if you're refinancing from Bank A to Bank B, Bank B may offer you a $2,000 subsidy to help lower the costs. Subsidies often come with a clawback clause though, which stipulates that you can't refinance again for a few years (unless you pay back the subsidy).
Depending on the terms of your existing home loan, there may also be other costs like prepayment penalties and/or cancellation fees. To be sure, it is best to check with your current bank whether these charges will apply should you decide to refinance.
So given the costs involved, should you still consider home loan refinancing?
Should You Refinance Your Home Loan: Is it Good or Bad?
This is a tricky question as it largely depends on your unique situation, but generally, you can calculate your potential savings (as above) to help you decide if you should refinance. Factor in both your costs of refinancing and how much you can expect to save in monthly repayments.
Again, using the same example…
Expected refinancing cost:
$1,500 legal fee + $300 valuation fee = $1,800
Bank B's subsidy: $2,000
Expected savings after three years: $2,583 – $1,800 + $2,000 = $2,783
As illustrated above, there are many instances when refinancing your loan can result in significant savings. Generally, those with HDB loans consider refinancing after a few years when they've paid off at least 25% of their property's price (because most people can only borrow up to 75% from banks). Those with bank loans typically explore refinancing once their lock-in periods are over (so they can switch to another bank without having to pay any penalties).
How to Refinance Your Home Loan
'Refinancing' sounds complicated, but it's actually a very straightforward process – especially with PropertyGuru Finance ready to do the heavy lifting for you. Here are the steps to refinancing:
Check that it is a good time for you to refinance your home loan.
Reach out to PropertyGuru Finance for recommendations.
You may also compare interest rates on your own if you wish.
Decide on your preferred home loan.
If you'll let us, we will help you with the refinancing application from hereon!
All you'll need to do is prepare the necessary documents (see our refinancing checklist here).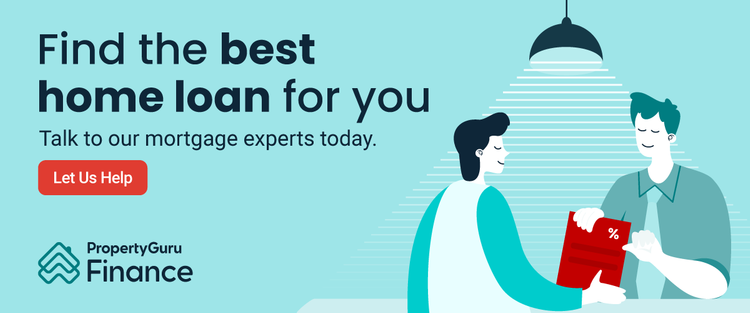 Chat with us on Whatsapp
Fill up an online form
Disclaimer: The information is provided for general information only. PropertyGuru Pte Ltd makes no representations or warranties in relation to the information, including but not limited to any representation or warranty as to the fitness for any particular purpose of the information to the fullest extent permitted by law. While every effort has been made to ensure that the information provided in this article is accurate, reliable, and complete as of the time of writing, the information provided in this article should not be relied upon to make any financial, investment, real estate or legal decisions. Additionally, the information should not substitute advice from a trained professional who can take into account your personal facts and circumstances, and we accept no liability if you use the information to form decisions.