When your HDB flat is selected for SERS, is that akin to a windfall? …Or not?
There have recently been announcements of certain blocks in Ang Mo Kio being selected for the scheme, as well as in Marsiling… that's two SERS projects in 2022 alone! Considering that the previous SERS projects were few and far between since 2012.
SERS
, or Selective En bloc Redevelopment Scheme is an initiative by HDB that's been around since 1995. Residents whose blocks are selected will have the chance to move to a spanking new home with a brand-new 99-year lease, close to their previous neighbourhood. They'll also get compensation and rehousing benefits!
However, before you dash to search for potential SERS
HDB resale flats
, stop and think about the pros and cons first.
If you haven't heard, there's been a saga and controversy surrounding SERS projects, citing smaller living spaces, a hassle to move especially for senior residents, cost (new flats are pricier), and other concerns.
In particular, for the Ang Mo Kio SERS project, which affects Blocks 562 to 565 at Avenue 3 and comprises 606 households, there's been a few options thrown into the mix:
An additional replacement site at the upcoming

Central Weave @ Ang Mo Kio

HDB BTO project, where up to 10% of the units will be set aside for priority allocation for those affected by SERS. The designated replacement site is next to ITE College Central.

The option to buy a new replacement flat with a shorter lease of 50 years (versus a new one that has 99 years)

The option for eligible seniors affected by SERS to take up the lease buyback scheme for their existing flat, so they are able to buy a new HDB flat as replacement on a short lease (depends what's remaining on their SERS flat after they sell the lease to HDB). This was

previously not available

to homeowners affected by SERS

after

the SERS announcement.
In addition, there's also been a
change to the Minimum Occupancy Period
for SERS replacement flats. It's now 5 years from the date of key collection, just like your typical HDB flat. Previously, it was 7 years from the date of selection — not key collection — which meant that many of them were able to sell off their SERS replacement flat much earlier.
So, what's the deal with SERS, especially the latest "AMK-SERS-gate"?
HDB Ang Mo Kio SERS: 5 Things Singaporeans Are Unhappy About
To find out the ground sentiments of Singaporeans and SERS, we've trawled the Facebook comment section of news articles to suss out what Singaporeans are angry/unhappy about regarding the AMK SERS and the reasons for their furore.
Here are the top 5 issues we found:
Unnecessary stress for elderly homeowners

Cash outlay for costs of moving house

Size of replacement flat could be smaller

Lack of choice in the matter

Shortchanged by 50-year lease option
Disclaimer: The opinions shared in this article do not represent PropertyGuru. They are public feedback compiled from online social media channels.
HDB AMK SERS Issue #1: Unnecessary Stress for Elderly Homeowners
Many of those who commented were concerned about the elderly homeowners residing in the Ang Mo Kio SERS flats. For one, moving house is a big project that they might not have the means to do on their own. In addition, needing to look for another home at this juncture in their lives when they should be relaxing, is added stress.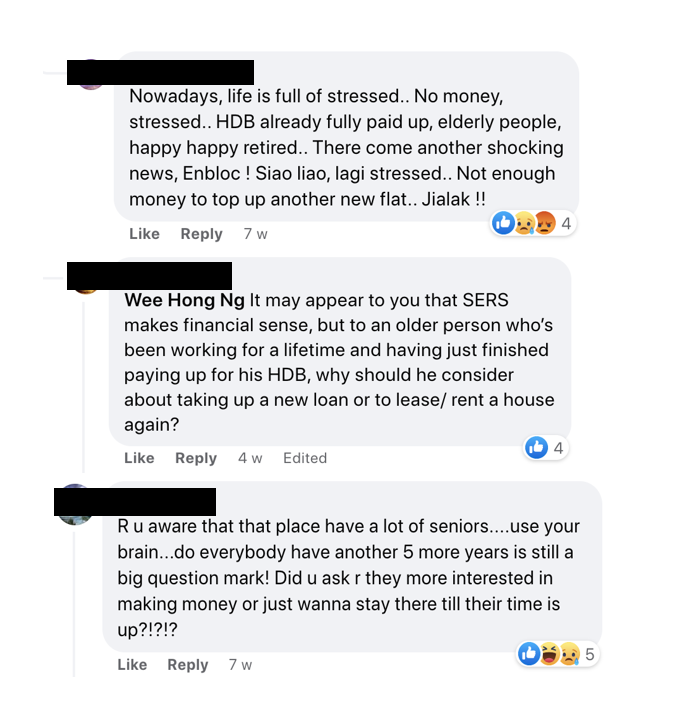 Furthermore, for those who had already worked hard to successfully complete the payments for their HDB loan, buying a new HDB flat could mean taking on another mortgage and relinquishing their debt-free life.
It is also common for people to forge bonds within their community and neighbours, especially if they have lived in the area for a long time. Especially for the elderly homeowners affected by the AMK SERS, they're being "uprooted" from a place and the people they've become so used to, which again, causes unnecessary stress.
HDB AMK SERS Issue #2: Cash Outlay for Costs of Moving House
Even if the compensation and replacement flat offered could defray the costs of buying a new HDB flat, commenters argue that other cash outlay, such as renovation, buying new appliances and furniture, or even hiring movers could be costly.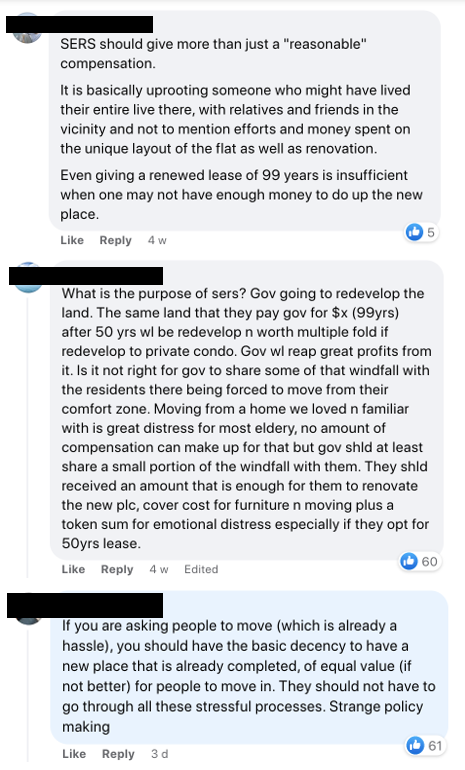 According to estimates, renovating a HDB flat could cost an average of $35,000 for a 3-room flat and above for larger, more elaborate layouts. Even the most spartan of renovations, such as giving the walls a fresh coat of paint, is still an additional cost.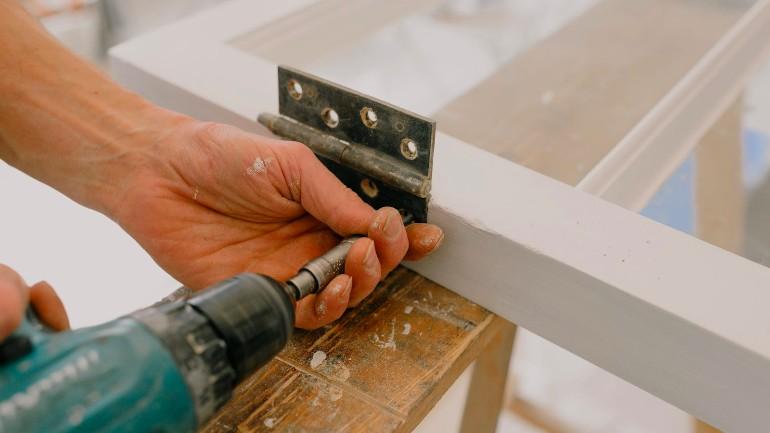 HDB AMK SERS Issue #3: Size of Replacement Flat Could Be Smaller
A check on the size of the flats at Block 562 Ang Mo Kio Avenue 3 showed that a unit with 3 bedrooms and 2 bathrooms was a spacious 990 sqft (about 92 sqm). These days, a 4-room BTO flat (with the same number of bedrooms and bathrooms) measures from around 85 to 93 sqm, or about 914 to 1,001 sqft, and/or might have a less spacious layout.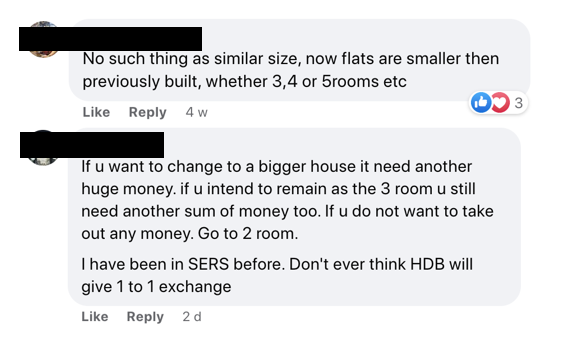 Some commenters also suggested that due to the rising prices of BTO flats now versus the depreciating price of older flats, homeowners of the AMK SERS flats would likely have to top-up cash or CPF to get a similarly-sized replacement flat.
HDB AMK SERS Issue #4: Lack of Choice in the Matter
With a choice of words such as "forced" and "chased out", it seems that comments focused on the lack of homeowners' autonomy on the SERS decision, versus the process of en-bloc sale for private developers where a consensus to sell must be reached by the majority of homeowners.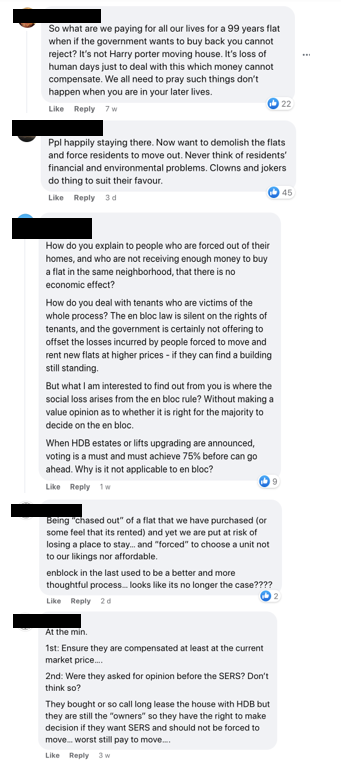 Another interesting point was on the
rights of tenants
, who would benefit the least from SERS as they receive no compensation whatsoever.
HDB AMK SERS Issue #5: Shortchanged by 50-year Lease Option, Location
Last but not least, other issues raised were the shortchanging of affected AMK SERS residents with the option of a replacement unit with a 50-year lease, which had undergone significant depreciation. In general, the value of an HDB flat on the resale market is typically the highest in the first 15 years.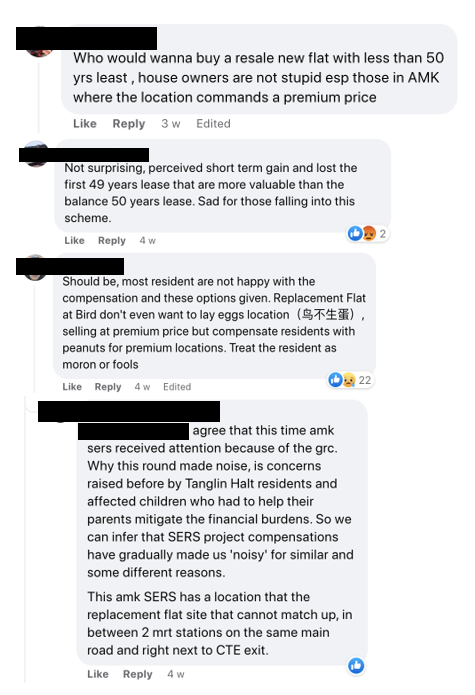 Other commenters also compared the location of the existing AMK SERS blocks and the location of the replacement flats, in particular the original designated replacement site. They said the latter was inferior, with fewer public transport connections than the original, and hence was not worth the premium price.
HDB AMK SERS: Real Estate Agency Weighs In
Mr Lee Sze Teck, Senior Director (Research), Huttons Asia, also shared his take on the Ang Mo Kio SERS situation, with a focus on the scramble for the new BTO flats as replacements:
"The residents affected by SERS are limited to just 10% of Central Weave @ AMK BTO flats which is just 89 flats. Competition will be stiff and we estimate that the SERS applicants will also have to ballot for a flat. The other BTO locations are in non-mature estates and will be seen as worse off for them.
"If they are not successful, they will be placed at the back of the queue for the new flat at the SERS replacement site. Residents will have to weigh this against the better location of the BTO flat.
"Furthermore they have to pay the same price as public applicants. Hence it will most probably be residents who are younger and qualify for a longer loan tenure.
"This is another step to appease some residents affected by SERS. But it will never be enough. Residents will question why only 10% and not BTO in Bukit Merah. HDB should rethink the whole SERS policy and even VERS given that our HDB flats are ageing."
HDB AMK SERS: Closing Comments
As many of the options provided by HDB for the Ang Mo Kio SERS case are new, the actual results are yet to be seen. Hopefully, in view of the changing property landscape, improvements to an initiative that began in 1995 can be made and aligned to current times.
Commenters had some helpful feedback and suggestions regarding the direction that SERS and our housing mindset should move in: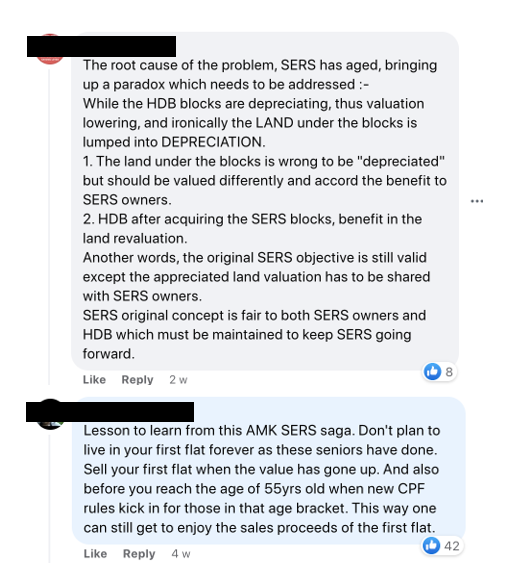 What do you think? Is SERS a bane or a boon?
Disclaimer: The information is provided for general information only. PropertyGuru Pte Ltd makes no representations or warranties in relation to the information, including but not limited to any representation or warranty as to the fitness for any particular purpose of the information to the fullest extent permitted by law. While every effort has been made to ensure that the information provided in this article is accurate, reliable, and complete as of the time of writing, the information provided in this article should not be relied upon to make any financial, investment, real estate or legal decisions. Additionally, the information should not substitute advice from a trained professional who can take into account your personal facts and circumstances, and we accept no liability if you use the information to form decisions.