Knowledge is power is an adage that certainly applies to Singapore's rental market. Those familiar with the rules continue to earn from their properties without running afoul with the law, while newbie tenants and uninitiated landlords face greater risks of getting evicted, losing lots of money or even landing in jail.
To ensure you don't encounter such problems, we compiled a list of tips and essential information, along with the latest rental regulations governing the city-state's rental property market.
Can a Landlord Enter Your Room Without Approval?
In Singapore, the landlord has the legal right to access any part of his property, including a room that has been rented out. But among the most common complaints of tenants here is when the owner does this without their consent, or when their room gets checked while they're away.
As such, it is paramount to have a clearly worded leasing contract that covers such situations. So even if the local rules are advantageous to the landlord, he will suffer consequences if the tenancy agreement prohibits him from unjustly intruding into the lessee's room.
Below are some provisions would-be occupants can incorporate into their tenancy contract to secure your tenant rights in Singapore and prevent such situation:
| | |
| --- | --- |
| Steps to secure your tenant rights in Singapore | Why? |
| 1. Obligate the landlord to get written permission | If the landlord wants to enter, he/she needs to get written permission from the tenant. |
| 2. Inform tenant before entering the tenant's room | Get the landlord to provide the tenant within a notice period before entering. |
| 3. Specify cases where a property owner can enter the tenant's room | List down the typical scenarios where the landlord can ask for permission to enter the property with written permission. |
| 4. Set penalties for illegal entry into tenant's room without permission | Specify the penalties that will take place if the landlord violates your tenant rights. |
| 5. Add exception clauses of when a landlord can enter the tenant's room | There might be some emergency cases where the landlord can enter without permission. |
1. Obligate the Landlord to Get Written Permission
The first step is to obligate the property owner to get written permission if he wants to enter the tenant's room as well as prevent him from entering the room without the occupant's knowledge.
2. Inform Tenant Before Entering the Tenant's Room
You should include in the Tenancy Agreement (TA) that the landlord needs to inform you beforehand if he/she will enter the room, and provide a notice period of one day or more.
3. Specify Cases Where Property Owner Can Enter the Tenant's Room
Specify the cases wherein the property owner will need to seek the occupant's approval before entering that latter's room. For example, if the landlord needs to do minor repairs or wants to show the room to potential tenants.
4. Set Penalties for Illegal Entry Into Tenant's Room Without Permission
Set penalties in the event that the property owner violates such provisions. For example, if the landlord enters your room without your knowledge and permission, you can scrap the rental contract immediately or after a few months' notice. Remember to clearly state in the rental contract that your security deposit needs to be refunded if this happens.
5. Add Exception Clauses of When Landlord Can Enter the Tenant's Room
If there are clauses prohibiting the landlord from intruding into your room, the owner will likely ask for exceptions before signing the TA (under the Landlord and Tenant Act in Singapore).
Normal exceptions include if the owner needs to go into your room due to an emergency where he needs to do crucial repairs that if delayed could negatively impact the property. In rare situations, the police armed with a valid search might want to check the tenant's room.
Landlord or Master Tenant? Check Who you're Dealing With
Before committing to lease a room, always make sure that the person you are transacting with is the actual owner of the property or a person authorised by the landlord and not a master tenant. So don't sign a rental contract without confirming this.
This is because master tenants are not permitted to sublet their room unless explicitly permitted by the owner. Even if you're dealing with a master tenant who has been authorised to do so, ensure that your name is included in the official rental agreement and have the landlord acknowledge this. You need to do this, otherwise, you might suffer the same fate as the unlucky subtenants mentioned below.
This is what transpired when the landlord found out:
Served eviction notices to the subtenants who had no choice but to vacate the premises since they were not included in the tenancy agreement.
It's also not known whether the subtenants were able to get back their security deposit.
Subsequently, the landlord was instructed by Urban Redevelopment Authority (URA) to remove the partitions. She is required to do so even though she did not put them up. In worst-case scenarios, those who partition private housing can be imprisoned for up to a year and/or pay a maximum fine of $200,000.
To prevent this from happening to you, always confirm who you're transacting with. Ask the landlord to log into their
HDB account
if you're renting public housing, or have them access Singapore Land Authority's
MyProperty portal
to verify the properties owned by that person.
Remember, not doing your homework when renting a room or property could leave you out on the streets and rushing to find new accommodations, with your security deposit likely gone as well.
Tenants' Worst Nightmare
Note: Private residential properties and HDB units come with stringent rental regulations regarding the maximum number of occupants. These homes also have fixed partitioning rules, so beware if the premises shown to you come with room dividers.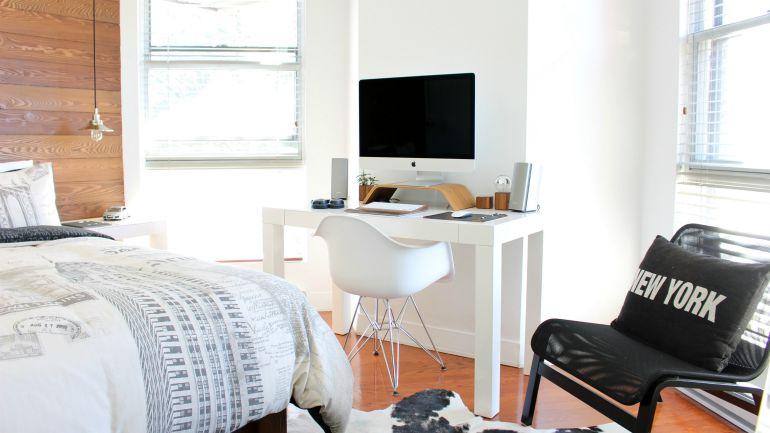 What Is the Maximum Number of Occupants Allowed in HDB Flats and Private Condos?
According to URA rules
, the maximum number of permissible tenants allowed for private housing is six unrelated individuals.
Additionally, caregivers and domestic helpers are treated as belonging to one family.
Hence, if a five-member family has hired a caregiver and domestic worker, they will be exempt from the occupancy cap for private housing. On the other hand, if a family of four wants to rent part of the private condo, they can only accommodate two additional persons.
If you're a master tenant and the landlord has allowed you to sublet a room, the property's total occupants should not exceed six.
Also, please take note that you are prohibited from creating additional bedrooms by installing partitions or dividers.
For HDB properties
, the number of non-related tenants in three-room or larger HDB flats must also not surpass six persons, while the limit for three-roomers and smaller units is six occupants.
| | |
| --- | --- |
| Property/flat type | Maximum number of subtenants |
| Private property | 6 |
| One-room and two-room HDB flats | 4 |
| Three-room HDB flats | 6 |
| Four-room or larger HDB flats | 6 |
For rental applications granted by HDB before the effective date, the new limit will be imposed upon renewal of the leasing arrangement or if there are changes in the tenants.
While those who lease bedrooms are required to comply with the lower limit, a family with over six members can still rent an entire HDB flat. This rule also covers the living quarters of HDB commercial properties being leased out.
Aside from that, all owners of HDB flats and HDB commercial premises along with their would-be tenants are now required to obtain the Housing Boards approval prior to starting the tenancy.
Previously, owners of HDB commercial spaces were not obligated to do so, while tenants of HDB units and HDB commercial spaces, as well as HDB homeowners, were required to register with the Housing Board within seven days from the beginning of the tenancy.
Applications to lease out HDB units, bedrooms or living quarters of HDB commercial premises can be filed through the
agency's e-services
. Although the application result will be released immediately, each application will respectively entail an administrative fee of $10, $20 and $100 per bedroom, entire HDB flat or living quarters of HDB commercial spaces.
| | |
| --- | --- |
| Unit type | Admin fee |
| Bedroom | $10 |
| Whole flat | $20 |
| Living quarters | $100 |
Rental Duration: HDB vs private condo
In comparison, the
Housing Board only permits a tenancy of at least six months
. The maximum stay duration is two years for non-Malaysian non-citizen residents (i.e. Singapore Permanent Residents and foreigners), and three years for Singaporeans and Malaysians. If the landlord wants to renew the tenancy, he needs to apply for permission again from HDB.
Below is a comparison between private and HDB properties:
| | |
| --- | --- |
| Property Type | Stay Duration |
| Private Home | Minimum: 3 months; No maximum |
| HDB Flat | Minimum: 6 months; Maximum: Two to three years |
Are Tenants Allowed to Have Guests?
While private properties can be rented out to guests and tourists as long as it's not shorter than three months, HDB units cannot be leased out to tourists. The latter can only be rented out to expatriates with passes like Long-Term Social Visit Passes and Student Passes.
Punishment for Violators
| | |
| --- | --- |
| Property Type | Penalty |
| Private Condo | Maximum of $200k for each charge / 12 months jail time |
| HDB | Fine / Loss of HDB Flat |
Based on URA rules
, those caught renting their homes for short-term rentals will be fined up to $5,000, while repeat offenders and those who rent out short-term accommodation for multiple properties will be prosecuted in Court, with the imposition of heavier fines. This can range between $13,000 and $70,000,
according to a news report by Channel News Asia (CNA)
.
In comparison, HDB flat owners found guilty of unauthorised rentals and surpassing the cap on the number of occupants will face fines, or even lose their homes in case of severe violations.