For many private home buyers, condo facilities are one of the biggest selling points. It's definitely a huge convenience to have a swimming pool, tennis court and fitness gym at home, especially for those who actively pursue these hobbies. Of course, for many others, it's merely a matter of bragging rights, and being able to invite friends over for a leisure swim or casual game of tennis…
But did you know that condo facilities aren't free? That's right. Condo owners must pay a monthly service and conservancy fee that can go between $200 to $400 every month, depending on your condo management. These fees are payable even if you don't use any of the condo facilities, and even the cheaper ones will come up to at least $2,400 per year.
H2 2020 Consumer Sentiment Study: Singaporeans will consider fewer facilities for cheaper prices
That is a significant recurring expense, which is why it's unsurprising that in our
H2 2020 PropertyGuru Consumer Sentiment Study
, 82% of respondents said they would consider a property with fewer facilities in exchange for lower property prices and maintenance fees.
But let's assume you do use the condo facilities regularly – is the $200 to $400 per month worth it then? Let's find out.
Condo Facilities: Are They Worth the Service and Conservancy Fee?
We checked out how much the use of common condo facilities are at public complexes and compared them to the condo monthly service and conservancy fees. Here's an overview of our findings.
| | |
| --- | --- |
| Common condo facilities | Cost at external sports / recreation centres |
| Swimming pool | $35 per month for a family of five, unlimited pass at ActiveSG complexes |
| Tennis court | $80 if you play once a week at ActiveSG tennis courts |
| Fitness gym | $30 for unlimited pass at ActiveGYMs |
| BBQ pit | $24 for BBQs twice a month, at Labrador Nature Reserve or Sembawang Park |
| Total | $169 (That's 16% to 58% cheaper!) |
As you can see, if you're purely comparing prices, it doesn't make sense to go for a condo simply for these facilities. It can be much cheaper elsewhere, especially at ActiveSG complexes.
Of course, these calculations assume you have time for these recreational activities several times a month, but not every day. If you play tennis daily or have barbecue parties multiple times a week, even a $400 conservancy fee could very well be worth it for you.
Also, this breakdown does not take into account the added costs of travelling out of your home, which also loses points for convenience. After all, taking a lift down to the pool downstairs takes all of five minutes, whereas getting dressed and driving out to the nearest public pool would at least take 30 minutes.
With that, let's deep dive into the breakdown of all the compared facilities.
Common Condo Facility 1: Swimming Pools
While condo facilities vary from condo to condo, most condos in Singapore come with swimming pools. Of course, not all are luxurious lap pools, but usually there's at least one decent-sized pool where residents can sunbathe and swim.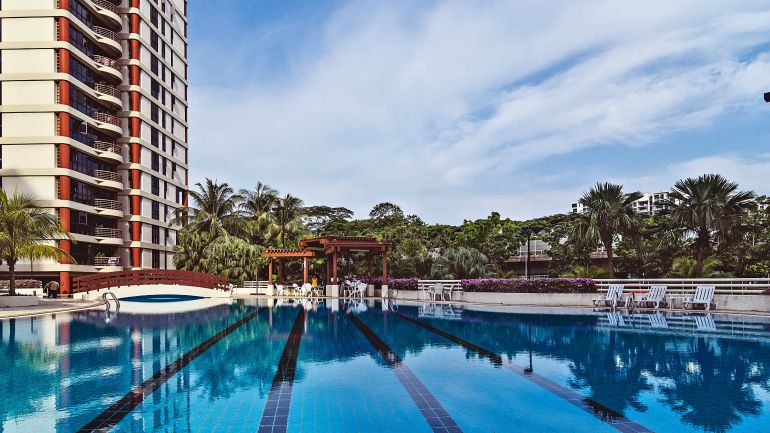 Since swimming pools are one of the most visible features of the condo façade, many developers have been riding on the recent infinity pool trend.
Aesthetics and Instagram-worthiness aside, how about from a practical point of view? Are bragging rights to a swimming pool in your backyard really worth paying up to $400 a month for? Let's see.
Note that we are using facilities and fees from ActiveSG as our basis for comparison as they are the most affordable option for Singaporeans.
ActiveSG swimming pool rates
Going for a swim at public swimming complexes is actually very affordable. For ActiveSG swimming complexes, it's under $2 each visit. Even if you opt for the monthly pass, it's only up to $10 per month. For a family of 2 adults + 3 children, the monthly pass will only set you back $35 a month.
There are quite a few ActiveSG swimming complexes as well.
ActiveSG swimming complexes
Ang Mo Kio Swimming Complex
Bishan Swimming Complex
Bukit Batok Swimming Complex
Choa Chu Kang Swimming Complex
Clementi Swimming Complex
Delta Swimming Complex
Geylang East Swimming Complex
Heartbeat @ Bedok ActiveSG Sports Centre
Heartbeat @ Bedok ActiveSG Swimming Complex
Hougang Swimming Complex
Jalan Besar Swimming Complex
Jurong East Swimming Complex
Jurong Lake Gardens Pool
Jurong West Swimming Complex
Kallang Basin Swimming Complex
Katong Swimming Complex
MOE (Evans) Swimming Complex
Pasir Ris Swimming Complex
On the surface, opting for public pools may seem to make more economic sense. However, in the case of private condo swimming pools, paying more for the added privacy may be worth it – especially if you like your peace and quiet.
Public pools can get crowded during peak periods (like weekends and weekday evenings). We can't promise you won't encounter screaming children and badly-behaved swimmers at your condo pool, but hey, at least you'll know where they stay.
Common Condo Facility 2: Tennis Court
Another typical condo facility in Singapore is the tennis court. Tennis is a popular sport among many, especially expats, giving such condos an uplift in their perceived value.
Now, are tennis courts worth the extra hundreds every month? Well, based on what we have found, it does seem worth the money. Once again, we are using the affordable ActiveSG tennis courts for comparison.
ActiveSG Tennis Court rates
| | |
| --- | --- |
| ActiveSG Tennis Courts | Price per hour |
| Non-peak hours (Singaporean/PR) | $3.50 |
| Non-peak hours | $4.60 |
| Peak hours (Singaporean/PR) | $9.50 |
| Peak hours | $12.40 |
If you were to visit an ActiveSG tennis court to swing some racquets, it will cost you $9.50 an hour during peak hours (read: after 6pm and weekends). For a regular game of tennis of two hours, you will rack up almost $20 for each session. If you play tennis once every week, you will incur a monthly expense of about $80. That's about 20% to 25% of what you might have paid for your service and conservancy fees.
Plus, there aren't as many tennis courts as there are, say, swimming pools, which means it comes with additional hidden travelling costs. In that sense, paying for the tennis court as part of your service and conservancy fees seem pretty reasonable to us.
ActiveSG complexes with tennis courts
Bedok Sport Centre
Bedok Tennis Centre
Burghley Tennis Centre
Choa Chu Kang Sport Centre
Choa Chu Kang Tennis Centre
Farrer Park Tennis Centre
Heartbeat @ Bedok ActiveSG Sport Centre
Jalan Besar Sport Centre
Jurong West Sport Centre
Jurong West Tennis Centre
Kallang Sport Centre
Kallang Tennis Centre
MOE (Evans) Tennis Centre
Pasir Ris Sport Centre
Pasir Ris Tennis Centre
Senja-Cashew Tennis Centre
Serangoon Sport Centre
St Wilfrid Tennis Centre
Common Condo Facilities 3: Fitness Gym
Most condos nowadays come with a fitness gym, the only question is how big and well equipped they are. Some are small spaces with just a couple of treadmills, while others may have more sophisticated exercise machines.
If you are a self-proclaimed gym buff, you are probably visiting the gym every other day. But is the gym at your condo really worth the money you are paying in monthly service and conservancy fees? From what we found, ActiveSG gyms are pretty good alternatives.
ActiveSG gym rates
Price you would have paid at ActiveSG fitness gym:
$25 to $30 per month (peak)
$6.70 to $15 per month (non-peak)
$2.50 per visit
Compared to the ActiveSG fitness gyms, paying for the gym at your condo does seem a tad expensive. That's especially if you know that ActiveSG fitness gyms are only charging only $2.50 per visit. If you need to be in the gym every other day, there's also the monthly unlimited pass that you can get for only $30 a month at most. That means that the cost of gym-ing makes up only 7.5% to 15% of your monthly service and conservancy fees.
That being said, there are other factors apart from price that gym buffs would consider. First of all, it's much easier to keep up with your fitness regime if the gym is within the condo complex. It's much easier to drag your lazy self downstairs than to drive or take a bus out.
Secondly, like the public pools, ActiveSG gyms can get a bit crowded at times, especially during peak hours. This could be a major deal breaker for some, as having to queue up and wait for equipment is no fun.
Common Condo Facilities 4: BBQ Pit
Can you really call it a condo if it doesn't have barbecue pits? BBQ pits are especially popular with the families, as they're great for parties and general gatherings with friends and family. After all, given that condo units are getting increasingly smaller, there isn't always space for everyone to hang out upstairs.
Public BBQ pit prices
| | |
| --- | --- |
| Public BBQ pits | Price |
| HDB BBQ Pit | $5 to $20 |
| Labrador Nature Reserve (Promenade) BBQ Pit | $12 |
| Sembawang Park BBQ Pit | $12 |
| Changi Beach Park | $16 |
| East Coast Park BBQ Pit | $16 to $20 |
| Pasir Ris Park BBQ Pit | $20 |
| West Coast Park BBQ Pit | $20 |
Aside from public barbecue pits, you can consider an overnight chalet's stay, especially if it's for a big party or gathering.
Price you would have paid at chalets with BBQ pits:
Prices of chalets with BBQ pits
| | |
| --- | --- |
| Chalet with BBQ pits | Price |
| Bukit Batok Civil Service Club | $30 to $90 |
| Costa Sands Resort Sentosa | $59 to $229 |
| The Chevron's | $70 to $360 |
| HomeTeamNS Adventure Centre @ Bukit Batok | $74.90 to $117.70 |
| HomeTeamNS Sembawang Resort | $74.90 to $123.05 |
| Costa Sands Resort Downtown East | $89 to $279 |
| Costa Sands Resort Pasir Ris | $89 to $259 |
| National Service Resort & Country Club NSRCC | $100 to $520 |
| Aloha Changi | $100 to $600 |
| HomeTeamNS Pasir Ris Holiday Chalet | $107 to $139.10 |
| Aloha Loyang | $140 to $500 |
| Goldkist Beach Resort | $168 to $228 |
| Aranda Country Club | $190 to $490 |
| City Beach Resort (Labrador Park) | $400 to $500 |
Surprisingly, if you do enjoy the weekly barbecue, living in a condo with BBQ pits could actually be cheaper and way more convenient. Alternatives like chalets with BBQ pits are much more expensive, and not very feasible if you intend to have these gathering frequently.
Public BBQ pits, while affordable, are generally quite inconvenient. You will need your own transport, and you must be prepared to lug around all your ingredients and other supplies.
Verdict: We say, condo BBQ pits are underrated.
Conclusion: It boils down to cost vs convenience, privacy and exclusivity
So… are condo facilities worth paying for?
If we were to purely consider the cost aspect of condo facilities, it's no surprise that public facilities win hands down. But that wouldn't be very fair because condo facilities offer so much more in terms of convenience, privacy and exclusivity.
Not having to queue up, drive out or pay for transport… These may not sound like much but having a suite of such amenities literally at the foot of your condo can make a huge difference. Not to forget, if you have a big family with children or seniors who are actively using the condo facilities, paying to use public facilities a la carte doesn't make much sense.
Ultimately, the decision really comes down to you on how much you value convenience, privacy and the price you are willing to pay.