To some, a house is much more than a home. Your humble abode can also double up as an investment.
It comes as no surprise, especially when the price of property has been continually rising. Property prices are at a three-year high, with our
PropertyGuru Singapore Property Market Index Q3 2021 report
recording asking price growth for the fifth consecutive quarter. The same report also revealed that buyers are spending more on their property purchases, with 27.5% of the total private property transactions priced above $2 million.
Two Years to Uncover the Right Investment
When Sheila Lim, 51, and her husband set out on their house-hunting journey two years ago, it was never just about finding a space they liked and could see themselves growing old in. Rather, it was always about searching for a home with
"growth potential".
Upon realising that their previous apartment in Lorong Chuan was slowly but surely losing its value, Sheila decided to sell the property in 2019.
"The estate was getting old, and we also wanted to have a change of environment," says Sheila.
However, as it was "hard to get the timing of selling and buying a new place right", the couple rented a place in
Toa Payoh
until they found an apartment that was to their liking.
During that time, Sheila continued the house-hunting journey with the aid of
PropertyGuru
– to both find and finance her future home. With the use of the platform's
Affordability Calculator
, Sheila determined she and her partner were able to afford a property of up to $1.4million.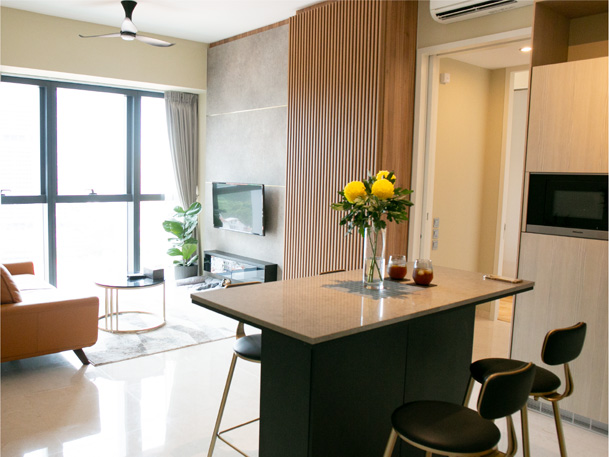 After viewing around 40 to 50 homes over two years, Sheila finally found a one-bedroom apartment in Bugis that ticked all the boxes. Besides discovering a quaint apartment that fit her budget, the couple also enjoys an uninterrupted view of bustling Arab Street. Most importantly, Sheila believes there's vast potential for the price of their apartment to increase because of the plans to rejuvenate the Bugis area.

Want to save more on your home loan? Compare the best mortgage rates on PropertyGuru Finance, or contact us for more personalised advice and recommendations:
The Financial Stumbling Block
Despite finding a property that was a great fit, especially on the investment front, the more significant challenge was sorting her finances.
As Sheila was working in the airline industry, her income was irregular. It was significantly affected in 2020 because of the COVID-19 pandemic. Sheila was also considering early retirement after flying for almost 30 years. It proved challenging to secure an
In-Principle Approval (IPA)
for the size of the home loan she needed.
Related articles:
"I checked with a few banks on the IPA and the loan amount I would be able to secure. I realised different banks quoted me differently. I was a little confused because I thought it was a standard procedure," recalls Sheila.
After encountering one too many challenges, Sheila engaged the help of Ethan from
PropertyGuru Finance
.
Almost immediately, Sheila enjoyed the peace of mind he offered, emphasising how Ethan was "professional and helpful in providing the right advice".
Previously, Sheila had to contact each bank personally to submit documents or call them to follow up on the status of her loan application. However, with Ethan's help, everything was much faster and more seamless. In fact, she admits she might have called Ethan one too many times as she wanted "to lock in the lowest interest rate as fast as possible".
A New Home and a New Career
With Ethan's help, Sheila managed to successfully secure a bank loan from UOB:
Apartment Price: $1,290,000
Interest Rate: 1.28%
A lot has changed since Sheila moved into her Bugis abode over a month ago. She has since retired from flying, after working as an air stewardess for almost 30 years. Not content to just kick up her heels and enjoy retirement, Sheila has since started planning for her next adventure – stepping into the real estate industry. Sheila knows it will definitely be yet another challenging journey, but she is looking ahead to the future. Much like the price appreciation of her property down the road.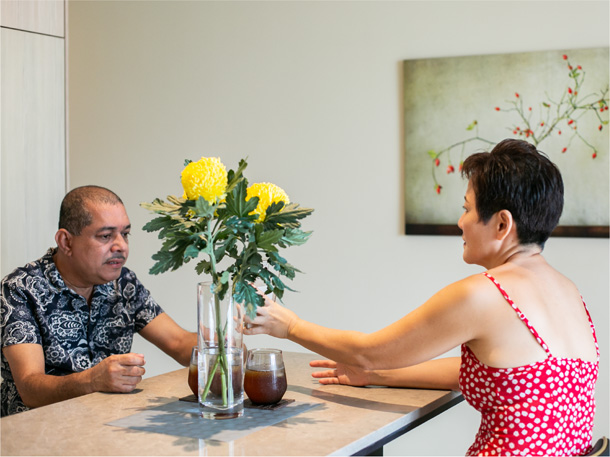 All images featured in this article are owned by PropertyGuru and should not be used without permission.