Applying for a Home Loan as a Fresh Graduate: 5 Tips for Success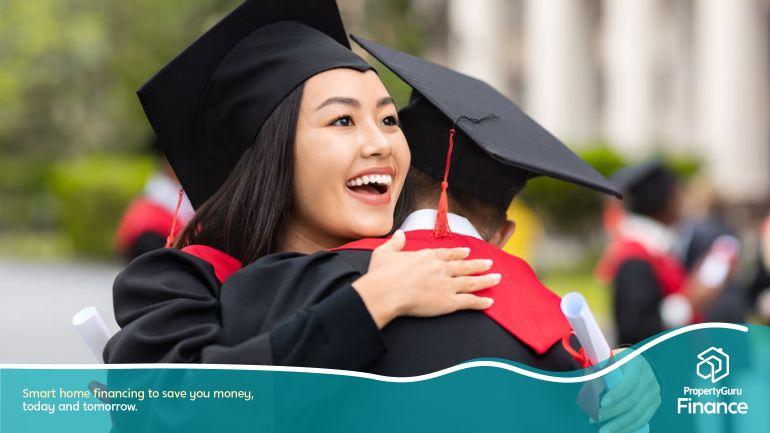 If you're graduating soon or are a fresh graduate and are planning to buy your own property in Singapore, here are some home financing tips that can help increase your chances of getting a mortgage approval and successfully paying the repayments as well.
Tip 1: Consider An HDB Loan First
While banks offer lower mortgage rates, the truth is, banks are less likely to lend you money if you don't have a stable source of income and/or if you haven't yet established a good credit score. Banks also have stricter terms and conditions and offer a lower loan-to-value (LTV) ratio as compared to the Housing and Development board (HDB).
The HDB also offers some payment schemes that younger couples can benefit from:
HDB Deferred Income Assessment
Allows you to defer income assessment until three months before flat completion
Applicants must be at least 21 years old
And one applicant must be 30 years old or below
Deferred income assessment allows younger couples in Singapore to apply for a HDB flat without an income assessment until 3 months prior to the completion of the flat (that is, you can hold off on getting approval for a home loan until the flat is almost completed, which would be a matter of years – an average of three years before COVID-19, and almost certainly longer now. That's more than enough time to find a job and get those earnings going!
To be eligible for the deferred income assessment, the couple must be at least 21 years old, and at least one applicant must be 30 years old or below.
HDB Staggered Downpayment Scheme
Allows you to pay the downpayment in instalments
First 5% after signing the Agreement for Lease (shortly after selecting your flat)
Other 5% when you collect the keys (possibly years later)
Under the staggered downpayment scheme, the first 5% would still be paid during the signing of the Agreement for Lease a few months after selecting your flat. However, the other 5% would only be paid when you collect your keys. Again, this will be years later, affording you ample time to save up. This applies as long as at least one member of the couple is a first-time buyer.
Tip 2: Don't Overstretch Your Finances
As cliché as it sounds, not going beyond your means also applies when it comes to buying a property.
Instead, choose the size (and price) of the property based on what you can afford without compromising your cash flow.
Tip 3: Wait Until You Have Stable Income
This may not matter as much if you're intending to take an HDB loan and apply to defer your income assessment, but if you're hoping to secure a bank loan, you may want to consider getting a stable job first.
It would be ideal to find a stable job first and wait for a few months to settle down before applying for a new home and planning to take on a home loan.
Having a stable source of income (such as a regular monthly salary), and being willing to wait, could increase your chances of getting approved for a bank loan. Waiting would also mean that you don't have to worry about coughing up enough for savings with immediate urgency. You'll have more time to save up for the 25% minimum downpayment that banks require.
(Note: For regular salaried workers, the same 30%haircut is also applied to variable income, such as incentives and variable bonuses.)
Tip 4: Maximise Your Loan Tenure
One thing that is crucial to consider as a fresh graduate is that even if you have been hired and are already earning (and thus are able to get a bank loan), you should ensure your loan is sustainable in the long run.
You may want to consider applying for a loan tenure that allows you sufficient space and time to grow and increase in income, while giving your manageable instalments, even if it may potentially mean somewhat higher interest costs. At this early stage of your financial life, with little financial reserves to speak of, you shouldn't take too many risks.
Remember, if you chose a longer loan tenure to minimise instalments until you're stable, you're always able to refinance in later years. You can get a new loan tenure and instalment amount (and interest charge savings) that you will be more able to shoulder then. The same also goes for HDB loans, where you can always refinance to a bank loan anytime.
Tip 5: Keep A Good Credit Score
Some of the things you can do to keep your credit score high include paying for your credit card bills in full on time, not applying for multiple credit cards within a short period of time, and managing your existing loans, if any.
Need More Mortgage Guidance?
Buying a home and getting the most suitable mortgage for yourself requires a lot of research and consideration. These decisions would have a huge impact on your financial situation in the future, and on your life as a whole.
PropertyGuru will endeavour to update the website as needed. However, information can change without notice and we do not guarantee the accuracy of information on the website, including information provided by third parties, at any particular time.
Whilst every effort has been made to ensure that the information provided is accurate, individuals must not rely on this information to make a financial or investment decision. Before making any decision, we recommend you consult a financial planner or your bank to take into account your particular financial situation and individual needs.
PropertyGuru does not give any warranty as to the accuracy, reliability or completeness of information which is contained in this website. Except insofar as any liability under statute cannot be excluded, PropertyGuru, its employees do not accept any liability for any error or omission on this web site or for any resulting loss or damage suffered by the recipient or any other person.
More FAQs on Home Loans in Singapore
Which Bank is Best for Home Loans?
What is the Maximum Tenure for Home Loans?
Can We Get 100% Home Loan?
No, there is a loan-to-value limit of up to 90% for HDB loans and 75% for bank loans, which means you can only borrow up to 90% or 75% of the property's price or value.
Can I Get A House Loan Without A Downpayment?
No, because of the loan-to-value limit of up to 75% (bank loans) and 90% (HDB loans), there is always a minimum downpayment requirement of 25% or 10% respectively.
What's the Lowest Downpayment for a House?
HDB loans have a loan-to-Value limit of up to 90%, which means (assuming you're eligible for the full 90% loan) you only need to pay a 10% downpayment. This is the lowest downpayment.