In the past, whenever the word "office" came up, one would imagine cubicles or partitioned desks. There might be the sound of photocopiers working in the background, and phones ringing. People would generally keep to themselves within their own spaces – you wouldn't really visualise them working at a desk, sharing coffee and snacks with their co-workers.
But the times have changed, and along with it, our offices and the way we work. This is evident with the rise of people engaged in co-working, and associated spaces dedicated to catering to their needs.
What are coworking spaces?
Co-working is basically a business service provision model, where individuals work independently or collaboratively in a shared office space. The main difference between a co-working space and a traditional office space is that in a co-working space, there are multiple businesses and companies under one roof.
Co-working spaces provide amenities, equipment and services for their users. These include private meeting rooms, Wi-Fi, printers/copiers, pantries/kitchens, and some even have lounges and bathrooms. Servcorp, one of the pioneers of the shared office business concepts, has described co-working spaces as
the catalyst that helps small businesses reach their potential.
Who uses coworking spaces?
The typical users of the co-working model are usually start-ups, freelancers, and people who work remotely. It provides a way for freelancers and remote workers to escape isolation, and the distractions of their homes. For startups, these co-working spaces provide equipment, space and services that are otherwise unaffordable.
Benefits of co-working spaces
One of the immediate benefits are that these spaces are cheaper compared to a regular office space. They are already fully furnished and outfitted with amenities and equipment. All you need to do is pay a monthly fee, and you're ready to go.
A regular office space may need renovations and the setup of electricity, plumbing, and internet. This doesn't take into account any equipment and furniture you need as well, and you still have to pay rent for the lease.
A co-working space also offers more in the way of flexibility. If you need to downsize, or are scaling up, it's easier to do so. It's relatively painless to cancel your rent in a co-working space and move elsewhere.
By far the largest draw towards working in a co-working space is the culture. A co-working space is usually comprised of like-minded individuals. This in turn provides a great environment for networking and socializing. It's more energetic and lively, and the emphasis is on working in a 'community'. This becomes extremely valuable especially if you're a smaller business or an entrepreneur.
Some operators even capitalize on this, offering users of their spaces the chance to tap into a network of industry mentors and other corporate contacts.
Co-working spaces are a hotbed for networking.
What should I consider when choosing a co-working space?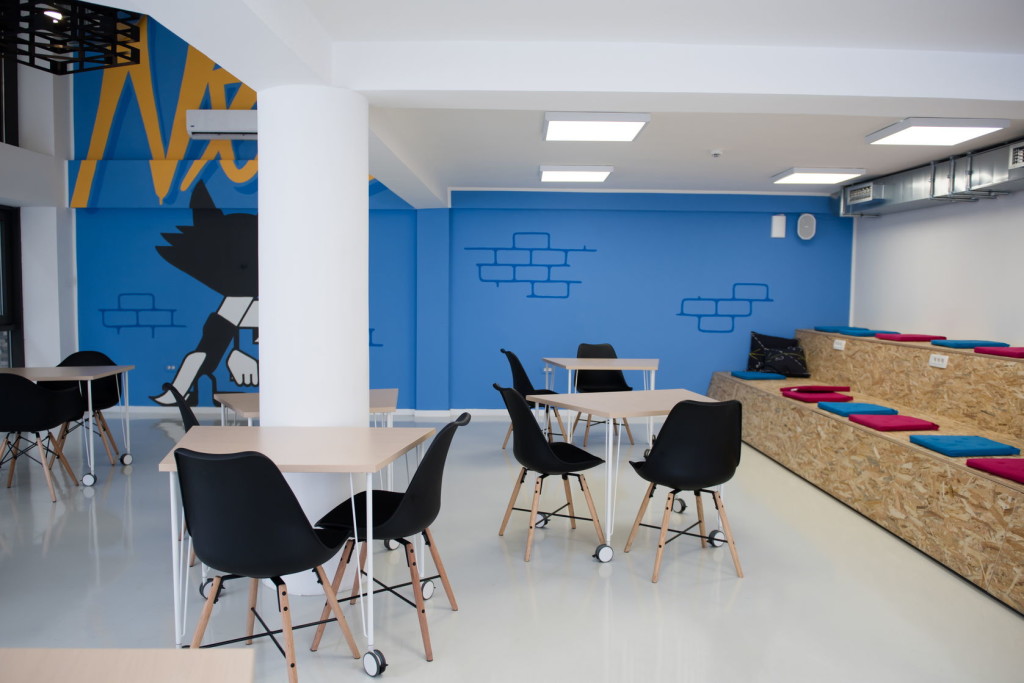 You don't want to have a co-working space that feels unfriendly.
Cost
Co-working spaces usually charge on a monthly basis. Prices for a hot desk start at $300 a month. If you want your own personal desk, it's usually $600 or more.
Atmosphere
Is the space welcoming and comfortable? Since you'll be spending a lot of time here, it needs to be conducive enough for you to get work done.
Community
Are the other people in the space chatty and engaging, or quiet and focused? What kind of business are you doing, and will the community be too distracting? Remember that you're sharing a space, and it is best that you find a group that aligns with your team's personality.
Accessibility
The ideal location would be easily accessible by public transport. For example,
Ang Mo Kio features one such co-working space
, and is a 15-minute walk from Lorong Chuan MRT, with an NTUC nearby. Take into account the operating hours of the space as well – if you're the kind of person who's most productive at night, then a space that is open 24/7 is probably more suitable for you.
Amenities
If you're particular about having a kitchen or pantry, make sure to look for co-working spaces that offer it. Some spaces also offer specialized facilities such as art studios or 3D printers. Others have libraries, in-house coffee shops or cafes, and showers. If you're a parent, there are also co-working spaces that have on-site childcare.
Drawbacks of co-working spaces
Co-working spaces are not without their drawbacks. The first and most obvious, of course, is the distractions present in sharing a communal space. Since co-working spaces are usually "open", there is a distinct lack of privacy. You'll be able to hear and see what everyone else is doing, and they can do the same for you. This makes confidential work a risky endeavour, since someone can just peer over your shoulder at what you're doing.
While you can book the private meeting rooms offered by a co-working space, you will always be wary of what you talk about with your co-workers lest something confidential gets overheard. This lack of privacy can also spill over into when you have clients over. A business with its own office space will always seem more professional and credible than one that doesn't have its own place.
This can be a major concern for businesses that have frequent meetings with clients. A business that runs from a co-working space can easily uproot itself and leave with little cost, and that might affect your company's reliability.
Another drawback is a lack of identity. When you have your own office space, you can do it up exactly the way you want. The decor and furniture can all be customized to represent your company's identity. While you pay top dollar and have a really nice co-working space, ultimately it's still the identity of the space's operator, not your own.