Effective on 17 January 2019, the average unit size at new non-landed residential projects outside Singapore's Central Region will be increased from the current 70 sq m to 85 sq m.
For nine areas, the average unit size will 100 sq m. This higher rate will apply to Loyang, Shelford, Balestier, Marine Parade, Pasir Panjang, Kovan-How Sun, Stevens-Chancery, Joo Chiat-Mountbatten and Telok Kurau-Jalan Eunos.
According to the Urban Redevelopment Authority (URA), the aim of this move is to stem the reduction in sizes of private condos and curtail the construction of more shoebox units, which is defined by the National University of Singapore (NUS) in its Singapore Residential Price Index (SRPI) as those measuring 506 sq ft or below.
If you and your family live in a small house, we compiled 15 tips and tricks to make your small home – whether an HDB flat or private condo – appear much larger than it actually is.
1. Say No to False Ceiling
While false ceilings can beautify your home by concealing building infrastructure like wiring, pipes and air ducts, it can make the property look more cramped. Instead opt for simple decorations and elegant lighting. For instance, pendant lights are not only aesthetically pleasing, they are also very functional. By installing pendant lights that hover shortly from a table, cleaning or replacing light bulbs will no longer be an inconvenient task requiring a ladder or chair to do.
2. Opt for Light or Neutral Colours
Although darker colours make a room feel snug and warm, they make the room seem smaller as they absorb light instead of reflecting it. As such, choose light colours for the floor and walls as these make the room feel more open and airy. These include white, as well as light greens and blues that can liven up the living room and make it feel more spacious. Such cool colours on most parts of the flat also give the property a more open look.
Moreover, using light and neutral colours provides an optical illusion of having an expansive room. Neutral-toned soft furnishings like curtains and drapes add space and light to compact flats, while using a similar colour on the flooring will expand your space visually.
3. Choose Monochromatic Colours
Diverse colours can make your flat more look exciting, but they'll overwhelm a small unit and make it appear smaller. On the other hand, monochromatic colours are easy to look at, and let people perceive an entire room without being interrupted by varying colours. Notably, monochromatic colours are those that are derived from a single hue. These only have one base hue, and can only appear darker or lighter.
In particular, utilise a monochromatic colour scheme for your wall finishes, drapery and curtains, upholstery, furniture, fittings, ornaments, and carpets. Just select different tints, tones and shades of a single hue, preferably a cool or light colour.
4. Coordinate Colours of Wall and Furniture
Use the same colour for your curtains and wall, likewise for furniture. Through this, the drapery will seamlessly blend into the walls, making the room appear more spacious. Similarly, pieces of furniture will appear as part of the background if their colour is similar to the wall's. On the other hand, contrasting colours tend to break up space and interrupts the senses, making the property feel suffocating.
Using various shades of the same colour on the flooring, furniture and walls creates a sense of unity that enlarges a room. If you can't afford to buy pieces of furniture with matching colours, just purchase accessories or pillows with similar shades to get the same effect. Another tip is to select rugs and fabrics with plain colours and small prints, along with sheer drapes.
Another trick is to colour code your shelves by arranging items with similar colours and sizes together. Apart from making things appear more organised and streamlined, this also create a look of structure and can pique the interests of your guests. This arrangement also works for books, knickknacks and other things that can be seen in your flat.
5. Let Sunlight in or Add Multiple Lights
Clean your windows and skip heavy curtains to let natural light in. Well-lit spaces create an illusion of a having a larger residence. If your property doesn't enjoy much illumination as it doesn't face east or west, consider installing more lights. Also, instead of just having one large light, aim for multiple light sources as it draw the eyes to different parts of the room and make it appear larger.
6. Take Advantage of Multi-purpose Furniture and Hidden Storage
An already small flat will feel even more confined and messy if you have too much things. In order to make your flat look bigger, your floor and wall space needs to be seen and be free from clutter. One of the best solutions for this is to use furniture that also serves as storage space. These include platform bed with large drawers and coffee table/desk with compartments. Another is an ottoman that can be used as a chair, storage space and a table.
Moreover, remove things and furniture that blocks the view into the room, as well as those that impedes walkways, entrances and passageways. With things neatly organised and hidden from sight, your home will feel more open and orderly, on top of feeling more spacious.
But if you really have so much stuff, another option is to sell those things you don't need via Carousell or give them away to relatives or friends.
7. Use Larger and Fewer Furniture Pieces
This may sound as a weird advice on how to make your home appear bigger, but a few large, simple pieces of fixtures and furniture is better than having multiple smaller items that would make your flat appear messy and cluttered. In particular, a designer advocates the cantaloupe rule, wherein decorative accents smaller than such fruit can make space more cramped. Instead, choose a few eye-catching pieces larger than that.
8. Use Furniture with Exposed Legs to Improve Floor Visibility
To create an illusion of greater space in your small home, you need to instil a sense of openness and movement. You can achieve this by adding pieces of furniture with exposed legs, as these lets light and air pass through under and around the furniture, giving the impression that the chairs and tables are hovering midair. So use furniture like sofa sets and TV stands with displayed legs as well as the butterfly chair. Your flat will immediately feel more spacious as a result.
9. Add See-through Walls and Furniture
Transparent furniture such as lucite chairs and glass tables tricks our eyes into thinking that there is more room than there actually is. Besides allowing light to pass through, these pieces of furniture are also stylish and light. But keep the kids away from them to prevent accidents.
Instead of walls that hide the room beyond, consider setting up glass partitions. Aside from creating a sleek modern look, it will also make your flat look more spacious. This is because anything seen through the transparent wall will appear farther away. For instance, the owner of a small bathroom removed an opaque glass shower enclosure and replaced it with a clear frameless glass. Consequently, the bathroom now appears larger, as people can see all the way to the wall at shower's rear.
10. Tear Down Walls and Combine Rooms Together
Given that few people can afford spacious private homes, many opt to buy small units like two-bedders instead. To cope with the limited space, some hacked down walls and amalgamated space to create multi functional rooms. For instance, a living room was combined with a study room to create a commodious open loft area for studying or socializing with friends.
Another simple multi functional room is a fusion of the kitchen and dining room. This is a great idea for small flats as it eliminates the need for a separate room. In addition, you can talk or interact with your visitors or friends while cooking up sumptuous dishes for a gathering.
Designers also came up a daring idea of installing a bathtub within the bedroom in order to save space. Just remember to lock your bedroom door while unwinding with a bubble bath.
Important: For HDB flats, please ask permission first before tearing down walls. For private condo, consult your managing council and the development's by-laws before undertaking such action.
11. Use Mirrors or Other Reflective Surfaces
Strategically installed mirrors can make your flat look larger. To maximize the space enhancing effect of mirrors, install them besides windows or across from it so the mirror can reflect more light and brighten the space. Another trick is to install them behind an end table or chest to get a Trompe-l'œil effect, which gives an illusion that there's another dimension behind that furniture. You can also place beveled plate mirror on side tables or coffee table. Another option is to add custom-cut mirrors on cabinets, drawers or bureau.
A big mirror can do wonders for a small home, but these are typically expensive. If you have a limited budget, try buying smaller mirrors and group them together on the walls. But use those with similar frames (colour as well). If you have skinny mirror, hang it horizontally in the living room. If you can afford a large mirror, choose a full-height one to boost room space visually and provide an impression of higher ceilings.
Instead of mirrors, you can opt for other kinds of reflective surfaces, such as shiny polished metal. Cabinets and other furniture covered with such material will give the same room-enlarging effect of mirrors, but will look more sophisticated.
12. Opt for an Open Kitchen
Open plan kitchens are now very popular. Although renovating your kitchen can be expensive and requires you to tear down some walls, it has many advantages. For example, not only will you get more space, you can also make the kitchen appear as an extension of the living room. Combining the kitchen, living space and dining area into just one large room can make your property look airier, larger and brighter.
An open kitchen also prevents the feeling of being separate from your family or guests while cooking food, allowing you to hear and join in the conversation. Apart from making it more convenient to serve food, you can also easily look after your children while you're in the kitchen, reducing the possibility of accidents and mishaps.
13. Turn your Balcony as Part of the Living Room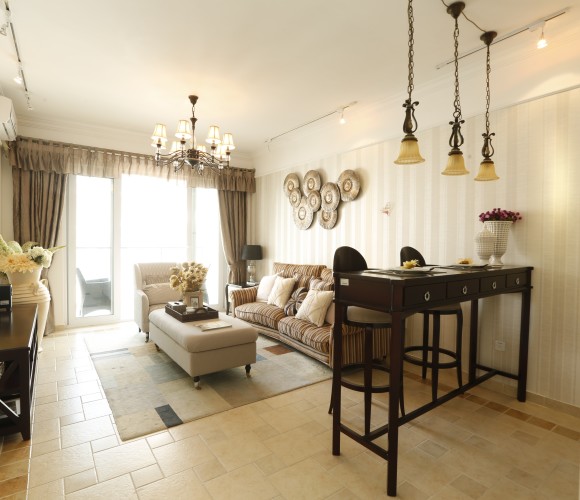 One nifty condo balcony idea is to extend your living room to the balcony. One way of doing this is by installing foldable glass balcony doors. This can significantly enlarge the appearance of your flat, on top of letting in more natural light. Apart from being stylishly modern, the living room cum balcony serves as a wonderful place to relax or host major social gatherings with family and friends.
14. Draw Guests' Attention with Accent Pieces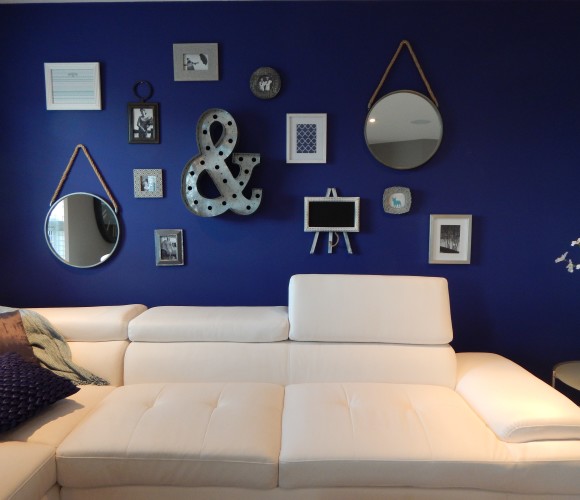 Select a point that visitors will see immediately after entering through the main doorway, and place an eye-catching piece on it. Whether it's a rare plant, quirky ornament or a dramatic art portrait, it will catch the attention of people, and make the living room appear larger in the process.
15. Downsize and Select Smaller Furniture
For compact HDB flats or private condos, one good ways of coping with limited space is to make use of furniture and items with smaller proportions. If you visited Japan, you'll notice that the Japanese takes this practice to heart. Their tables and chairs are lower and smaller, on top of being proportion with their living space.
As a general rule, if a furniture piece is already pushing against a room's boundaries, either walls or the ceilings, then those pieces are just too big for your property.
To create an illusion of greater space, always leave some space between your furniture and the four corners of the room. One exception for this rule is for queen-sized beds sandwiched between two walls, as this set-up creates a comfortable and inviting place to rest.
You may also browse our
resale HDB flats
or
private condos
for sale or rent. If you want to know about future property hotspots in Singapore that will benefit from ambitious government plans, check our
AreaInsider
.
If you need someone to assist you for a property deal, kindly engage a licensed
property agent
or query them instead via
AskGuru
.