Scandinavian design, with its clean, minimalist approach, remains popular amongst homeowners. However, there is a new, edgier concept – space age living – that is fast gaining momentum. Consisting mainly of black, grey, electric blue and white, it is a futuristic colour palette that is easy to apply at home. That, coupled with its openness to technology, looks set to take everyday living to a whole new dimension. So, let's get you up to speed with the key elements of this futuristic design.
By Irene Arieputri
1. Whip up a good meal
Whipping up a simple Jamie Oliver dish or having a cook-off with your partner? There are a ton of culinary gadgets to help you whip up a meal to al dente perfection. Some technologies that may enhance your cooking experience are easy-to-use touch screens and smart ovens.
If these gadgets sound too fancy for your liking, you can always start small. Jeremy Ong from Designscale spoke of the importance of user-centric design.
This custom-made power management bar, for instance, was designed to fulfil the homeowner's passion for cooking. The luxury of space allowed Ong to install the bar with an engineered stone counter top and stylish charging sockets that firmly lock the plug upon contact. Technology doesn't always have to come in the form of gadgets – it can be incorporated in the design too! For this kitchen, he made sure that all the metallic grey handles were "nano-coated" to avoid any fingerprint marks when cooking, thus simplifying the cleaning process.
Interior designer: Designscale
---
2. Take a trip to the future
As the centre of your home, your living room should be well-equipped with smart technology to improve your quality time with loved ones. If you are a movie buff, OLED TV may be appealing to you with its excellent image quality, smart interface and beautiful curvy design. Curvy minimalistic furniture helps optimise the space for you to re-connect with your family or to entertain your guests.
Pea Chong from D Initial Concept added a curvy electric blue lighting to the living room to create a "more realistic futuristic feel", based on the homeowner's love to entertain guests. The owner wanted his guests feel as though they are entering a bar of another time and space, so that they can temporarily "forget about their hectic lifestyle in Singapore". Also, Chong suggested the addition of mirrors and dark-coloured elements to create an elegant, out-of-the-world ambience.
Interior designer: D Initial Concept
---
3. Get a good night's rest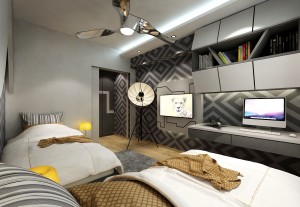 Get the most out of your snooze every night by creating a conducive environment for your bedroom. Besides, automation works wonders in fixing problems that usually disrupts your beauty sleep such as cold temperature, sun rays, the alarm buzz, and more. You can check out Philips Hue, a gadget that allows you to control room brightness. It can also imitate the sunlight that wakes you up in the morning.
You can also choose to add a futuristic touch to your bedroom. "A futuristic design involves cold hard elements like stainless steel or man-made materials," said Anne Chua from CAD Associates ID. This bedroom boasts "a mono cooling tone as well as sleek and clean ambience". While they welcome technology to their homes, Chua shared that most owners still prefer their homes to be "cosy and soothing".
Interior designer: CAD Associates

---
4. Wind down in the balcony
The gorgeous view from your balcony makes the time spent alone or with your loved
ones more intimate. While it is quite difficult to incorporate technology into a balcony
(as it is usually an open space susceptible to rain and storms), you can still apply a
futuristic theme to your balcony.
When designing this balcony, Mirene Ong and Tony Teng from Rezt & Relax tried to create a place for entertainment for both the parents and kids. "The idea is to allow the parents to relax in the Jacuzzi while watching the kids play soccer at the same time," Mirene said. Although the owner does not like white, his choice of bright colours such as light blue, yellow and purple, gives an edgy futuristic look to the balcony.
Interior designer: Rezt & Relax
---
5. Keep your hygiene up
As one of the very few personal spaces at home, your bathroom should be designed for pampering – be it when you start your morning routines or after a long tiring day at work. That's why it is important to leave some space on the counter top to help you get ready. Nevertheless, while design and entertainment play a significant role in bathroom designs, hygiene is still the essence of a bathroom.
"Automatic soap dispensers can be installed in your home, and they can come in handy especially for kids," said Jessie Ong from Leef Deco. "They help to keep your hands hygienic and to reduce soap wastage." Design-wise, she believes that the luxurious glow from the lighting beneath the large mirror gives a futuristic feel to the bathroom.
Interior designer: Leef Deco
---
6. Give your house a stylish look
Space age living boasts elegant and effortless designs that are also functional. The common artistic features in a futuristic design are curvy furniture, wall panel LED and frameless glass panels. Such features help to create more depth for the house while keeping it decluttered and modern.
For an easy start into a futuristic look, Diana Yap from Dyel suggested to adopt a "minimalist style with a twist". She said, "Make sure there is some essence of light and also metallic finishes." She also mentioned the rising trend of frameless glass panels give a clean yet stylish look at home.
A futuristic design is not all about the latest, most advanced technology. It's also about decluttered, eco-friendly designs. The key is to strike a balance between design and functionality. If you are not sure of where to start, find more inspiration from our website, or get in touch with one of our designers to share your concerns.
Interior designer: Dyel
---
Article and images contributed by HomeRenoGuru and Nippon Paint.

Browse from over 500 IDs and 15,000 design inspirations and stand a chance to win a free renovation worth $30,000 from participating interior design firms at HomeRenoGuru today.
Compare design themes and renovation costs, and be informed of the latest ID promotional events and specific renovation deals for new BTO / condo launches. Download floorplans and save your favourite designs!