In the coming decades, the silver tsunami is going to become even more apparent and these issues more pressing, as a huge percentage of the local-born population enters retirement age. By 2030, just eight years from now,
one in five Singaporeans will be a senior citizen
, aged 65 years or older.
Other than ramping up healthcare amenities, the government is concerned about the housing and care needs of ageing citizens. A new type of HDB flat, known as
Community Care Apartments
, was launched in 2021 and could be just one of several housing initiatives to be rolled out for seniors. These flats include integrated care services that enable seniors to remain at home as they age. The
second batch of assisted living flats
will be launched in Queenstown later this year.
Retirement in Singapore: 2 in 5 Singaporeans Show Interest in Moving to Retirement Village
Up until recently, most Singaporean seniors hoped to be cared for by their families as they aged. However, with fewer Singaporeans having children, the need for long-term care will become a more pressing issue in the coming decades. Nursing homes are not perceived positively in Singapore, pushing more to seek alternative arrangements.
Retirement villages consisting of housing and facilities built for seniors are a concept that is starting to capture interest in Singapore. Retirement villages enable seniors to live in a community, while at the same time benefitting from on-site senior-friendly amenities and services.
While the concept is still largely untested in Singapore, 41% of the respondents said they were very or slightly interested in moving to a retirement village someday. An additional 43% were open to the idea, saying that they were not currently interested but might be in the future.
When asked about the age at which they would consider moving to retirement housing, 71% opted for age 70 and above.
Retirement in Singapore: 90% Agree There Is A Need for Specialised Retirement Housing, Yet Majority Prefer to Retire at Current Home
Specialised retirement housing is not a common option for the current generation of seniors, but 90% agreed that it would be important as the population ages, with only 10% saying there was no need for it.
It also appears that the stigma attached to retirement housing is fast fading, as only 15% of the respondents considered it taboo.
However, despite acknowledging the need for retirement housing, the majority of respondents said that given the choice they would not want to live in such accommodation.
48% said they planned to retire in their current home, while 37% said they did not want to have to live exclusively with other seniors. 37% said they wanted to remain close to or live with their children and family members.
Based on these responses, it appears that Singaporeans still have difficulty thinking of retirement housing as a future "home", and hope to opt instead for living arrangements that are more familiar and familial, such as their existing homes or the homes of family members.
Given this preference, there is likely to be a growing demand for HDB initiatives targeted at seniors, such as the existing 2-room Flexi flats and Community Care Apartments. There might also be growing interest in affordable caregiver options which will enable seniors to receive help without having to move out of their homes.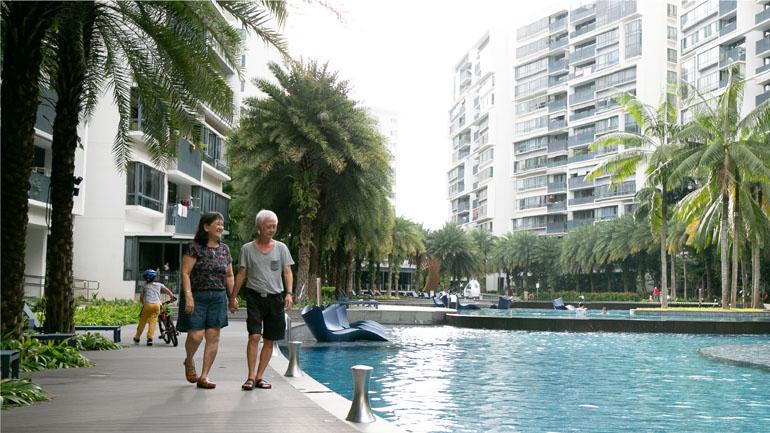 What Would Make Retirement Housing More Appealing? Public Transport Accessibility
As retirement housing is still relatively rare in Singapore, much can be done to make it more appealing to future generations.
When polled about what would help drive interest in retirement villages, 54% of respondents cited proximity to public transport amenities. For seniors with limited mobility, easy access to public transport can have a huge impact on their ability to travel to other areas of Singapore. However, better connectivity might raise prices (also known as the "
MRT Effect
") and reduce affordability, so a balance will need to be struck.
Another important factor was proximity to parks and
greenery
, which was cited by 52%. Singaporeans of all ages often feel the need to escape the hustle and bustle of the city, and retirees with more free time could appreciate access to nature even more.
Finally, 51% cited attractive prices for a shorter lease period.
Housing affordability
is a hot topic in Singapore. For many seniors, being able to select a shorter, and thus cheaper, lease period is going to be a significant factor when deciding whether or not they are able to gain access to retirement housing.
Affordability Calculator
Estimate what you can comfortably spend on your new home
Conclusion: Would You Move to a Retirement Village in Singapore?
The need for senior-friendly housing is going to escalate dramatically in the coming decades as the proportion of seniors in the population grows.
While most Singaporeans still prefer to age at home or live with family members, a significant fraction of the population is willing to consider moving to a retirement village. This indicates a sharp deviation from the norms of the current generation of seniors, who have traditionally hoped to rely on their children in old age.
The attractiveness of retirement housing could have an impact on its rate of adoption by the public. As with regular housing, affordability is a key concern. Besides that, many of the factors that would make retirement housing attractive also apply to other types of housing, such as proximity to public transport and green spaces. As with any other type of housing, seniors will thus have to balance affordability with location preferences.
This article was written by Joanne Poh. A former real estate lawyer, she writes about property and personal finance and spends her free time compulsively learning languages and roller skating in carparks.