Lighting can make or break the ambiance of a home. In the
PropertyGuru Consumer Sentiment Study (H2 2020)
, lighting was a feature that increased the most in importance for prospective home buyers searching for property during the COVID-19 pandemic.
With more people
working from home
nowadays, the importance of having a home that enjoys natural light without overheating has become a priority. However, it is not always practical or possible to have full length windows that let in an abundance of natural light.
The next best thing is to choose good lighting that makes your home look inviting, while at the same time being functional.
How to Choose the Best Lighting
With such a huge selection of bulbs and lighting styles on the market these days, knowing the key factors to look out for will help you narrow down the selection to what is best for your home.
LED vs Incandescent Light Bulbs
LED bulbs are often touted as the most environmentally solution available as they consume much less energy and can last a longer time than regular or incandescent bulbs.
In the past, fluorescent lighting used to be a popular energy-saving alternative to incandescent bulbs, but they have the disadvantages of flickering and being less aesthetically pleasing, and have since been supplanted by LED lighting in many homes.
Warm vs White Light
Another key choice to make is whether to go for warm or white light, which will have a significant impact on the appearance of your interior when lit. You may wish to use warm light in certain areas of the home and white light in others.
Wattage and Style
Other lighting choices to make include wattage and style of light fixtures according to your desired light intensity and the design of your interior. Lighting fixtures can include everything from ornate chandeliers to standing lamps.
Is LED Better Than Regular Light Bulbs?
LED bulbs are considered much more environmentally-friendly than regular, incandescent bulbs. In the past, energy efficient lighting came mostly in the form of flourescent lightbulbs which were cosmetically quite different from incandescent lights. However, LED bulbs these days look very much like incandescent bulbs and are thus preferred.
To the consumer, the main difference is that LED bulbs cost significantly more at the point of purchase. However, as they consume up to 75% less energy than incandescent bulbs, they last much longer and can result in overall cost savings in the long run.
Is White Light or Warm Light Better?
Warm or yellow light tends to be more gentle in appearance and can make your home look cosier, but has the disadvantage of making it harder to see, particularly at night. You may wish to consider using warm lights in spaces meant for relaxation, such as the bedroom and living room, as well as in transitory areas like the hallway.
White light, on the other hand, tends to look brighter and harsher. It can be suitable for interiors designed in a cool or contemporary style. White light tends to be makes it easier to concentrate or do close work, and is thus suitable for spaces like the kitchen or home office.
How Bright Does It Need to Be?
The brightness of your lights is determined by the wattage and the lumens of the bulbs. Wattage refers to the amount of electricity used to power the bulb, while lumens refers to the degree of brightness. The price of bulbs tends to increase with wattage, which typically ranges from 6W to 24W.
The wattage you need will vary depending on the spaces in your home, with a higher wattage being suitable for areas in which close work like reading or cooking is being carried out. You will also have to consider the size of your rooms vis a vis the lights, as larger rooms might require higher wattage to be fully illuminated.
You might wish to opt for a high wattage of, say, 24W in your home office and kitchen. On the other hand, you can safely opt for lower wattage of 12W to 18W in areas like the bathroom or bedroom. For areas that people do not linger in such as hallways or nightlights, 6W might be sufficient.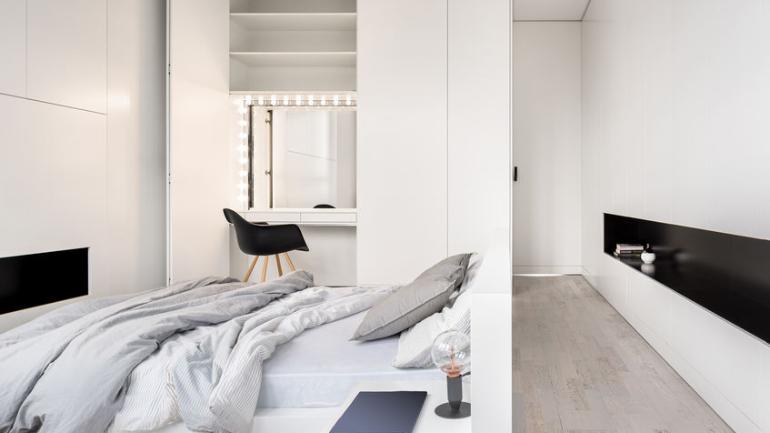 Types of Light Fixtures
When designing your interior, you will need to decide upon the type and style of light fixtures to use. It can be useful to think about the tasks which will be performed in a particular space when choosing the type of lighting to illuminate it. In the bedroom, for instance, ambient or recessed lighting can be a subtle way to provide gentle lighting while hiding the bulbs from view.
In areas where close work is being performed, such as the kitchen, you might wish to use task lighting for intense illumination. In the study or home office, halogen spot lighting or simply a powerful desk lamp are practical ways to make reading and writing easier.
Light fixtures can also make a strong design statement. Pendant lamps suspended from the ceiling can offer the chance to anchor your interior's look and become the centrepiece of your living room. Another striking choice for living room lighting is the arc lamp, which can really stand out in a spacious living room. A chandelier can add a touch of kitsch to a walk-in wardrobe, while wall lights can create an intimate and cosy atmosphere in the bedroom.
Lighting can be used for purely decorative purposes. For instance, you might wish to install halogen spot lighting around a photo wall or built-in lighting for a display cabinet.
For best results, it is advisable to have an in-depth discussion with your interior designer or contractor on lighting options before finalising your renovations, rather than simply going with whatever is suggested.
The ambiance of your home is greatly affected by the type of lighting you choose, so it is worthwhile to pay special attention to the lighting styles and fixtures being incorporated into your home at the renovation stage. Thereafter, if you wish to adjust the lighting effects, you can experiment with warm and white lights and adjust the wattage until you have created your ideal ambiance.
This article was written by Joanne Poh. A former real estate lawyer, she writes about property and personal finance and spends her free time compulsively learning languages and roller skating in carparks.