Kelly Olafson has spent more than half his working life in Singapore. 20 years to be exact.
It is no wonder Singapore is the Canadian's home away from home. All three of his daughters grew up here, and two year ago, he even started his own business here – a specialist training and development consultancy.
The Beginning
Before becoming his own boss, Kelly, 61, worked as the Vice-President of Operations for Asia Pacific for Ogilvy. After his first 10 years of working for Ogilvy in five different countries, he was offered the chance to work in the company's Singapore office. Kelly, who was 40 at the time, relished the opportunity and made the move with his wife Barbara and their daughters from Australia where they had been based previously, to Singapore.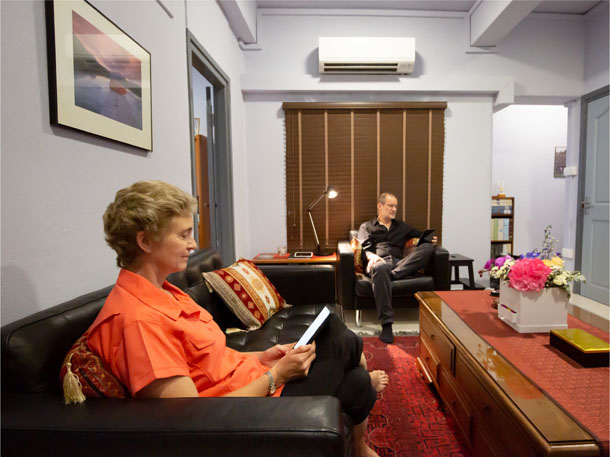 Their first home in Singapore was a condominium apartment in Bukit Timah. After seven years there, they decided to purchase a flat in Bishan, which they stayed at for another seven years. Toward the end of the time in Bishan, there was chatter in the company about a potential move for Kelly to work in the London or New York office.
Anticipating that they might need to pack up and move to a new country in a matter of months, the Olafsons decided to sell the Bishan flat to live the high life, quite literally. For 48 months, they rented an apartment on the 65th floor of The Sail @ Marina Bay – one of Singapore's tallest residential buildings – and enjoyed the breath-taking views of the city, Marina Bay, and the South China Sea daily.
Kelly says, "It was just fantastic. You just sit there and look out the window for a couple of hours, and you are royally entertained."
Owning a Piece of History
However, the move never materialised. And while Kelly and Barbara enjoyed living in and amongst Singapore's city centre, it was not financially viable in the long run when they started their own business, as monthly rental fees were astronomical.
Upon deciding they again wanted to purchase a place they could call their own, the first thing Kelly did was to download the PropertyGuru app on his phone to start looking at apartments that fit the bill.
Having just started his own business, Kelly was hesitant on an apartment that required a massive outlay of cash. Knowing there was
usually a premium for a prime location, he didn't have high hopes of affording a three-bedroom home in the central area, but tried anyway.
"It's overwhelming when you first start looking because there's just so many property choices in Singapore. PropertyGuru was helpful for us to narrow down the options," Kelly remarks.
After applying filters for their preferred property types, location and size, their PropertyGuru search returned results of not just condos, but Tiong Bahru walk-up apartments as well. The couple was pleasantly surprised as they had thought that they would "never be able to afford living there", especially given that those stunning homes are considered heritage housing.
Kelly recalls, "We realised wow! We can actually afford to live in one of these walk-ups as it is well within our price range."
The couple looked around and were "charmed" by a 1938 walk-up apartment that had been owned by the same family since 1967. Kelly loved how
"it was pretty much like it was in the 1930s, in a good way"
as the family had kept the apartment in tip-top condition.
The place was practically move-in ready, although when the Olafsons took over, there was some updating renovation work required in the kitchen and bathroom.
The downside of the apartment was that there were less than 50 years remaining on its lease. But for those that questioned Kelly's decision to proceed with the purchase, he simply replied saying that when he turns 110, he will be "out on the street".
Kelly adds: "I've told people we didn't buy the place. We bought the neighbourhood."
After the Storm
Besides being a Learning & Development Facilitator in his own business, Kelly wears many other hats. He is an Executive Coach, a Consultant for various advertising agencies and a Voice-over Talent.
But his favourite role of all is that of a Musician, where he's both a guitarist and singer. Barbara too is a musician and plays the
keyboard as well as singing and serving on the board of the International Festival Chorus.
Before the bar closures because of COVID-19,
Kelly's band
The
No-Daddies
was a resident band on Mondays at Crazy Elephant, a local rock 'n' roll blues bar in Clarke Quay.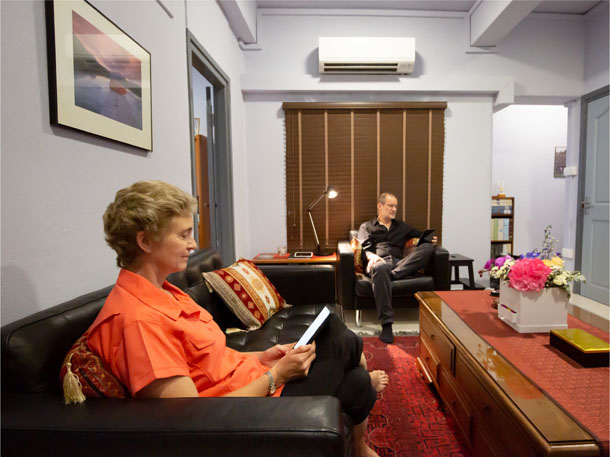 While the Olafsons bide their time until they can kickstart their music careers again,
they are confined to playing in a room at home.
Kelly laughs and says, "I call it the studio. Barbara calls it the man cave."
Until they can play and sing in front of live audiences again, the Olafsons will continue creating their own future from the comfort of their heritage home.
All images featured in this article are owned by PropertyGuru and should not be used without permission.