Fewer than 10 viewings was all it took for Coco and Darren to find the home of their dreams in Singapore.
"Now, on an average day after work in Singapore, you can picture me curled up on my sofa, with a glass of wine. After being in Singapore for more than 20 years, our first 'home' is incredibly special for us, as it brings together both our identities. Darren's love for space, that feeds his Australian upbringing and my love for cooking, with our expansive kitchen. I love meeting people and hosting dinner parties," said Coco Yuan Zhilin, who came into Singapore as a student from China in the late 1990s. Since then, she has made the island country her new home. After all it is here that she fell in love with her then boyfriend and now husband, Darren Box.
Darren and Coco met in 1998 and lived in separate but nearby houses. After they were married in 2000, the couple set out to build their lives together.
Life on Rent
Holding high-flying jobs requires Darren and Coco to travel a lot. Darren has a business while Coco works at Shell, one of the leading energy companies in the world. Growing up with simple lifestyles, both of them aspired to buy their dream home, and worked towards saving up for it. But it took many years of renting houses to get there.
"We have stayed in rented properties for a really long time," Darren said, counting the number of houses he and Coco have lived in since they got married.
"For eight years, we stayed in a big 3,000 sq ft
penthouse in Marine Parade
. The rent was really cheap. But the house had its problems, it was falling apart," Coco recalls. The landlord wouldn't fix anything and the expenses from the repairs were outweighing the advantages of living there. The couple decided to move once again and using PropertyGuru, they found a 1,600 sq ft, two-bedroom apartment in Siglap, just around the corner from the penthouse. They spent six years there.
After nearly 15 years of renting, the thought of dealing with a landlord and entertaining their whims would give Darren a headache. Not to mention the amount of money lost on rent each month.
Gaining greater stability in the country was also a concern they wanted to address. Coco, who got her Singaporean citizenship ten years ago, started to feel that they needed a place in Singapore where they could retire. "I want to create a sense of home. As a naturalized citizen, you don't really have family to support and create a welcome environment. One of the ways to this feel belonging is to own a place," she chirped.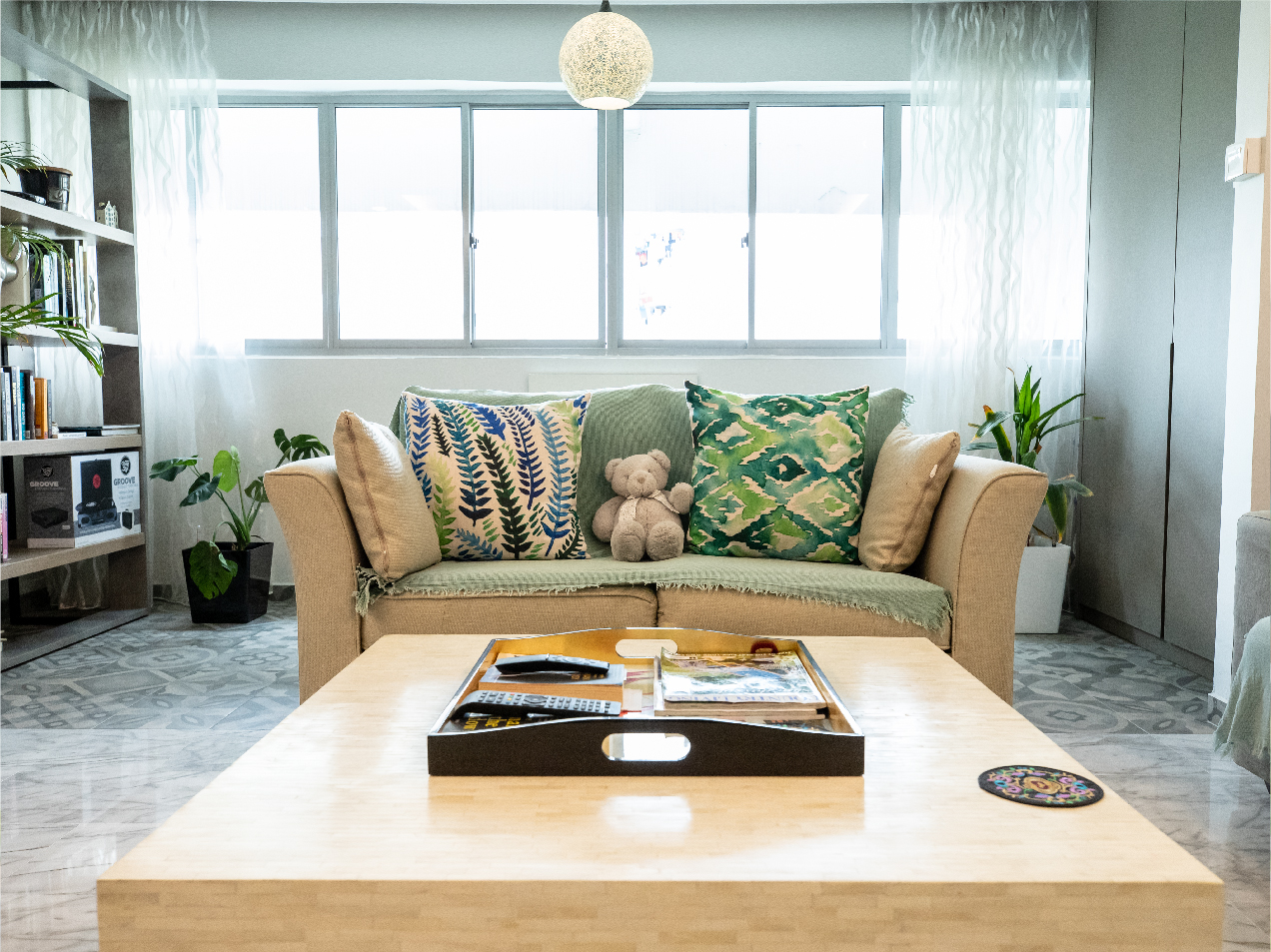 A Place of One's Own
Spearheaded by Coco, the hunt for a house began in earnest. There were a few considerations to take into account. Being Australian, and enjoying the large Marine Parade house, Darren loves open spaces. Coco, on the other hand, likes minimalistic design. A great cook and foodie, she wanted a place that allowed her to cook freely and host dinner parties.
Another thing Coco really needed? Closet space. "You haven't seen the number of clothes and shoes I have."
Using PropertyGuru's desktop website and mobile app, the couple started the search. The app really moved the process along. Coco quickly lined up multiple properties. "Within two weeks, we found this place, then we made an offer, negotiated once and closed the deal. It was very smooth," Coco said.
"I think we saw less than 10 properties," she recalled.
Making their Mark
When the duo first inspected the five-room
HDB flat in Bedok Reservoir
, the previous owners had still not moved out. It was littered with boxes and furniture that was being left behind — and most interestingly the owners' many tropical birds. But the couple knew instantly that this was going to be their forever home.
While the apartment was not yet what the couple envisioned, they could see its potential in the current set-up.
"There was already a dining area. When I came and visited the previous owner, that was the living room so that didn't change. But to add our own touch, we made it an open kitchen, and sealed up the original wall," Coco says.
After renovating the flat, the result was a spacious, bright and well-lit dining space for Coco to cook and serve some of her favourite Chinese and Western delicacies, as well as host intimate soirees for her friends and associates.
If the dining room ever felt overcrowded, the five-bedroom HDB flat had enough space to accommodate the extra guests. In fact, the couple loves the space so much now that they have started spending more time indoors.
A Dream Realised
Coco loves the attention her house receives. "When we have parties, or guests come over, they can't stop gushing about how nice the house is." Even delivery staff remark at the splendour of the house, she added.
Coco has filled the house with Vietnamese paintings and pastel shades while Darren's need for open spaces has created a wonderful interplay of light and corners.
"Who knows if we will live here forever? But this will always be our first home and special for us," says Darren. After all, how often does one find a part of oneself in brick and mortar?