Sudirman Bin Ahmad has a reason to smile as he relaxes in the Yishun flat he shares with his two sons and looks back on the difficult years that followed his divorce.
In 2013, Sudirman and his wife decided to split after 15 years of marriage. But faced with a financial penalty if they sold their flat within the
HDB's five-year Minimum Occupancy Period
, they made the tough decision to continue living with each other for two more years.
"We had the option to sell the flat back to HDB, but I would have had to pay a huge levy," Sudirman says.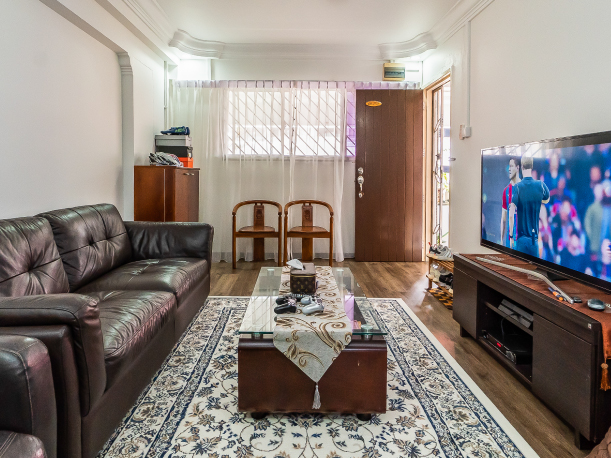 Fast forward to 2015, free of the lockup and with a $300,000 budget, Sudirman and his sons moved in with his sister to save some money while they searched for a new place. Two years later, he was still looking.
"We tried to ballot around six times for BTO and
Sale of Balance flats
," he explains. "But were mostly unsuccessful as we were not on the priority list."
Turning the Corner
Then in 2017, he found an ideal home in great condition. But just as he was about to sign, he was told the housing block had already fulfilled their Malay ethnic quota. He was back where he started.
Sudirman's luck would finally change later that year. He found a three-room resale flat located on a high floor in Yishun, and it was substantially cheaper than the others he had shortlisted.
He credits his eldest son, Shahirul, and the resources on PropertyGuru's website for bringing his house-hunting journey to a happy end. With free time during the polytechnic school holidays, Shahirul would help his father shortlist potential units, and then forward them to their property agent to arrange viewings. Shahirul stepped up in other ways as well.
"Shahirul made all the renovation decisions," laughs Sudirman, who had previously depended on his wife to design the home. "He had more free time on his hands, whilst I was pretty busy with work."
Happy Together
The 20-year-old's eye for design, including his choice of tiles, cabinets and wardrobe, impressed his dad so much that he decided not to hire an interior designer.
Now 50 and a single father, Sudirman shares custody of his younger son Hilman, whilst Shahirul lives with him permanently. Hilman comes over on weekends and the three of them play soccer, badminton and go cycling.
Sudirman has embraced the new rhythms in his life.
"Previously, my ex-wife would do the cooking and cleaning," Sudirman recalls. "But now I clean and prepare the food, whilst my son helps with the laundry."
He enjoys spending time in the kitchen, cooking staples such as fried rice, ayam lemak (chicken in coconut curry) and rendang ayam. Shahirul meanwhile, spends more time relaxing in the living room with his PlayStation 4. With the house fully-renovated, his room has become more comfortable for sleeping and studying, and the new built-in wardrobe has made it easier to declutter his room.
Sudirman and his sons have also become more accustomed to their neighbourhood. They love the amenities, quiet surroundings and friendly neighbours.
It wasn't an easy journey for Sudirman but he persevered and enjoys their new life.
"Our home is really spacious," agrees Shairul, who notes another advantage for a 20-something like himself.
"It's much easier to go to Orchard."
All images featured in this article are owned by PropertyGuru and should not be used without permission.