Despite describing herself as an adventurist who has always wanted to experience life overseas, Patricia has never travelled outside of Thailand. Well, that's until she met Derrick.
During a holiday trip to Thailand in 2009, Derrick – who is Singaporean – was introduced to Patricia by mutual friends. After a few years of courtship and living together for over a year in Thailand, they decided to tie the knot in 2013 and moved to Singapore.
Like many other couples seeking to buy their first home, the couple decided to apply for a Build-to-Order (BTO) flat.
Love At First Sight
Thankfully, it didn't take long for them to land their own home. Their house-hunting journey started in July 2019 and by September, they had secured their own flat.
During the property search, Derrick tried different online property-listing platforms, but found PropertyGuru to be the most user-friendly. Eventually, the couple narrowed down their choices to three houses; a flat in Bedok and two flats in Yishun on the same block (one was located on the 12th floor, while the other was their future home).
When the couple visited the 12th floor flat in Yishun, they didn't like what they saw. "The feeling just wasn't right," Derrick recalls. The atmosphere was dull, the corridor was dark, and the interior wasn't their cup of tea.
After a disappointing experience, the couple was sceptical about visiting the other Yishun flat, but decided to give it a go nonetheless because their choices were limited.
Northern Paradise
Apart from being bigger than the new generation of two-room flats, Derrick and Patricia's Yishun home is also swathed in greenery with the convenience of urban living.
Located outside the heart of Yishun, a friend has told them that their flat has a "condo feel" in that it's cosy, quiet and surrounded by amenities. A view like that would not be possible in Toa Payoh, Patricia explains.
Plus, while she believes that newer BTO flats in non-mature estates might be more affordable, it takes time for these estates to be developed and filled with amenities such as malls, sports facilities, eateries, supermarkets and Community Clubs.
This convenience is a huge contrast compared to her life in Thailand. As she lived in a rural area, that meant getting anywhere – including to the nearest 7-Eleven – required a few minutes drive.
Home Is Where The Love Is
Patricia thinks the Singapore real estate market to be a bit 'daunting', but her house-hunting experience gave her some valuable insights.
Everything has its own value, she muses. While their home in Yishun is far from the city, but things are more affordable. While the flat that they bought was more expensive than the one on the 12th floor, but expensive houses hold their value. Every home has its pros and cons.
When they were living with Derrick's parents, for example, it was difficult for Patricia to cook. Now, she cooks their meals everyday. The couple also has more breathing space. Before, they had to squeeze their belongings in one room.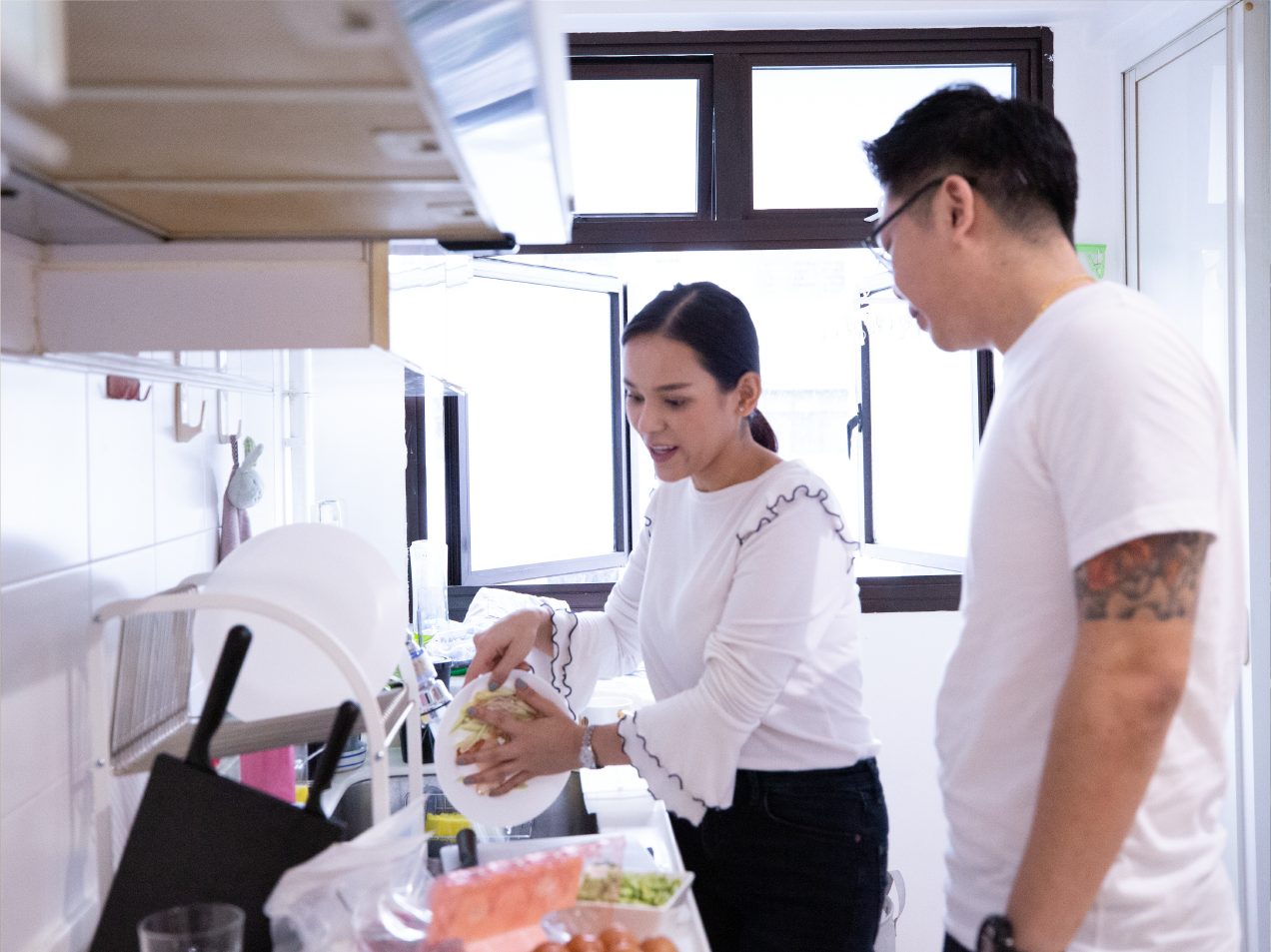 Above all, for Derrick and Patricia, having their own home means being able to look after each other. They can also show their care for each other in ways that wouldn't be possible when sharing a home with other people — such as cooking.
Having their own home means that their relationship gets better, Patricia says. For Derrick, it's even simpler: "I want a home because I want to stay with my wife."
All images featured in this article are owned by PropertyGuru and should not be used without permission.