A Seemingly Endless Search to Find The Perfect Home for Seven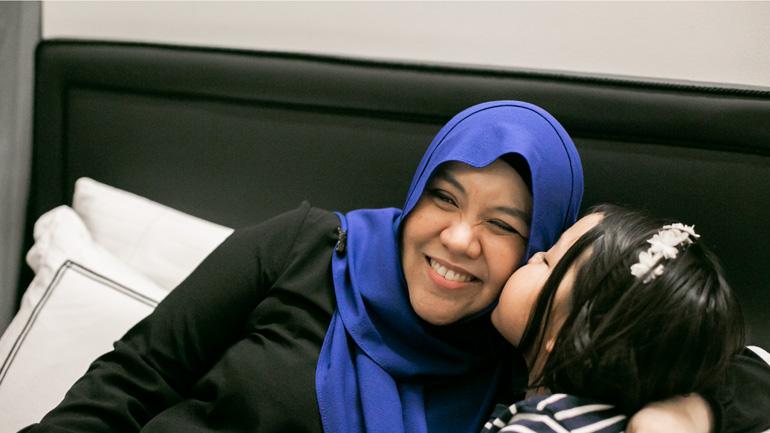 Finding a home for a large family presents some unique challenges. For Nur Ilyana Binte Mohamed Anwar, she really wasn't exaggerating when she shared that she had to keep everyone's needs in mind and spent a long time looking for the perfect home. The new home had to accommodate her parents, brother, husband, as well as two children!
Close Family Ties
39-year-old Ilyana is a daughter, wife, mother, sister, educator, and social entrepreneur. She comes from a very close-knit family and fondly recalls how she and her brother, Amin, 32 used to make traditional Kueh with their mother when they were younger.
For the siblings, art has always played a big role in their life. Ilyana has been teaching the subject for about 15 years and is passionate about using it to make a difference in the community. This passion inspired her to help her brother start his social enterprise, the
Junior Art Lab
, in 2016 and
Artably
in 2018.
The Need for a Bigger House
The extended family were living in a
four-bedroom executive condo
but the space was tight. "The kids were growing up, and we have a total of seven living in the house, so we basically needed more space," says Ilyana.
Ilyana's husband had been keen on buying a
freehold
or a 999-year lease home for some time, so the move was an opportunity to realise this dream. Additionally, they wanted the house to have at least five bedrooms, with one on the first floor so Ilyana's parents can avoid the stairs. It also had to be within walking distance of public transport, either an MRT station or a bus stop.
Ilyana decided to use
PropertyGuru
in her search for a new home. She used the search filters to narrow down her options based on her requirements, such as her preferred districts, minimum number of rooms and budget. Still, even though you could say it was a happy 'problem' that there were many properties that checked all her boxes, it was a stroke of luck that led Ilyana to the perfect home in a new neighbourhood of
Sengkang
.
They viewed a five-bedroom penthouse condo in Fernvale Road that ticked all the boxes except the freehold criterion. But the decision was made when Ilyana saw the surrounding estate. "It is so awesome. It has multiple pools with a slide. As a child, I dreamt of going down a water slide, and I told my husband, this is it!" she explains excitedly.
Unlike many other buyers who may prioritise selling off their current home before deciding on their new home, Ilyana was keen to first find a suitable new house and then put her apartment for sale. After visiting the house, Ilyana immediately knew it was 'the one' and told the agent who listed it on the spot. "I told her, 'Help me sell my house so we can buy this one!' All the pieces fell in place. It was like the universe was aligning to make this move happen," she says.
Sprucing Up the New House
As it was an unoccupied house, they needed to get some electric and carpentry work done before moving in. Doing so has enabled them to expand their workspace; making the transition to working from home a lot easier, meaning she and Amin have still been productive despite the stressful COVID situation.
In fact, the house has become all things for each member of the family. From work and play to relaxation and reflection.
"The house is perfect," says Ilyana. "It's big, has a garden, is a corner house, has privacy, a flying fox and not to forget the pond."
The pond is her father's favourite spot, looking over the fish and terrapins in it. "I am certain this house is going to bring my family a lot of happiness in the years ahead," smiles Ilyana.
All images featured in this article are owned by PropertyGuru and should not be used without permission.