Artist's impression of the Le Quest project in Bukit Batok.

Housing developments in Singapore equipped with various high-tech features are increasingly attracting strong interest from property seekers.
In fact, an online study by Qingjian Realty in 2016 found out that 79 percent of young couples in the city-state will consider living in an executive condominium (EC) powered by smart technologies.
Around 63 percent of the respondents also said that they are willing to spend in the range of $30,000 to $40,000 to furnish their units with devices such as security systems, electronics and appliances.
Those polled said such gadgets and home systems appeal to them as they offer convenience, reduce water and electricity costs, as well as improve the safety and security of their home and family.
Angel Piontek, Vice President of Coldwell Banker Elite, revealed earlier this year that while smart features may or may not increase a home's resale value, it may facilitate a faster sale as such gadgets are desirable to some buyers.
To honour the efforts of property developers to create homes of the future, in line with the government's goal of transforming Singapore into a technologically advanced nation, an award for Best Smart Building Development will be handed out at this year's PropertyGuru Asia Property Awards (Singapore), which will be held at Marina Bay Sands on 12 October.
In the meantime, let's take a look at five projects leveraging on the smart living trend.
---
The Tapestry
Developed by City Developments Limited (CDL), The Tapestry at Tampines Street 86 in District 18 consists of seven 15-storey condominium blocks with a total of 861 units.
While this 99-year leasehold private residential project is about 2.5km from Tampines MRT station, homeowners have the option to adopt a Smart Voice Assistant that enables them to control devices just by speaking. It also helps residents do their daily routines. For instance, saying "good morning" prompts the system to provide the latest news, weather forecasts, offer reminders or play music depending on the owner's preference.
Home buyers can also take advantage of the smart digital lockset, smart door sensor, smart lighting, smart air conditioner and smart home gateway, which provides remote surveillance and triggers a siren for unauthorised entry.
The Tapestry was launched in March and is expected to be completed by 2021.
---
The Visionaire
Located next to the upcoming Canberra MRT station, The Visionaire by Qingjian Realty comprises 16 blocks of nine- to 11-storey apartments containing a total of 632 units.
Touted as Singapore's first smart executive condominium (EC), residents can use the hiLife application to remotely control all electronics and appliances in their home. These include the refrigerator, which informs home owners on what foodstuffs are running low, and lets them automatically buy groceries to replace it.
Aside from smart lighting and aircon, there's also a digital lockset. There's a smart IP camera that lets residents monitor their home while they're away, and a motion sensor that alerts you if there's suspicious movements in your unit.
The Canberra Drive project at Sembawang Road/Canberra Link in District 27 was unveiled in April 2016, with its completion targeted later this year.
---
The Garden Residences
Keppel Land and WingTai Asia teamed up to develop The Garden Residences, a private residential project with 613 units spread across one 15-storey and four 14-storey towers at Serangoon North Avenue 1 in District 19.
This 99-year leasehold condominium is powered by Habitap. Through this app, homeowners can control their lights, aircon and water heater.  Aside from a smart smoke detector in case of fire, the system lets residents unlock the door remotely and issue temporary access codes to guests. It also lets users conveniently book condo facilities, shop online, order take outs, receive notifications from the building's management and pay maintenance fees.
The Garden Residences was launched in June and is expected to be ready by 2021.
---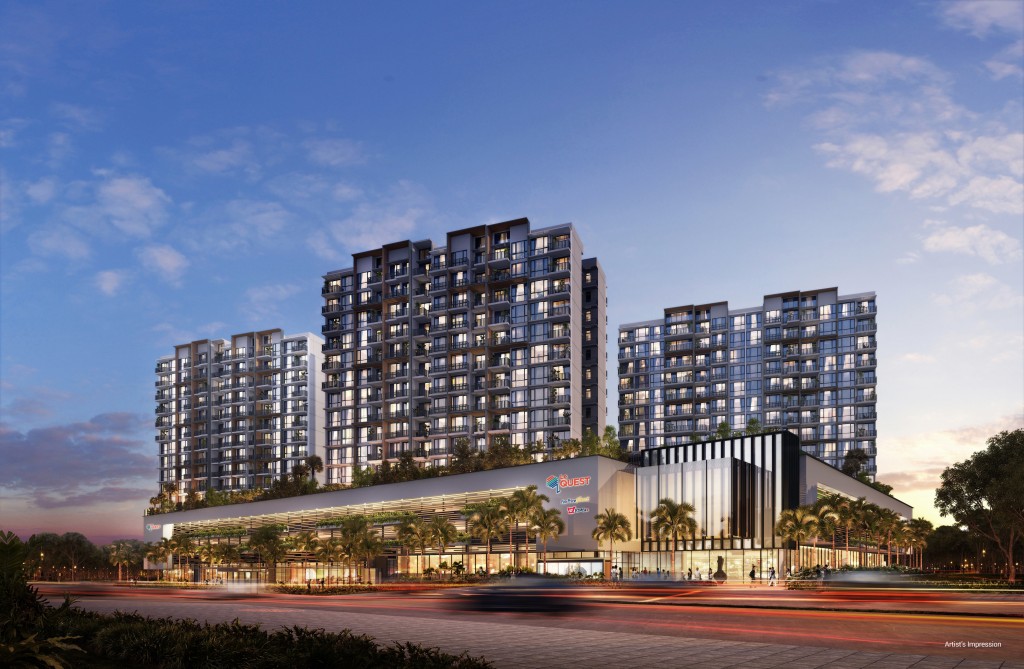 Le Quest
Qingjian Realty's Le Quest is a 99-year leasehold condominium at Bukit Batok West Avenue 6 in District 23 consisting of five 16-storeys blocks totalling 516 units.
Located near Bukit Gombak MRT station, the development's common areas come with Wi-Fi. Just like The Visionaire, this project utilises the hiLife app, which lets users reserve condo facilities 24/7, pay upkeep, give feedback to the building's management, as well as receive news and notices.
The project's smart home package comes with a smart digital lockset, smart A/C module and smart doorbell, which records any suspicious activity outside your home. It's also easier to rent a unit as you only need to provide a password to your tenants.
Targeted for completion by 2021, Phase I of Le Quest was launched last August, while units under the second phase were released in May.
---
Park Place Residences at PLQ
Built by Australian developer Lendlease, Park Place Residences at Paya Lebar Quarter (PLQ) in District 14 comprises three 17-storey towers housing 429 units.
This is part of the highly-anticipated PLQ mixed-use development, which will also feature a mall with 200 shops and three Grade-A office towers.
Aside from having a prestigious address that is adjacent to Paya Lebar MRT interchange station, homeowners there will be able to access the Habitap app, which lets them remotely control their electronics and appliances, manage visitors, book condo facilities, set home temperature, view who is at the door and make online purchases, among others.
Phase 1 and 2 of the 99-year leasehold project was launched last March and in April this year respectively, with completion scheduled by 2020.
Home buyers looking for Singapore Properties may like to visit our Listings, Project Reviews and Guides.
Romesh Navaratnarajah, Senior Editor at PropertyGuru, edited this story. To contact him about this or other stories, email romesh@propertyguru.com.sg